More details
Product reviews
Video
Manual
Q & A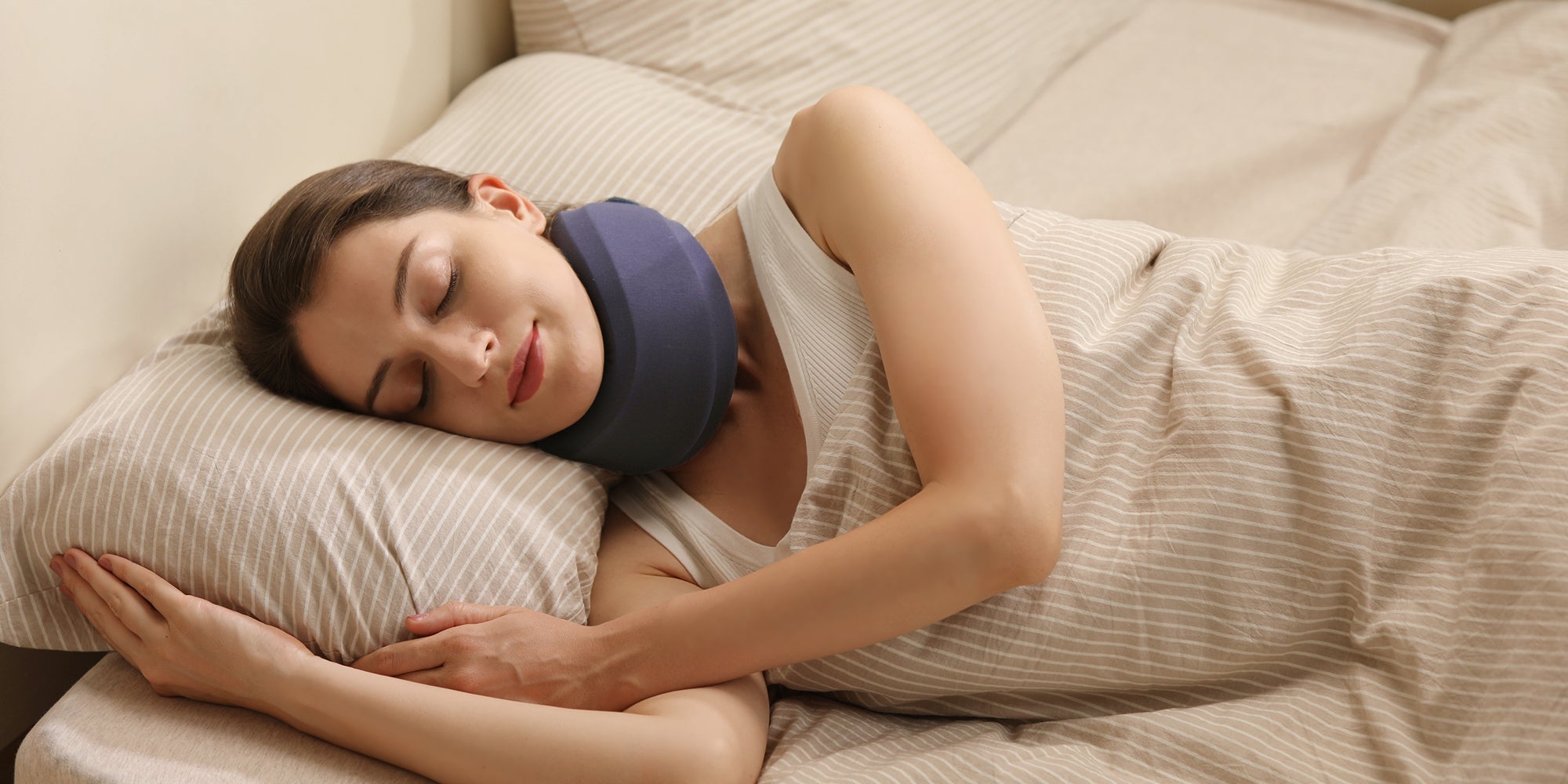 VELPEAU Neck Braces have three designs, comfort version, dual-use and enhanced version.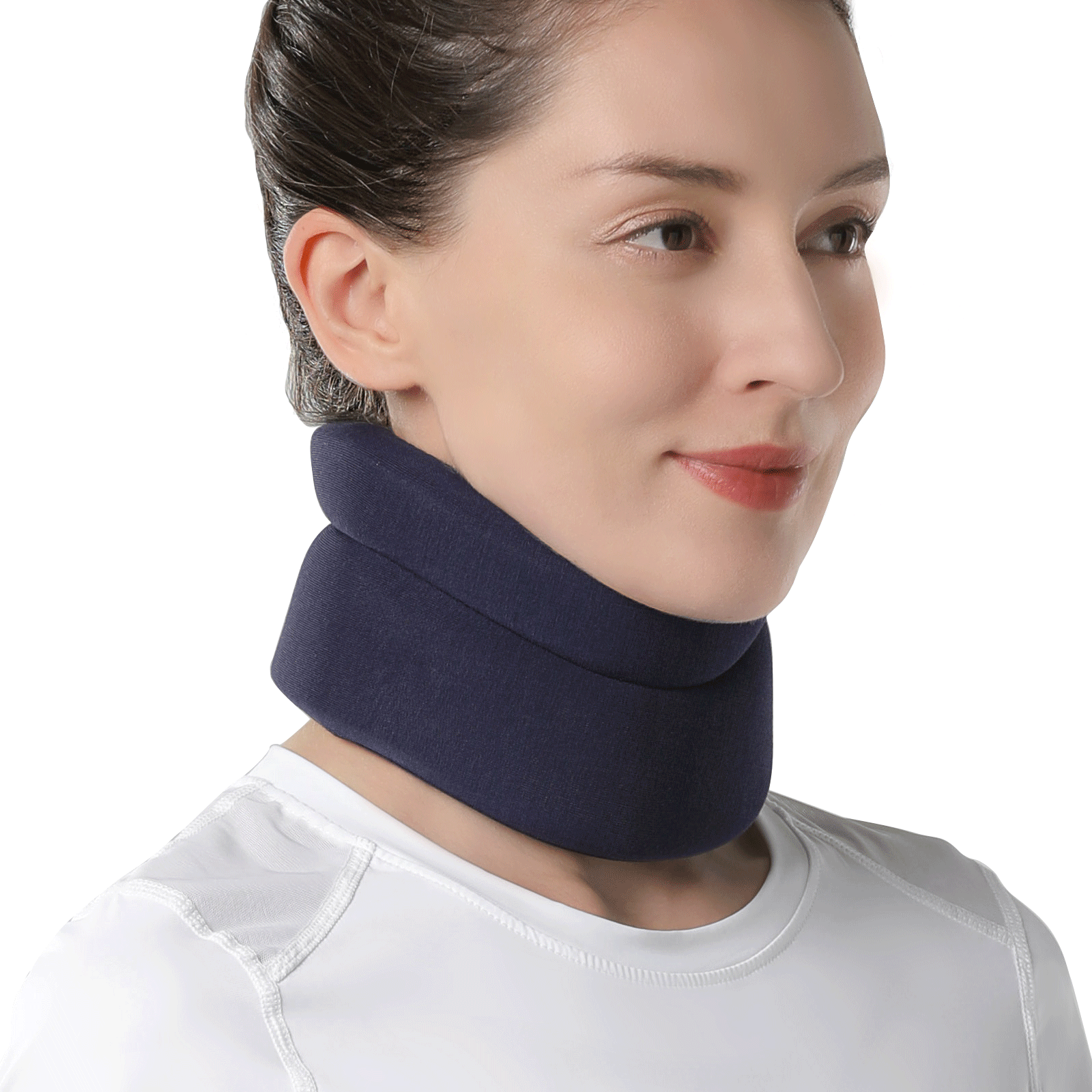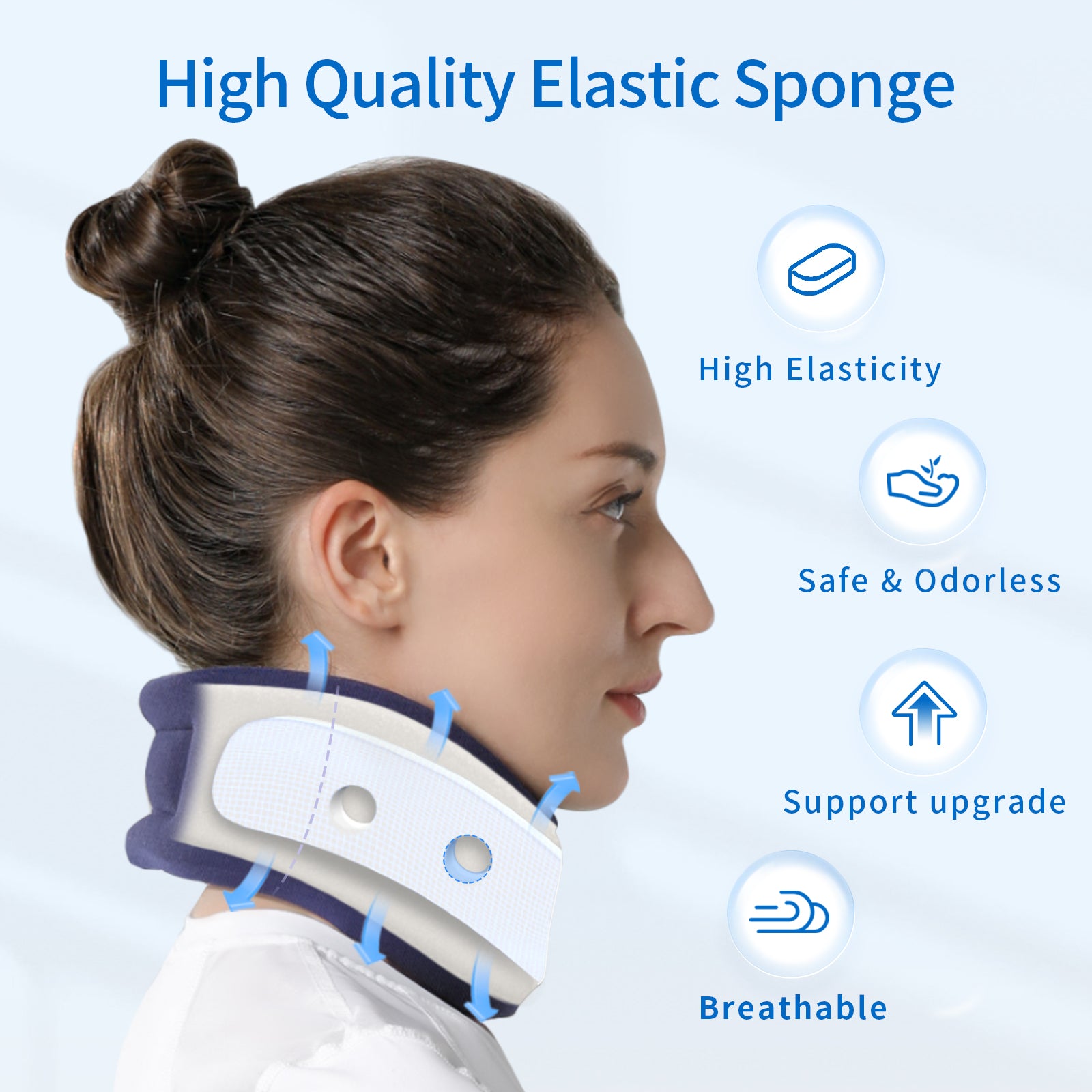 High Quality Elastic Sponge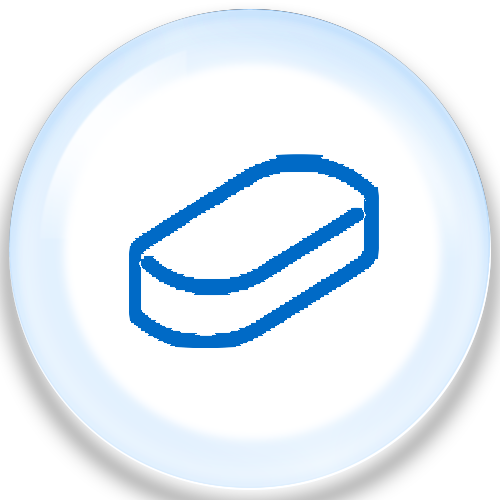 High Elasticity
The texture is very soft and resilient.It is not easily deformed with long-term wearing and it fits firmly.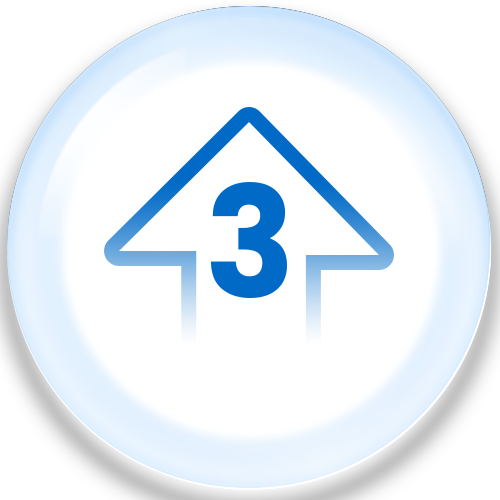 Support upgrade
Two-layer superposition with medium mixed density foam and soft high elasticity EVA foam, the cervical collar offers more support while being soft.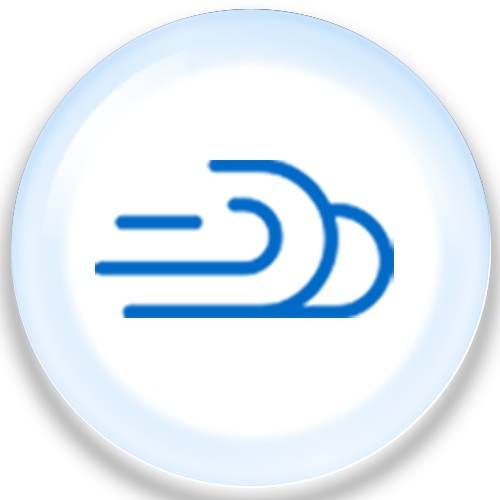 Breathable
Ventilated and breathable without stuffy sweat, the complimentary neck brace can keep the neck cool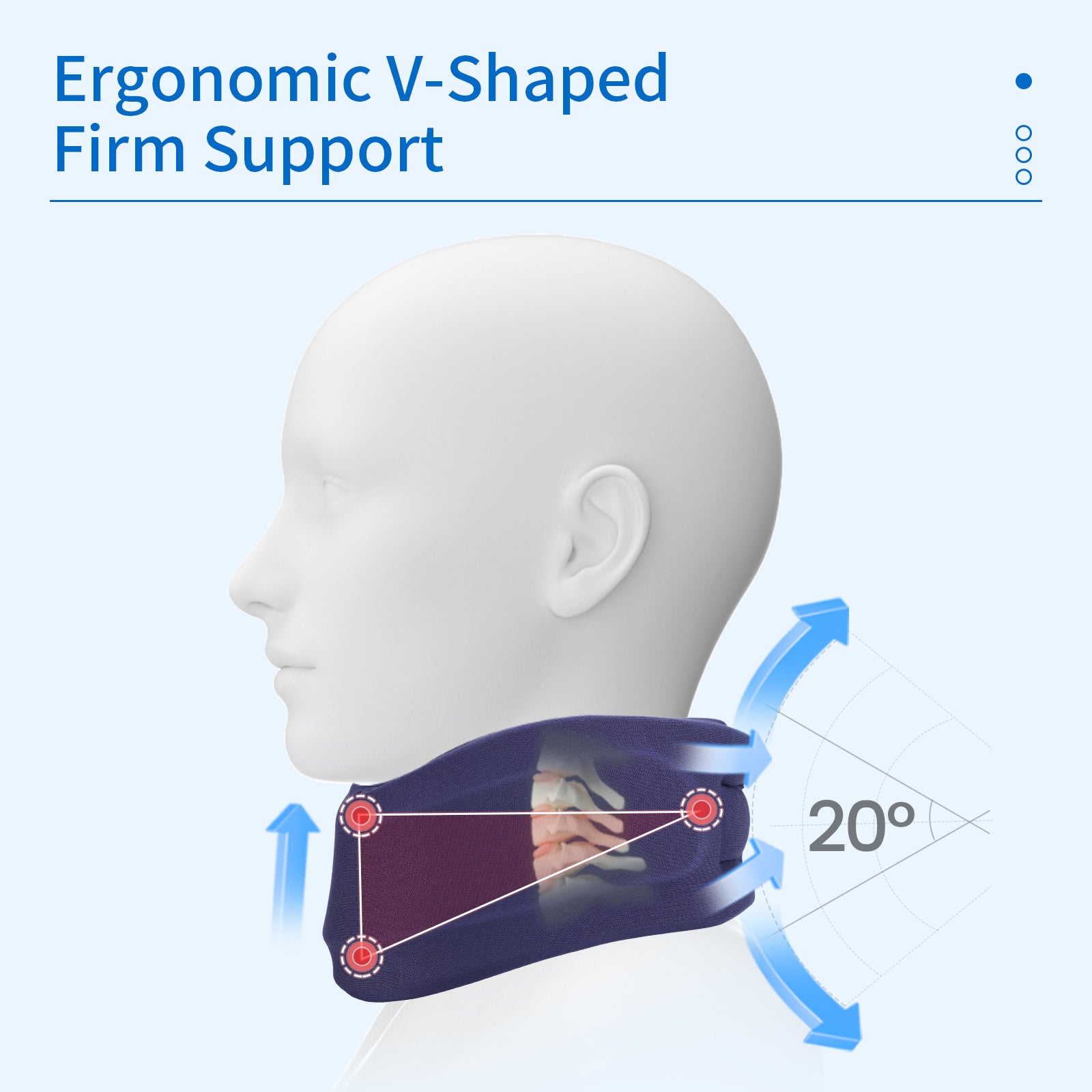 Ergonomic V-Shaped Firm Support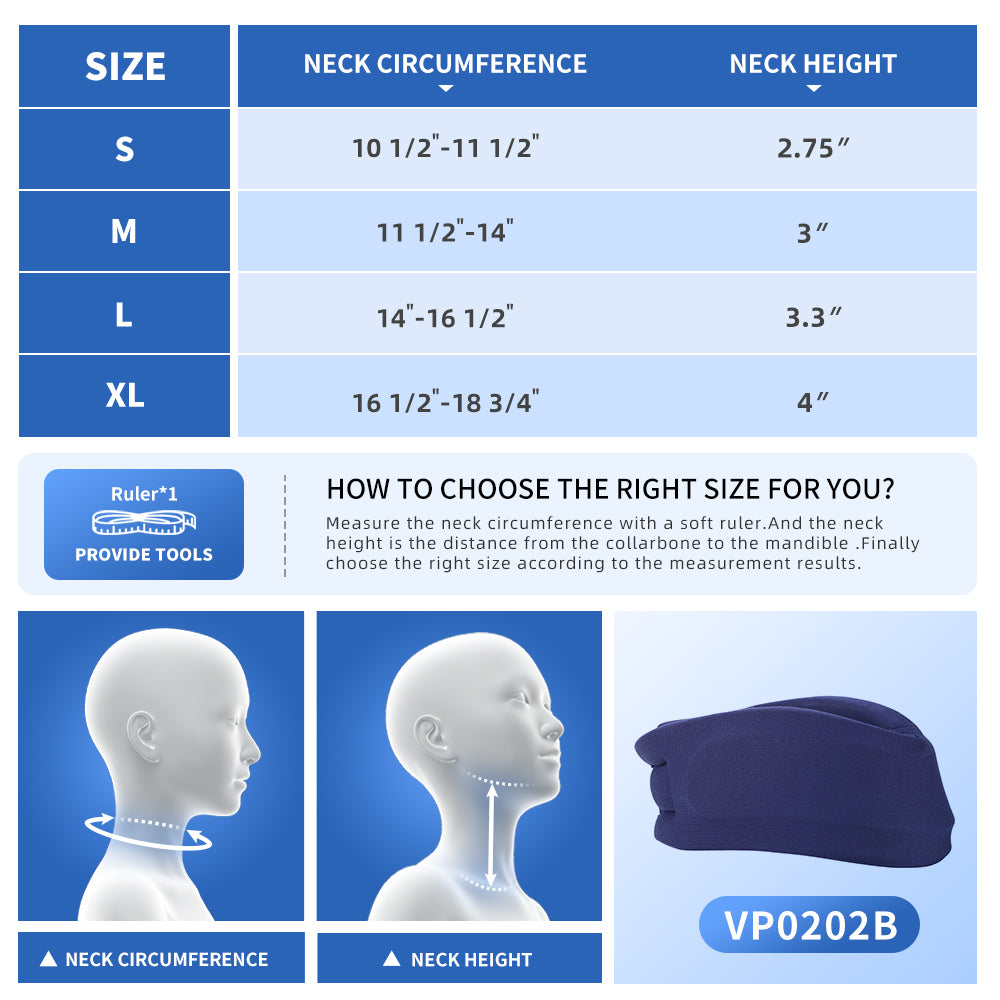 How to choose the right size for you?
Please measure your neck circumference with a soft ruler. And the neck height is the distance from the collarbone to the mandible. Please choose the size according to the measurement results.
Note: Special Sizes are only available in the Comfort Version.
Wish I'd bought this sooner
Suffering from cervical spondylosis and need 4 discs replaced. As soon as i wore it, my shoulders dropped back to normal and the pain eased to a tolerable level. So worth it and I'm going to order the softer one for sleeping as well!

Life saver
I suffer with chronic neck and back pain. This collar gives me the support I need without putting a strain on my neck when I'm doing any task. I can even ly down with it on.

Comfort...Easy on and off!
Being very supportive is important and it is pliable enough to make sleeping so much better.  I work in the sun a lot and any brace will be a bit abrasive, but this was still comfortable enough.  The biggest take away is that sleep is now attainable!

It works!
The product really works it keeps your neck aligned on those days when it really hurts it can really help!

Fit me like a glove
This unit provided me with just the right support. The stiff foam on the outside of the collar provides support without being too rigid like plastic would. The stiff foam does not run all the way to the top and bottom of the collar allowing the softer foam to rest comfortably on your jaw and clavicle bones while the stiffer foam provides support through the middle. This product allowed me to sit and work at my computer without neck pain.

Comfort
very good

The size small and fit are perfect.
Very comfortable compared to others I have tried.

This soft collar helps with Neck drop from radiation
I use this item whenever I drive!  I also use it when my neck is hurting or feels weak.  I have two now and will order another!  Very comfortable while holding my head upright!

Fitting
This is helpful towards my stiff neck. It's pretty firm. It fit well.

It's helping me to postpone and hoping to avoid neck surgery..
"it has turned the corner of extreme discomfort to liveable. it's better than the ""Obama Care' supplied Neck Brace which fell apart.. the adjustable chin support plastic hinge part broke so there is no adjusting.. and I can tell a new one will just break.. $50 Orthotic neck brace and they can't make it too last.. So I am very happy I bought this as back up.. since it seems Obama Care can't keep decent surgeons that don't creep me out. Gov Health Care is the worst"

As advertised
As advertised

Is as expected
Product description is accurate and looks as presented in the ad. The dual use style has the removable enforcement causes the collar to work as the comfort style. However, when you remove the enforcement they manufactured it so the rough side of the velcro is on the collar making it not so comfy -  it snagged up my pillow case. Either collar fits well and offers adequate support to help relieve some neck discomfort

Works as described
Good support. Has not relieved my pain but that's not the fault of the product. It's well made and works exactly as described.

Helps alot
Sturdy and comfortable. Great value

Fit my wife's neck perfectly
My wife had cervical surgery.

Instant comfort!
Instant comfort.Best product that I have ordered for myself in years.Thank you!

Just what I needed
Very nice. Well made. Good support. As comfortable as it can be.  Glad a reviewer said go smaller in height rather than larger, did that and it's workable.  The size I measured at would have been too tall.

Great fit and perfect size
Like everything specially the color selection

Great support!
I had neck surgery and wanted a back up c collar. This was perfect!!

Very Supportive Neck Brace
Well-made neck brace that is comfortable to wear.  Very supportive.  The package comes with some helpful information, and a nice bookmark!  Great product and company!  Thank you.

Just fits well
Comfortable

More firm than soft yet comfortable - it does the job
More firm than soft yet comfortable - it does the job, supporting your head from a strained neck. I found immediate relief from a pinched nerve or an overused muscle. This device might also be good for sleeping on airplanes as it keeps you head from tilting. I recommend.

cimfortable neck support
I had cervical surgery and not a fan of a white neck brace. so happy this company designed a comfortable as well as a colorful choice w removeable washable case

Helped relieve the pain.
It helped relieve the pain during the night. I actually sleep with this device every night to be sure my neck stays pain free. Love it!

Exactly as described! Great product!
Durable, comfortable and soft. Helps take the strain off my neck and shoulders. Having to have had 2 cervical neck fusions anterior and posterior and trying all sorts of neck braces/neck relief products, this collar is a welcoming relief!

Price
It fit comfortably!

Good quality
It was much better quality than I expected for the price. Very happy with it.

I bought this for my sleep apnea. Instead of chin strap. Works good 👍
Try it works great.

Comfortable with great support
An extremely comfortable collar with great support. It's stylish and easy to use.

Great for severe cervical issues
Helpful for severe neck pain.  The soft support is wonderful

Good choice
It is comfortable and easy to wear. Glad I made this purchase

collar
works as advertised

It worked
For a friend of the family. It did what she wanted and was soft.

IMMEDIATE RELIEF
I got this for my dad bc he messed up his neck and within mins of putting this on, he had immediate relief

Excellent
My mother is happy with the purchase

Excellent product
I have multiple bulges in c spine and a slipped disc. Also degenerative disc. I purchased this along with a few other products out of a burst of desperation.  I was in constant pain. Headaches. I put this on and wore it for 45 minutes while watching tv. When I took it off I was amazed. I felt at least 30% better. I wore it a couple hours a day and felt much more relief. If I wear it 2 to 3 hours a day I almost feel like a normal person again. At times the pain disappears completely. I HIGHLY recommend this product. The only complaint is that the exterior fabric could be a lot softer. Even with the sleeve they provide it still feels itchy and irritates my neck. I'm going to try to find a new cover or make one so I'm able to wear it longer.

Enhanced Version was perfect for me
I was very impressed when customer service assisted me right away to obtain the correct support I required. The Velpeau team saw to it that I got the neck support I wanted even though I did not see it initially on the web ad.  Thanks for helping and I am very pleased with my new neck support.  It is comfortable and covered with soft fabric which is very good.  I have a small neck but measured first and it said to order a medium, I did and it worked fine.

It supports my neck as it should be
It helps supporting my neck so that I won't put too much pressure to my neck and spine

Nice brace
Broke my neck back in '88 & need some support as time goes on. I tend to crink my neck when laying down & this brace works great for me to relieve pain. I am not small & it fits nicely, giving me support, mostly keeping my neck elongated I guess you could say, which is what I need. Hope this helps =)

The support feature worked without being uncomfortable.
The product was what was advertised, and it was very comfortable.

Outstanding
This is a great value.  The doctor was impressed.

It helps a lot
Pain is much better , ware as often as you can

💯
💯

Comfortable, firm neck support following neck surgery
I used this brace shortly after neck surgery, to give me support without the bulk, rigidity & discomfort that I was experiencing from the brace provided by my surgeon.  This brace gave the support I needed, and is so soft and comfortable that I bought another one as a backup. It comes with a thin, removable protective sleeve that makes cleaning it easier. I still use this for those times when I feel a little support is needed. I highly recommend this product if you are looking for comfortable, firm neck support. The price can't be beat for the quality of product you get.

How it fit!
Neck suport.

Supports my head in the way I had hoped
I needed to alleviate pain associated with looking down at a notebook screen after years of looking straight ahead at a desktop screen.  This neck sleeve keeps my head straight and my eyes focus down - helping greatly.  It's not the absolute most comfortable because it needs to be rgid enough to hold up one's head, but it's comfortable enough that I use it.

The best
The best

Very comfortable to wear and does what it is supposed to do
I've been using this brace for the past few weeks and I am loving this. It is very easy to put on, soft and comfortable in your neck and does what it is supposed to do. Prior to buying this, I had bought the brace that I had to inflate and it looks so big that you can't really wear it to go outside. However, this one you can wear it whether at home, driving or walking outside. The cover that comes with it is an added benefit as you don't need to wash the entire brace, but just take out the cover and wash it. Overall, I am very satisfied and recommend it to anyone having issues with their neck. Thanks

Classy
Classy and comfortable

Well done!
Really helps relieve my pain and align my upper spine.

It Works. It's more confortable
Functionally Better Than Aspen Collar

Excelente
Cansancio de cuello

Significant Relief
I feel that this device has provided more relief for my neck pain than other similar products.

No gripes good problems
Worn properly instant relief.

Love it
Great price for the quality, excellent support but I think the size is little bit small, my size is very normal though

Best neck support!
I have had two neck surgeries and I've used a lot of neck braces. This is the most comfortable. The shape is follows my contours and the cover is an added benefit thank you

Would buy again.
Nice quality. Fast shipping.

MET EXPECTATIONS
Definitely does what I expected.

It Did the Job & I Can Sleep in It, Too
"I want to thank you. I wasn't sure I could make the 16hr drive to see my 2yr old granddaughter. Surgery, chronic pain & implanted devices were all held in check thanks to the neck support brace width (4"") and softness whole offering complete support that reminded me to straighten my spine more easily. I can even sleep in it when symptoms flare badly. Thank you so much."

Measure your neck first
Super comfy

Best neck support
I would definitely recommend it to a friend!

comfortable
I had vertigo and this support helped me a lot

Carefully review options offered, and you will
This neck brace, although like the large I just previously purchased was similar, this brace was suffocating.  Unlike the other one what I bought that had a break in the body of it for comfort, this large one with no break made it hard to breathe (and impossible to sip out of a cup of coffee).

Easy to use
Easy to use.

Helped with my pain
Within 20 min it helped with my neck pain

Good for computer workers
Comfortable! I like how it has room for your chin to sit on. The size runs larger, my size based on dims was L but I ended up exchanging for a M.The large was loose on my neck.

Works fine.
Works good. Pretty comfortable.

Everyone will think it's a scarf and not a neckbrace
I love that I bought in navy blue.  I wear it to work and people think it's a scarf, so there's lesss questions about what happened to your neck and why are you wearing a neck brace.  It's supportive and comfortable and has helped with my neck pain.

Good
Good

The best cervical brace
After a 4 level dysectomy (meaning 2,3,4,5 and 6 cervical discs fused) I've tried many cervical braces and this one feels amazing!!

Great value for injured neck.
Very comfortable and eases neck pain. Great therapeutic effects for chronic neck pain by keeping the pasture right.Cover becomes more dry touch for warm days.

Comfort
I bought this for a friend and it definitely seems to be helping her comfortably keep her neck in the correct position.

Comfortable and effective
I've been having neck issues for years and just recently discovered I have a herniated disc in my neck.  I'm having neck surgery soon but I was going on a two week off-roading trip in my Jeep and wanted something to help stabilize my neck when bouncing around.  I chose this brace because I could get it the next day and also due to the dual foam construction.  It fit well and was comfortable to wear.  I used it on the 1,000 mile drive out and back and also when off-road and I think it did help reduce the pain from my neck that radiates down into my arm.  The price was right as well so it was a no-brainer to try and I'm glad that I got it.  Hopefully after surgery I'll never need it again!

Very nice neck brace
The brace is supportive and comfortable to wear. It's soft were it needs to be. I have tried many different braces over many years. I have had three surgeries on my neck and this brace is better than more expensive braces.

Pain Releaver
It helps me a lot for releasing the neck pain.Easy to use and much better than expected.

Great to use when a bit of support is needed
SHIPMENT: The product arrived on time and the packaging protected the contents so that nothing was damaged while being shipped.USE:  Easy to use, no instructions needed.  The only downside I have is that it falls off when I am sleeping, but I am a violent sleeper and I suppose the alternative would be strangulation.  Regardless, even when I wake up without it on the difference in neck pain between when I wear it and when I don't is immense.PRICE:  I am satisfied I paid a fair price.  The equipment does what it says it will and is easy to use and store.

Just get one, you'll need it eventually.
I'm 64 and I did a head plant backwards off of a moving trailer. I was in bed for 3 weeks... point being you never know when you'll have a little accident. Grossly miscalculate the forces of gravity. When you do you'll need this. It was the only way I could support my head and get out of bed.

Helps me sleep
It makes it easier to fall asleep and my neck doesn't hurt when I wake up

I got instant relief from nagging neck discomfort!
Over time of looking at my phone my neck starts to become sore and compressed. This brace is an easy, ergonomic solution. It lifts the neck off the shoulders. The compression has a chance to calm down. Relief!

Definitely buy a size larger than you think you need.
I read a lot of reviews before purchasing and am glad that I followed the advise to get one a size larger than I thought I needed.I'm a delicately boned woman. And I got a large. It was perfect.Enough said.Laura

Neck
Great for neck pain

Comfort
This is the best brace I've used. I have several, but this is my favorite. Comfortable with great support.

Gentle and soft helps relieve pain.
It helps with my neck pain  and is gentle. I like the blue color, it is not as noticeable as a white one. I have a torn nuchal ligament, and this helps relieve the stress and pain around my neck

Velpeau neck brace is a good product if your in pain with out surgery
I rolled my truck off big bear mountain.HaveA herniated C3C4 disk.Dont want injectionsIn my spine.going thru Phyical therapy anDr suggested I get a brace.This neck brace isAwesome,Firm,comfortable foam.worth every penny for $15.00

Neck brace
My mom is currently using this brace.  She has had some relief from pain due to this brace.  We did order the white brace and received the navy blue.

Great comfortable support
My cervical surgery has been delayed due to the covid crisis and I found relief with this collar while I'm waiting.  I wear it while at the computer and while I'm sleeping.  It's excellent support and comfortable. I think it runs small however. I'm a small person and the medium fits like a small from another brand.  I do recommend it if you are so inclined to purchase one.  Stay safe and well people and appreciate one another with respect.

Recommended
I can say that I can tolerate wearing this around the house, and sleeping. Something I was definitely worried about.

Highly recommend
This is an excellent cervical collar. I have spinal stenosis in my cervical spine and suffered with a pinched nerve.  This collar is firm enough to reduce pressure on the nerve and immobilize the neck to decrease further irritation.

Perfect
Absolutely perfect and comfortable

If you've never needed a c-collar before... try this one first!
I was hesitant about ordering a collar without trying it on first, but I'm definitely glad I found this one! So easy to wear with most of my clothes without being in your face that I have a Cervical collar on, especially in the winter; I was able to get my hoodies and shirts over them without a problem (I have both versions) and even customized them with colorful, fuzzy socks on a few occasions. Highly recommend if you have never had to wear one of these and need it for daily support/protection!

Sturdy
Just what i needed to restrict me from moving my neck so that my back,neck , shoulder strain can heal from me lifting too much heavy weights from doing squats. Also help to align back by sleeping on Hard surface like floor with brace on.

buy this brace won't  be disappointed
somebody put some  thought into designing this brace  comfortable and it helps alot if you have to wear a neck brace and i don't want to this helps a lot thank  you

Terrific
When my arthritis in my neck acts up put on collar for support and does ease pain

Size matters
I bought a small for my daughter and it fit perfectly. She wore it at home for a week and neck pain went away. It is well-made for years of use. The extra cloth sleeve keeps it clean.

Good quality
Does what it says it does.

Good brace, great design and cover
"Female15.25"" neckOrdered Large Normal in Blue Enhanced Version.Awesome.Fits perfectly.Comfortable.Like the vshape at the front.Supports up from collar bones.Purchased because I had intense neck trauma from violent strangling (healed) as well as numerous older gymnastics and car accidents injuries. Not in any medically requires braces.-Found neck is 'crunchy' quite a bit-Migraines severe-Bumping my head is a big deal because of sustained concussion and skull damage-Use as part of regimin to increase protect I've neck strengthSo, wearing this is three fold-Help support proper cervical curvature.-Keep neck aligned while sleeping, reading, working at a desk.-Retrain head to stay back and relieve muscle strain that adds to migraine.Really like the removable, washable cover and the over all feel of the brace.First night, wore one hour in bed. Then one hour in morning. Felt tremendous aid after just first day. Now I want to wear more to protect from tech neck."

Great product.
This neck brace I would buy again. I had to wear it for two weeks after having neck surgery. It was very comfortable and it came with a cover that you could take off and wash. Very easy to put on and take off with the Velcro strap on the back.

Big improvement!
I am using after a neck surgery. Wearing a soft collar can't really be characterized as comfortable, but this one is vastly better than the GoT torture device I was sent home with.Fabric is soft and it has a washable over-sleeve, which is nice. Very supportive and limits movement effectively, but it has enough give to not dig in with hotspots around my jaw or skull. I haven't tried others so my comparison is limited, but I'd certainly recommend. If you have to wear one, this one is worth a go.  Make sure you size carefully as the range of adjustability is limited.

Product Review
My Chiropractor suggested a neck brace.Velpeau and Amazon came through again.As advertised, Velpeau met the requirement.I ordered incorrect size - Amazon honored my return.Ordered correct size and wear with no discomfort through the day.I wear a CPAP mask at night and place the brace around the mask.

Very nicely made with increased support. Bought 3-4
This is an improvement over standard cervical collars. The inner core is firm with being uncomfortable. However, our family member cannot hold up head fir any length of time so an OT is adding some chest support to it.

Support
Great support and is comfortable

Supports sore neck well
Nice collar. Really helps to support my sore neck muscles. Also liked the washable protective sleeve that came with it to keep it clean.

It relieves my neck pain
Last year I bought one for use at office and recently I bought the 2nd one (Velpeau Neck Brace -Foam Cervical Collar.  Enhanced, Blue, X-Large, 3.5″). I love it! It relieves my neck pain.

Very comfrontable and easy to use.
Great value for such a neck brace.  It's great for sleeping and my neck has stared to feel much better.  Recommend toanyone having neck pain and discomfort.

Good neck support and priced right in my opinion.
"First of all I am 6'4"" 250ish lbs. My neck measures 17 3/4"". I bought the Enhanced X-Large 3.5 inch. I wish they offered in the enhanced model a 4"". Reason being my neck is just long enough that the 3.5"" height is a bit too short. It works just fine but I think the half an inch would be a bit better for me. As for the length I think I could have gone with the Large. I have to take up all the length with the velcro fastener to get it tight enough. For a better fit next time I would subtract an inch from your actual neck size and order that smaller size. Trying to sleep in this is a bit of a getting used to it ordeal. It isn't uncomfortable but having that new thing around your neck is a bit annoying. Kind of like getting used to wearing a wedding ring. Takes a few days to not fidget with it. It also makes it a little warmer than I like. Not bad but I sleep hot and this added insulation is a bit too much especially if your wife decides to bump up the heat after you go to bed while she stays up to catch up on her DVR shows. That is it for negatives. The Pros are it is comfortable, it is soft yet gives great support, holds your head upright when you start to drift off in your recliner, comes with a slip on sleeve so you could wash it once your neck sweat stinks it up, and I personally think the $15 and change is a good price for this. I would recommend it to any person with Degenerative Disc Disease waiting for that day when insurance finally okays surgery."

NECK FUSION
I Still wear it to bed even after being released by the doctor to stop.

Great support
Great support

Comfortable
Perfect neck brace!

Ok.
Very Good

Perfect fit and support🙂
I purchased this one as a replacement for the one I got from the hospital after my spinal fusion surgery. This fits perfect and provides me with the support and immobilization that I need after my surgery - much better than the hospital one. I am very impressed and will order another just to have one ready while washing the other. I would definitely recommend this cervical collar👌 Make sure you measure your neck first as they run smaller. I have the hospital one in size S and this I have in Medium - Perfect Fit!

Comfort and protection is is what I wanted!
"My neck and I were in a car accident and my neck was broken.  I needed a way to protect my neck, something that was not attached to my head. When the ""thing"" was removed from my head (yes, it was attached) I was given a soft collar that was very, very uncomfortable. I tried many collars that were all too big, too small, etc. This Velpeau Neck Brace foam cervical collar really does relieve pain. It also supports and protects me when in the car. Thank you for helping me get my life back to ""normal""!!!!!"

Lightweight collar does the job.
Reasonably priced neck brace that's easy to apply and fits very well.

As described
As described

Best neck brace ever
Extraordinary product extraordinary service one billion stars.  It's so comfortable I wear each day forA few minutes.  I recommend to all.

Great comfortable support!
Sooo comfortable compared to the stiff wrong size piece foam rubber given to by the hospital after cervical laminectomy. This  brace feels very supportive without binding. Even with my claustrophobia, this is comfortable while awake or asleep. Have recommended this brace to my neurosurgeon.

As Pictured, Works Great For My Cervical Dystonia
Just As Pictured.

Highly recommended
I live with chronic cervical pain. I have 3 disc fused after another rear end accident, all my disc are damaged. This brace has been a lifesaver in I did have 24/7 headaches and neck pain. It's still a daily struggle, but this brace being more supportive is the BEST for daytime use. I do go back to my less supported brace when sleeping.The brace has held up well with everyday usage.

"2.5"" was perfect for petite woman"
"Small blue enhanced (2.5"") was perfect. I had ordered medium and was too high and felt like I was choking."

Very helpful for neck issues
Love this fit well

Better than I expected
"I have a reverse curve in my neck due to a childhood injury. I purchased the 3"" enhanced version for support while I study, but it feels so nice to relieve pressure I may wear it for more than that. Also considering purchasing a second one for sleeping. I love it. Great support and great quality. Better than I expected."

Very Good
Great fit, just what I needed thank you!

Good quality, breathable
I can't sleep without it! You should only use one of these under doctor supervision, though.

Works Great & Comfortable
Product as described. Works great and is Comfortable.

A worthy product at a slightly $ - worth the xtra
A worthy product at a slightly $ - worth the xtra

Wow!
Thank you, thank you, thank you!  As a sufferer of arthritis of the spine, I have finally found a product that allows comfortable, virtually pain-free sleep.  Sure, it might not do the same for every person, but I speak as a person who was up a couple of hours most every night,  pumping up the old neck brace.  and sitting on the side of the bed until the pain would subside.No more!  I slept 9 hours of uninterrupted sleep with very little neck pain.  Looking forward to tonight.Again, thank you.

Comfortable...
"It says ""soft neck support"", and it's true. I wear it after work at home and I even wear the brace to bed some nights. I feel a comfortable support."

No regrets...its great
"I purchased the large 3.5"" enhanced. This is not the first foam neck brace I have tried but it is the best and most comfortable.  The fit is very comfortable because it is contoured."

Works Well
I bought this because I have ALS and my neck is getting weak.  I'm ok when I'm straight up, but when I lean over slightly to do dishes and the like, I can't hold my head at that angle and it drops. This keeps my head from falling all the way forward so I can keep doing things for myself for now.

Perfect
This product is great. I was not expecting such a great brace for such a responsible price. Thank you.

Comfortable. Better night sleep.
Nice and comfy! So glad I bought this. I sleep so much better. Bought an XL which fits me well and allows me room for a loose or tight fit. Pain relieved. Thanks*

Comfortable
Easy to wash and mostly comfortable

Support
The neck brace arrived in a timely manner. It was bought for my daughter, so once she starts using it, I will find out how she likes it. It looks like it's very supportive, yet soft. I may get one for myself. I suffer from an injury of my cervical vertebrae.

Great support for ALS
Early stages of ALS and needed neck support to keep working.

Perfect
A must purchase item

Soft neck brace
Product as advertised.  Works well to help stabilize neck and help with pain.

Perfect for after surgery
My father-in-law had neck surgery and needed a soft collar after the hard collar given by the hospital.  He said it is comfortable and gives his neck great support.

Just right
Tried two other neck braces - one had no support and the other was too tight and too hard.  Thanks to Amazon for an easy returns policy that allowed me to find just the right product, made by the same company, for my needs.  Don't settle for a brace that doesn't fit and support exactly.

Very comfortable contour cut!
Very comfortable, although hot as expected since it's foam. I have very weak neck ligaments and when I work out sometimes the muscles pull on my vertebrae and pull my neck out. This reminds me to keep my neck relaxed and not braced. The V cut does NOT jut  your chin out compressing the back of your neck like other kinds do. I can keep my neck in neutral posture and this just helps me keep those upper cervical attachments relaxed while lifting heavy. It has worked well and I don't care if I look silly! Not a crutch just a reminder for me.

Neck pain
I have terrible pain in my neck and I need the brace even to sleep with. It works perfectly. It is soft and hard at the right places.

Great support
This is great quality for its price. It gives the neck great support, adjusts easily with the velcrose to loosen or make tighter as needed.I would recommend this to others.

Neck brace gives pain relief
This neck brace is well made, sturdy but very comfortable.I have issues with my cervical spine and experience pain on a daily basis.This neck brace provided relief from pain.


| Country | Manual | Link |
| --- | --- | --- |
| English | VP0202B VELPEAU Neck Brace Enhanced Version Blue | Preview Download |
| Francias | VP0202B VELPEAU Neck Brace Enhanced Version Blue | Preview Download |
| Deutsch | VP0202B VELPEAU Neck Brace Enhanced Version Blue | Preview Download |
| España | VP0202B VELPEAU Neck Brace Enhanced Version Blue | Preview Download |
| Italia | VP0202B VELPEAU Neck Brace Enhanced Version Blue | Preview Download |
| Português | VP0202B VELPEAU Neck Brace Enhanced Version Blue | Preview Download |
| Россия | VP0202B VELPEAU Neck Brace Enhanced Version Blue | Preview Download |
| 中文 | VP0202B VELPEAU Neck Brace Enhanced Version Blue | Preview Download |
| 日本語 | VP0202B VELPEAU Neck Brace Enhanced Version Blue | Preview Download |