Product description
Product reviews
Q & A
Video
Manual
Ergonomic Curve
Anatomically shaped to ensure functional fixation of the wrist while allowing free movement of the fingers.
Two Soft Support Bands
An aluminum alloy splints on the palm, an elastic support plate on the back of the hand and soft support bands on both sides ensure that palmar and dorsal flexion is perfectly limited.
Support Padding on the Back of the Hand
The entire brace is padded with sponge and is neoprene and latex free, making it soft and comfortable.
Drawstring Technique
The practical drawstring closure system makes the brace more breathable and lightweight. It can be easily put on or taken off with one hand, while quickly increasing or decreasing the pressure on the wrist.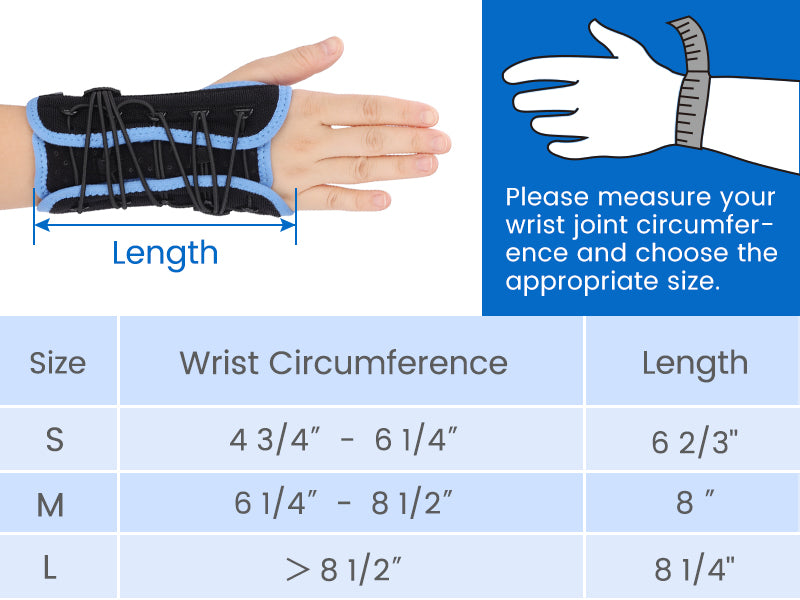 How to choose the suitable one?
1. Please measure your wrist circumference before purchasing and choose the right size to ensure proper fit and performance.

2. Hand wash only
How to use it
Super comfy & works great!!
Have a couple of different braces & this one works best because of the comfort in the thimb area + the way that the velcro on yhe straps works - they don't get stuck on everything else or have a bunch of extra hanging off.

Very comfortable
Was able to use this while I typed on my computer.  This is very comfortable, and still allowed enough range of motion.  My thumb and wrist are feeling better after using this.

Better than what I got at hand doctor
The one that hand surgeon gave me was falling apart. This is for a membrane tear in the tendon.  And I did not want to spend another $75 on that. So I decided to look for one on Amazon. I ordered three different ones all around similar price range. But this works perfectly And better than the other two. This is even better than what my hand surgeon had  given. Especially to stop all the mobility in the joint. It completely immobilizes my joined if I want or it can to adjusted so that I have some mobility as well. Highly recommend it. It did take 2-3 days to get used to it.

I have only worn one night but kept my wrist and palm area snug and from twisting.
I thought the amount of cushion feels good.  I need the wrist and thumb support and think it definitely does that. I had the ligament cut( because of instant carpal tunnel) when doing surgery on my broken wrist.  Those two bones in my wrist have never been good since and feel like the move. Definitely supports the wrist and gives relief. I had it off all day and looking forward in putting it on for the night. I had it off for garden work today. May get something also for daytime support.

Highly recommend
I bought this brace to replace a $200 brace I had to pay for at the doctor's office.  This brace is so much better too. My thumb is well stabilized and there is padding for the palm area-  now, I hope the tear in my thumb pad will heal-

Keeps the thumb and wrist immobile
Several weeks ago my thumb became incredibly painful. With a De Querveins and carpal tunnel diagnosis, I sought out a brace that wasn't going to cost the arm and hand I was trying to repair. This one had great reviews and was doctor approved. I wore it off and on for a few weeks (taking it off when it was more in the way than I had time for).Here we are several weeks later with even worse pain. It's my fault for not wearing the brace. In the past few weeks here are the pros and cons that I have discovered:Pros:1) It does keep my wrist and thumb immobile. There is a bit of wiggle, but not much.2) the straps are easily adjustable.3) The Velcro is strong enough to keep a secure fit, but not so strong that it makes adjustment very difficult.4) It does keep the wrist and thumb in a neutral position that allows the nerves/ligaments/tendons to rest in a non-painful position.Cons:1) I don't know if I just got a weird brace, but the ribbed stitching around the first finger has a very sharp break in it that has rubbed my hand raw between my thumb and first finger. I am currently trying to figure out how to pad the area to let the skin heal.2) the top strap crosses the thumb at a weird spot so it doesn't sit flush on the Velcro. It's not the end of the world, but definitely gets snagged on things.3) The inner material is super loose and bunches at the top. It's nothing simple adjustment won't fix, but still annoying to be constantly adjusting things.Overall the cons aren't really enough to make me want to send the brace back. And for significantly less than what the hand surgeons office wanted for a very similar thing it is still worth it.

If you've gotta wear one.... Pick this one
"Let's face it- who is super excited to hear ""you need to wear a brace for 4-6 weeks, 24/7!"" No one, but I will say if you have to wear one this over is pretty comfortable so it's not so bad.I weakened my wrist through some exercises and then lifted a pan into the oven and wham/ouch. Got diagnosed with de Quervain's tenosynovitis- yay😦. I'm pretty active and was not super excited by the prospect of not being able to do things for the next bit with my dominant hand. I ordered a couple different braces and figured if I had to be in this for the long haul it needed to be REALLY comfortable and not rub my arm/hand raw, like some other braces would.I've been in it for over a week now and have actually been very good about wearing it. Wearing it at night has made the biggest difference and already I am seeing a marked improvement and am hopeful it won't really be 4-6 weeks, but if it is I'll manage.Highly recommend. Worth the $5 extra dollars over other ones. Very easy to get in and out of and great support."

Hand brace
It is better than my last brace.

Good results
Very supportive and stable. The type of brace with the metal rod for the thumb cut off circulation. This one does not. Very happy with the results after two days in this brace.

great for carpel tunnel
This brace has been wonderful for stabilizing the thumb and keeping the wrist immobile. Thanks, great product.

Works great!
I bought this for De Quervain's that I developed during pregnancy which continued to persist for almost 9 months after delivery. I had gone to my PCP, who recommended I try an ointment for the pain, and also a brace. Looking online, I found this one. I love how secure my wrist felt in it, keeping my wrist stable, especially at night when it was most painful for me. I definitely feel this made the biggest difference for me when it came to finally having the De Quervain's resolve. I unfortunately did have it on both wrists, and had tried a different brace initially on my other wrist, but once I found this one, I ended up buying the exact same one for my other wrist. Would recommend this one to anyone who may be looking for a brace that stabilizes your wrist as it recovers!

High quality medical supplies from Amazon
Very high quality very happy with a product not happy with my old body

Excellent Post-Operative Support for Hand and Thumb
This device is well-crafted. It provides superior support and the Velcro straps are a breeze to apply. Highly recommended.

A lot of fun! Excellent quality!
ONLY safe bedtime glove for me!

Fantastic!  Comfortable & stable
Recently diagnosed w bilateral De Quervain's Tenosynovitis.  OUCH.  Just got these splints & they're so comfortable compared to my prior wrist/thumb spica splints; I almost can't believe it.Previously using universal ones from  the doctor's office; they rubbed my skin at every splint-edge, at my thumb joints & wrists..  In previous ones, I'd been trying to slip fuzzy material between splint & my skin to tolerate the irritation from previous splints.  These splints are comfortable, smooth inside, padded where sore joints are ; appropriately limit ROM at problem joints.After lengthy Amazon shopping & reading all reviews, I ordered these because of positive remarks of other DeQuervain sufferers.  I agree completely..... day 3 comment:  May need a little fuzzy padding by thumb whole, but east to do.

Exactly what I needed. Good support, comfortable  and great stability for the thumb.
Good stability for the thumb

Very supportive
very stiff and sturdy / well made and very comfy. Best one i've purchased yet.

Amazing
I just recieved this brace and I am already doing a review......AMAZING.... is an understatement!! Yes this brace is big but once you put it on and feel the comfort it provides to you the bulkiness dissappears. If you are looking for a sturdy brace that will keep your wrist and thumb in place... this is the brace for you. No rgrets here!!!

Great Brace! Comfy and Adaptable
My doctor told me to get a brace for some ligament injuries to my hand. There were lots to choose from. The reviews for this product gave me hope and after it arrived I was so glad that I selected this one! It is comfortable and very adaptable to any need for the rest and thumb. I am very pleased!

Support and comfort adequate
provides adequate support and comfortable.

FINALLY, relief from DQT pain!
I have been struggling with various degrees of DQT wrist pain for almost a year.  This is the only thing I've found that gives me complete relief from serious pain.  You will wonder why you didn't get one sooner!

Surprisingly great buy for Radial Nerve Palsy
Surprised that this was so cheap. Because it is sturdy, durable, light yet comfortable. I was diagnosed with Radial Nerve Palsy and needed a brace to move my hand and fingers. This provides GREAT stability for RNP. Highly recommend.

Excellent support.  I have bought for both hands.
broken wrists

Best one to choose - forearm/wrist tendonitis
I bought three different wrist braces with different features and this is by far, the best.I needed something that stabilized the thumb, in addition to the wrist and this was PERFECT.Comfortable while I sleep and an excellent choice.

Comfortable
Comfortable, worked well for a sore wrist.

Very Comfortable
This brace gives all the right support in all the right places and is very comfortable to put on and to wear.

Great product
This wrist brace worked to perfection.  Injury healed quickly due to support of brace.  What more can we ask.

Excellent
I have De Quervain's Tenosynovitis, this brace is the best ever to help you get better and heal faster, I choose therapy and  this brace , I am always wearing it cuz I want to get better soon this has helped me immensely in my recuperation .  It is worth the money, it is sturdy , cleans easily, I recommend this brace 100% , you will not regret it , and it helps you heal faster

Very well-made and served its purpose
Very well made and served its purpose

Perfect!
Had to get this one due to the one I had didn't have enough support. Wow! Could tell a HUGE difference in my pain only have a few hours of having this product on! It defiantly kept my thumb and forearm stable. Would highly recommend it!

Very beneficial for my medical condition
Very beneficial for my medical condition

Good
I have/had de Quervain's tenosynovitis and that junk hurts. This brace really helped me to keep my thumb immobile as I couldn't get in to see my hand doc for two months. It is comfortable and keeps your wrist and thumb supported. I think it may be better than the fancy one the doc gave me for my right wrist last year, that probably cost me (or my insurance company) 4 times as much.

Comfortable necessity
It's a drag having to use a splint but at least it has been comfortable. Only problem is the area around my thumb frayed a lot.

Perfect for my De Quervain's Tenosynovitis
As my title mentions I have De Quervain's Tenosynovitis. I ordered an aircast brace first, which was a waste of time. The aircast put the seams on the inside so it looks better but then the seams put pressure on my already inflamed wrist causing pain to the point I couldn't wear the brace. This brace put the seams on the outside so it feels great inside, nothing is pressing on my wrist. I'm glad I didn't have to order the $60 brace.

Relief from carpal tunnel
I have one for the left hand and the right hand. They are the only brace for carpel tunnel that has stopped the pain. I use to wake up through out the night in so much pain. Putting this brace on gives me instant relief. It also helped when I pulled my muscle in my wrist. I hope this product helps others who experience the same pain and numbness. This product is sturdy and tough. Which also means you cant bend your wrist with it but because of how much it helps I dont need to wear them all day long manly at night only. It is so worth it!!! Thank you for creating this product.

Does exactly what it's supposed to...
I developed a wrist injury (DeQuervain's) and was looking for something to isolate both my wrist and thumb.  This brace was perfect for me.  Yes, I had to adjust it as the injury was healing, but fortunately there are so many adjustable closures it was easy to accomplish for comfort.  I wore it 24/7 except for cooking and bathing and it has definitely helped with the slow healing process.  I definitely recommend it.

Keeps thumb and wrist stable to minimize pain. Outstanding product!
Loved product for above reasons.

Exactly what I need
Comfortable  exactly what I was looking for

Comfortable AND does what I need it to do!
A few months ago, I had a seemingly sudden onset of De Quervain's tenosynovitis in my left wrist. Awful pain. I bought several other useless wrist/thumb braces before finding this one. This brace does exactly what I need it to do. It restricts movement of my wrist and thumb perfectly. The inside is cushioned. If you have DeQuervains, you might have the same bump on the wrist that I do. The cushioning makes this brace bearable even when the bump on my wrist is pronounced. I wear this brace most of the day and sleep with this brace on, knowing my thumb and wrist are securely positioned. This brace is well designed and totally worth the purchase.

Immobilization
Very comfortable, easy to use, very good immobilization of wrist and thumb.

Is good.
Most comfortable and effective brace I've found.  Thumb area has two straps to adjust tension and angle so it's not cutting into your skin.  Actual bracing is very strong, padding is soft.  I plan on smashing my other wrist just so I can buy another!

Lifesaver
This has been an absolute lifesaver for me. I suffer from severe carpal tunnel syndrome. I would wake up in the middle of the night with my wrist throbbing and numb. Since my purchase I sleep so much better. This brace stabilizes your wrist and supports your thumb.  It has helped me tremendously.

Great Brace
I am using for water Volleyball, I brought 3 braces to try and a few at the store this one is by far the best.I love it comfort and the thumb part helps a lot too.  My thumb was hurting when i play this has great protection for the thumb

Very comfortable
I have carpel tunnel and have previously injured my thumb from a car accident,  jammed it in the steering wheel. After and before surgery I could not find a brace that was comfortable and didnt rub in between my thumb. This brace is perfect. So much so I bought another one for my other hand. Since they are made for left and right hands and not comfortable if you try to interchange them and use on other hand. I definately recommend if you are in need of a hand brace

Great wrist and thumb stabilization!
Easy and comfortable to wear too!

Comfortable & supportive
I've used wrist braces off/on for over 30 years.  This is THE BEST, most supportive, most comfortable wrist brace that I've ever used.  Easy to adjust.

Worth it
This is really helping me when I go to sleep. So that I don't move my hand or worst. Highly recommend.

comfortable and yet well fitting
well fitting, stiff yet comfortable and offers good support to the thumb.

PAIN RELIEF!
Struggling with extreme pain in thumb joints and tendons.  My doctor advised me to get a wrist/hand/thumb brace but did not recommend a specific brand or type.  Searching through the myriad of choices, I am very satisfied with this one.  While wearing the brace, almost no pain at all.  When not wearing it, the joints have improved enough that there is minimal pain with use.  I recommend you give it a try.

Highly customizable and fits great
Unfortunately, I've now worn a brace for 4 months, and during that time I've tried several different braces. This one is my favorite one by far. The velcro is the softer one so it doesn't catch on clothing, the blue fabric on the inside is soft and absorbs sweat very well. The thumb brace section allows you to make your thumb as secure as you want without pinching it. If you're reading this, then don't even consider the other options. This is the best one to get.

Great purchase
My son had De Quervain's Tenosynovitis and bought this wrist brace to help relieve pain before surgery. I have an infant at home and was starting to develop the same symptoms so he suggested I purchase this wrist brace and wear it at night. It made such a difference for me. My wrist was aching and burning when I woke up, but after wearing this brace there was little to no discomfort in the morning. Made taking care of the baby so much easier. Thank you for the great product!

Great!
I like how it secures my wrist & thumb more than others I've tried. It's very comfortable.

It's good
It works for tendinitis.

Comfortable, adjustable fit.
Comfortable and easy adjustments for exact fit. Stabilizing but still allows movement of fingers.

It helps a lot!
I've ordered medium and it has been an amazing thing ! My pain reduced 30%, super strong pressure. Definitely worth it!

Great brace
The stability of this brace is amazing! I've tried other braces and nothing worked. I like that there are different sizes. Most braces I find in stores are one size... Which we all know is a joke! I bought the medium and it fits well.

Good quality…gives stability
Just what the Doctor ordered. The brace is good quality..I need to use it daily for the next 8 weeks and I am quite sure this will help.

Good Wrist Brace
works well!

Almost immediate pain relief for my De Quervain's Disease
I was diagnosed with De Quervain's Disease the other day, couldn't find the splint recommended by my physician anywhere in this one-horse town, then did a search here to find this. It arrived only 15 minutes ago snd I have to say the pain relief for me has been immediate and impressive! Very comfortable and immobilizes my thumb nicely. I can barely believe it!

My favorite so far
Actually prevents my thumb from moving at all. Other braces still allowed movement towards the pinky, so trying to use my hand still triggered thumb pain. Doesn't dig into my skin too badly - only one spot is bothering me, near my pointer finger knuckle. Wearing a cotton splint liner under it helps. Lots of adjustments. Bulky, but I'll deal.My wrist is 6-6.5" and I went Medium and just made it work. It's about all the way tight. I think Small wouldn't provide as much support as it wouldn't tighten down much, but I didn't try it.

Awesome!
This split is awesome! I can move and have a secure support to my injury. Much better than others I have tried.

You'll be so happy to have your thumb stabilized
No more waking up to a numb hand. I wear mine to bed and it keeps my thumb and wrist quiet and without any range of motion. It is not bothersome at all to wear. Actually quite comfortable. I should have gotten one of these months ago!

It works!
The pain I had was intense. This brace immobilized my thumb and within 2 days the pain was gone. Great product from a good seller. It got here fast. Thank you!

Great product
Good product, helps with the purpose.

Works
Works well

these are great!
"These will hold your wrist solidly and comfortably day and night.  Also very adjustable for tight/loose.  I really appreciate the separate thumb strap as well (well thought out product).  Eventually the velcro will become less ""sticky"" but these last several years of frequent use.  Note there is a right and left hand version (I have each)."

It's very comfortable.
Very happy.

Highly rated by my orthopedic surgeon & my occupational hand therapist for De Quervain's Tendonitis
Given that, for stability of the thumb and wrist in de Quervain's tendonitis, a metal shank runs up the side of the thumb, wrist, and forearm, and over the protruding wrist bone, the cheap and shoddy wrist splint with thumb spica that I was given in Urgent Care was really aggravating the wrist bone.  Diagnosis of de Quervain's tendonitis.  I went to Amazon and found this wrist brace, and have been wearing it for 4 weeks.  My orthopedic surgeon and my occupational hand therapist both wrote down the brand for future use; they loved the amount of padding and the structure.  So do I, but they're the experts.  I can't recommend this brace highly enough.

Good fit, well made product
Fits great! Very sturdy and stabilizes thumb joint without totally limiting mobility.

Great Wrist Brace
Great wrist brace very versatile and comfortable

Just perfect
Very comfortable

It worked for me
Self diagnosed for thumb injury. I used this brace and my pain was gone within a week

Good design
The brace maintains the wrist and thumb secured in a comfortable position. I would add a little extra padding on the metal splints for added softness, otherwise very happy with it as it limits the movement of the thumb by keeping it in place for a faster recovery.

Comfortable
Very comfortable to wear.  Great brace.

Very comfortable
and is the first brace I have tried that really keeps my thumb joint immobile and relieves my pain.

Great To Stabilize Wrist and Thumb
I got this because I have De Quervain's Tenosynovitis. I use the full length size for nighttime. It completely stabilizes the wrist and thumb. That's very important at night. I got the short version to wear at work. You can wrap the thumb velcro lower and have thumb movement from the first joint. You can pick stuff up with it. You can type with it minus your thumb. Both have multiple velcro straps to secure it the way you need. Even with it tightly secured it is comfortable.

Exactly what my doctor ordered!
This worked exactly like what my doctor ordered for De Quervain's Tenosynovitis ... controlled painful movements until healed enough to start rehab exercises.

Perfect support
I use this brace during the day and sleep with something a bit lighter overnight.  However since this one provides so much support,  If I've overdone it during the day I'll keep it on overnight. It's helping so much!

Worked perfect for what I needed!
Worked great

Perfect
It's very comfortable, supports my thumb and wrist well. It doesn't restrict my fingers so I am able to continue my work while giving my thumb and wrist the rest it needs. It's shaped perfectly for the palm of my hand with soft padding on the inside.

Super adjustable
The brace works perfectly. I love how adjustable these are. And for the record its not 9000 pieces of velcro..... its only 5. Silly people.Edit a quick fix for chaffing use a sock! Cut the end off and snip a small hole in the heel for your thumb. Leave enough length at fingers so when the sock roles its easy to unroll for driving etc... and it will but at least with a sock you can go pick something you like the feal of rather than ordering a sleave and hoping for the best, and a pack of socks means you can rotate through them and wash them frequently to avoid oder buildup. That in turn means you really only need 1 brace. Money saver.

Durable
It's very comfortable and stable. Easy to use

Love this wrist brace!
Fits perfectly, I wear it every night. Very satisfied.

Helps with pain but also is comfortable to wear.
Wasn't sure what size to get so got medium. Wrist is 6.1 size so probably either one but didn't want one too small. This is the only one that doesn't hurt the space between thumb and index finger.  All the others hurt so can't use them. Bought 2 because it takes some time for them to dry.  Very very comfortable.

Does it's job well
This brace is fully adjustable and quite comfortable. It does a great job of immobilizing my wrist and thumb without being overly tight. I would buy this again and I recommend it if you have a thumb and wrist injury. This is made in a shorter version also. The price was very reasonable IMO @ $24.99.

Nice product!
Very well made product. Bought for my husband who was experiencing wrist and thumb pain. He has large hands and this brace fits very well with plenty of Velcro to adjust the fit perfectly. Would definitely recommend to others

Does the job
Very comfortable brace.  It has held my painful thumb motionless allowing it to heal.  After several days I can remove it for a few hours so that I can work at the keyboard.  Be aware:  Unlike the small brace I bought at the grocery store, this is large and bulky.  I cannot type with it on.I did some research before purchasing this brace.  It seems to be the most recommended for tendinitis, and I can understand why.  It is lightweight, and I don't sweat with it on.  I recommend this brace if you need to immobilize your thumb.

GREAT
GREAT. HELPS

Best Brace Ever!!! A++++
It works! I've never had a brace that actually worked before. I would still feel tingling, burning, numbing, etc. with other braces, but this brace I can sleep with and not have any discomfort. Definitely buy this one!

The best tumb wrist brace
I liked it a lot. I have been purchased  so many kinds of different wrist brace, but this is the Best one. It's comfortable when I wears it. It does helped me recovery from the injury in my thumb and wrist.

Love it! Truly works!
I have DeQuervains (not sure of my spelling) Tenosynovitis and this has been the very best hand brace I have found!

Best Brace I've Ever Purchased
I suffer from issues with my right wrist, which is not helped by the fact that I curl my wrists into my body when I sleep. I've tried dozens of hand braces for sleeping and I'll either rip them off in my sleep, or my hand ends up in pain from pinching between my thumb and pointer finger. This brace solves all of my complaints and has even replaced my braces made by the physical therapists. It has great support with adjustments in 4 areas to make it as loose or tight as you need. I will never go with another brand of brace again!

Best splint I have found
For my thumb tendon injury this brace has been the best one I have found. I also like that they have size choices as well.

No comment
No comment

Helpful for my DeQuervain's wrists!
I am dealing with de quervain's in both wrists following the birth of my child, and sleeping with the braces on at night has helped tremendously. (They are a bit annoying to take off when baby wakes up crying, but still worth it!) I also wear them when I'm pumping— that particular wrist manipulation was doing a lot to worsen my pain, and the braces keep things straightened out. Highly recommend for anyone suffering the same.

Comfortable fit
Comfort of this item was good. Kept my thumb and wrist stable.

rocks
best brace ever

Works great, even after washing/drying
I tore a tendon in my wrist and this splint helped stabilize my wrist and significantly minimized the pain. The material is easy to clean and dry. I soaked it in soapy water and then tossed it in the dryer. It remained in tack, didn't shrink, also the Velcro still worked properly. My one reminder would be to clean/wash biweekly because your splint might smell because of your body heat, lotion, sweat etc. Overall, it was worth the price.

Kept my wrist and thumb secure
I had purchased a couple different braces for the tendonitis in my wrist.This one worked the best.  I ended up purchasing a second one becausethe first one actually wore out.

Very comfy
Product was shipped the day I ordered and delivery was fast. Very comfy and keeps my wrist and thumb stable.

Comfort
Product arrived with no issues regarding shipping or packaging.  The wrist brace with thumb protector what is a pleasant surprise as it is equal to many other products for which I have paid a higher price. It is both comfortable and supportive.

Thumb Saver!
My thumbs started giving me a fit. I am guessing arthritis.  My husband says it's Tik Tok thumb 😂Anyway, this was just what I needed to rest my sore thumbs! It was easy to wear and sleep in. Very soft fabric lining inside against my skin. I would definitely buy again!

Worth it
Quality materials, keeps my wrist and thumb stable to allow them to heal, minimizes and prevents pain.

Highly adjustable
I tried several other wrist braces before finding this one. I like this one because its very stable, the padding is comfortable, and (MOST IMPORTANTLY) I was able to adjust the thumb straps so it doesn't dig into the skin between my thumb and index finger.Keep in mind that no wrist brace is truly "comfortable" but put some effort into adjustments and take some time to get used to it. I sleep with this on every night with no issues.

Excellent product
I love this brace, I found pain and numbness relief immediately. I wear it to sleep and I have never experienced waking up though out the night from pain and numbness since.

Works well
I was recently diagnosed with De Quervain's Tendonitis.  This was the 3rd wrist brace I've used and by far the best!  I won't need to buy any others. This one does offer great stability along with comfort and my pain is decreased.

ITS EASY TO UDE IT
Excellent

Excellent product
This brace is exactly what I neededIt is exactly what is portrayed

Great for my De Quervain's tenosynovitis
Fits perfect. Great for my De Quervain's tenosynovitis. Comfort is excellent

Great
Needed my thumb immobilized and this did the trick

Works great
I'm a dental hygienist and after having my babies I had some carpal tunnel that flares up in my thumb/wrist area. Wore this for a few weeks and it helped!

Comfortable even while restricting motion
Overall good fit and does it's job comfortably. I'm in between small and medium so I have challenges with all the ones I have tried. I got the medium. The palm stay is a little long (probably size related), and 3 support straps is a little over kill, 2 would seem to work. Thumb straps are easy to set.

Carpal tunnel?
My hand has been hurting so I purchase this to rest it.  It stabilizes the wrist very well, and the additional thumb splint was also needed, as I am hurting at the base of the thumb.  The only thing about the fit is that the thumb splint hits my thumb right on the cuticle and is making it slightly sore.  I do wish it was easier to find a splint that went all the way to the fingers, to help keep the ligaments of the hand slightly  stretched.

Amazing
I tried 3 or 4 other braces for de quervain's tenosynovitis and none of them even came close to this brace. Its absolutely amazing and I recommend this to anyone struggling with wrist or thumb issues! 10 out of 5 stars!

Amazing
Completely immobilizes my wrist and so comfortable. So worth it!!!!

It's working so far!
The brace got here very quickly and provides great support while I'm sleeping and throughout the day.

This chronic tendonitis patient is very grateful
I've had tendonitis for 5 years. I finally went to occupational therapy and I was told to get a brace that could also stabilize my thumb. I've worn it every single day since November 2020, and it's held up great. Washing machine and dryer safe, incredibly comfortable, very easy to adjust, absolutely perfect product.

Useful
It is useful! I have tenosynovitis in my left wrist. I use it to protect my wrist. It will hold my thumb in place and ease the pain.

Best Buy!
Worked perfectly!!!!

Great thumb and wrist support
I looked at several braces for my thumb and wrist and this one was even better than what my doctor gave me. It keeps my thumb from moving allowing the tendon to rest and heal. It is very comfortable and has a lining inside for comfort as well so there is no irritation.  Highly recommend this product for tendonitis relief.

Extremely comfortable and effective
Stabilizes thumb AND wrist quite completely. But still permits limited use of fingers. I'm typing, if you can call it that, with this brace on right now. Highly recommended

Provides great support at night while sleeping
I put on this splint every night before bed. It has 4 straps from the thumb to just past the wrist. I keep the straps loose to give me a little motion and a lot of stability

Best brace I've found so far!
This is my third style of wrist brace and the most comfortable by far.  It doesn't shift during the night, and keeps my hands and wrists in a good position. I love the fact that the support pieces are removable. But conveniently, they don't stick out either!The straps are easy to adjust, and long enough. The Velcro sticks well, so it doesn't jab my partner in his sleep.I got one long one for my dominant hand, and one shorter one, kind of as a trial.  They're both comfortable and stabilize my wrist and hand well. I do feel just a little more stable in the long one, though.Two nitpicky things that could be slightly improved: the velcro adheres well, and that's the most important thing when it comes to the straps.  But it's such a firm Velcro that I've noticed the edges create light scratches on the exposed skin of my legs. (If you were more coverage pajamas than I do, no issue.  It doesn't catch on cloth).And in my opinion, it sometimes rides uncomfortably high near my pinky.  Another design kind of curved down in that direction and I do miss that.

Right amount of stabilization
Good for stabilizing thumb and wrist, while still allowing to do some writing

Great Support at Night
This item was a life saver for my Thumb and De Quervain's Tenosynovitis. Before I purchased this, I could not sleep at night because my thumb and wrist would lock up and it would be so painful. I was originally only wearing it when I got home after work but my thumb was getting worse from typing so I decided to wear the brace 24-7. This was the best investment and would definitely buy it again!!

Helpful, comfortable, well made
I've only worn this for a short time, but I'm very pleased. I find out very comfortable. The Velcro is strong enough so it doesn't pull open. The thumb p protector is great. It's helping with my hand pain and I'll definitely buy another when this one wears out.

Well worth the money!
This brace has really helped alleviate my pain from my carpal tunnel.

Works well
Sturdy and holds your wrist and thumb in place which is what it's supposed to do.

Best for basal joint surgery recovery?
My dr gace me a splint after my LRTI surgery. I couldn't put it on as it crushed the area the trapezium bone once was. This one slips on without that pain. Supports all areas I need. Thumb comes off too!

Relief the moment I put it on!!!
Highly comfortable, lightweight, support in the exact areas I need it. This thing does not mess around!! Well constructed with quality in mind. FINALLY PAIN RELIEF!!!!

Great product, highly recommend it!
We bought this for our daughter when she had sprained her wrist.  It is world's better than numerous others we tried.  The others allowed thumb movement, which still aggravated the wrist.  By immobilizing the thumb, this product allows the wrist joint to truly rest so that healing can take place.  Combined with icing the wrist, this product really assisted the healing process.  With multiple adjustments for various wrist/thumb sizes, this is a product that can be highly customized to provide the needed support without being too tight or too loose.

High Quality Wrist Brace
Very comfortable and now I can sleep at night because the stability it gives, makes the pain more tolerable.

Duradera
Ya tengo tiempo usándola y me va bien

Sturdy device.  Works perfect.
Size was correct. It is exactly what I was looking for. Good price.

It is awesome
I love it



【From Jon P. B】A spica splint is a type of orthopedic splint used to immobilize the thumb and/or wrist while allowing the other digits freedom to move.

【From Retired Accountant】It's an orthopedic splint that supports the wrist and thumb while leaving the fingers freedom to move.

【From Olivia G】The wrist brace is specific to hand.  You will need to buy the correct one for each hand.  The brace was a tremendous help with the injury.

【From Kitti】They have a Right and a Left hand available, the design is specific and not interchangeable..  It's a very good brace.

【From】They are not interchangeable, they are left and right handed.

【From Bandit09】Best for me.  The other thumb ones hurt my hand. This one you can adjust the thumb so it doesn't hurt between the thumb and index finger.

【From Wendy】Since I haven't compared this brand to others, I'm not sure if this is the best. I can say however, this particular brace worked perfectly for what I needed it for. It did give me a lot of relief and I found it to be quality made.

【From JMB】I don't know if it's the best, but it certainly worked for me. I was having a lot of wrist pain from caring for infant grandchild. It gave me the support and relief I was looking for.

【From Robert A. Hinman】I found the long brace provides the secure stability I needed.

【From MonicaMartin41】Depends where your pain is.  Mine was thumb and wrist area so I got the long one because I still had to drive and do other everyday things.  Glad I did.  Allows you to do those things and no pain.

【From JAMES MCKEON】both are pretty solid but the smaller one allows more movement. just depends on how stiff you want to keep wrist.

【From Sandy】I find keying on my computer a little difficult and it slows me down. The whole point of this brace is to restrict moving your thumb, which makes keying difficult. I do type on my computer but I'm retired so I go at my on pace. Hope that helps

【From mark chamberlain】Yes you can but you will only have about 70% of your normal range of motion & where you rest your hand h wrist will feel different because it's like wearing a glove to some extent.

【From MRichard】loosen straps slightly. I am able to use mouse and keyboard well
| Country | Manual | Link |
| --- | --- | --- |
| English | VP0902 VELPEAU Wrist Brace with Thumb Spica Splint Regular | Preview Download |
| Francias | VP0902 VELPEAU Wrist Brace with Thumb Spica Splint Regular | Preview Download |
| Deutsch | VP0902 VELPEAU Wrist Brace with Thumb Spica Splint Regular | Preview Download |
| España | VP0902 VELPEAU Wrist Brace with Thumb Spica Splint Regular | Preview Download |
| Italia | VP0902 VELPEAU Wrist Brace with Thumb Spica Splint Regular | Preview Download |
| Português | VP0902 VELPEAU Wrist Brace with Thumb Spica Splint Regular | Preview Download |
| Россия | VP0902 VELPEAU Wrist Brace with Thumb Spica Splint Regular | Preview Download |
| 中文 | VP0902 VELPEAU Wrist Brace with Thumb Spica Splint Regular | Preview Download |
| 日本語 | VP0902 VELPEAU Wrist Brace with Thumb Spica Splint Regular | Preview Download |