Product description
Product reviews
Q & A
Video
Manual
This Thumb Wrist Brace can effectively relieve pain of tendonitis, tenosynovitis, carpal tunnel syndrome (CTS),arthritis, osteoarthritis, severe sprains of the wrist, provides stable support to wrist injuries. It is an essential first aid in the household.
Playing
It is comfortable and light without affecting your activities. You'll even forget it exists while wearing it.
Driving
This Thumb Wrist Brace can effectively relieve pain in the De Quervain's Tenosynovitis, provides stable support to wrist injuries.
Doing the housework
Wear it to relieve fatigue at work.
Sleeping
It is very breathable with excellent ventilation. When wearing it, you will not feel hot. This Carpal Tunnel Brace is especially suitable for sleeping and hot summer.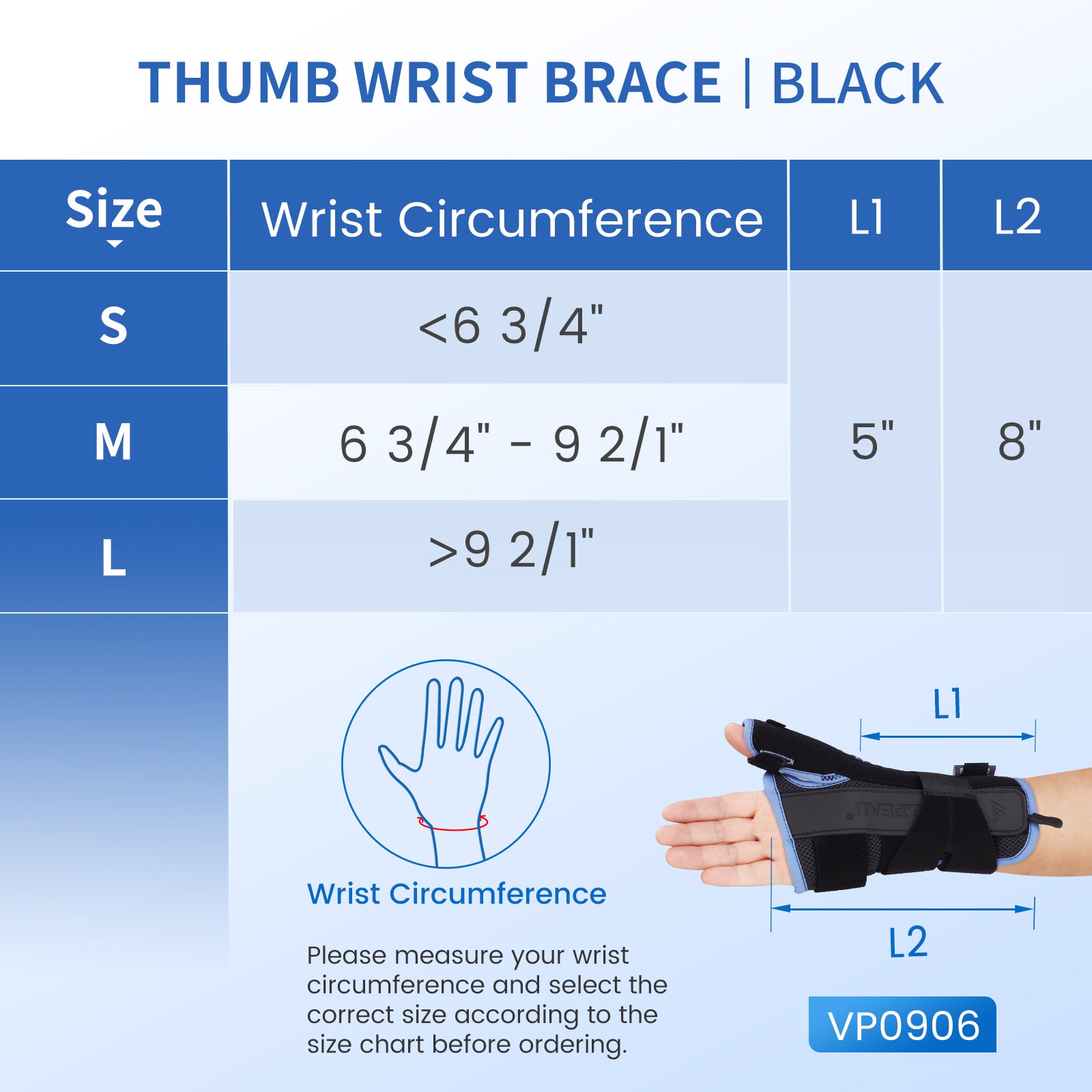 How to choose the suitable one?
Please measure your wrist circumference before purchasing and choose the right size to ensure proper fit and performance. Note: Hand Wash Only.
How to use it?
This product is what I needed
Thank you

They work for me.
I have carpeltunnel syndrome in both hands. It does not bother me through the day but does at night. These help keep me from waking up at night in pain. They have stability and are comfortable.

Buena
Lo unico malo es que  el material maltrata y quema la piel

It is so much better than others
After using braces for many years, this one is perfect. The unique way the closure woks is wonderful. I have struggled with other braces and the closure method. The dual strap makes it so easy to secure the brace.Ordering another one.

Great
Really works for me

This ia a light weight brace. Its not bulky.
Its very comfortable and sturdy gives you the support you need.

This will be in my wood shop 24 x 7
Complete relief for pain in my wrist.  I've has dozens of this kind of wrist support....This is 11 times better than any other device I've used.

I like that it locks in my thumb for firmness.
look above, wrote it already.

Very good brace
I had surgery on my right hand and needed a brace this brace worked great and was a lot more comfortable that the one I was sent home with.

Has helped relief my pain
Love this item I sleep in them nightly! Had to adjust wel as their was a part where at time it bothers me

A good brace
This does what it is built for.  It's comfortable to wear all the time.  Easy to slip on and off.  I've had a lot of pain reduction since wearing this brace.  Glad I made the purchase.I love the small strap around the thumb unlike some of the other braces I've seen.

Lightweight and easy to use
I have mild carpal tunnel and recently started having thumb pain like de Quervain's syndrome. I've tried a lot of different braces, with or without thumb stabilisation. I often have to use braces on both wrists at night which can be difficult to put the second one on. This one is much easier to manage with one hand already in a brace because the straps are simpler. It's also less bulky so i don't feel like I've got a big weight on my hand. More importantly, it doesn't squeeze my fingers together so i can't straighten them or cut off circulation in certain places while being too loose in other places (i.e., they've paid attention to the actual shape of the wrist and designed correctly). The thumb is stabilized but i realized other braces pull it too far out away from the hand and that's why they are so uncomfortable after a few minutes; this one stabilizes the thumb fairly close to the hand so it's in a more natural position.I am a grown woman with normal size hands and i wasn't paying attention and ordered the small which fits perfectly, so i would say these run a bit large. If I'm buying gloves or anything i usually get at least medium. So do pay attention to the size.

Helps my de quervain's syndrome for my thumb
Stabilizes, gives pain relief

Sturdy comfortable and help keep my thumb and wrist from moving
I got this for my a gamer's thumb. It kept my wrist in Mobile as well as my thumb which is what I needed. Better than the one I got from the doctor more comfortable and very well made. It did what it's intended to do for sure.

These are awesome!
Definitely helps me with my arthritis.  I wear them at night to prevent circulation issues and arthritis.

Really helps my wrist arthritis.
I use this every night and my wrists no longer ache.

I like!
I bought this one because it is breathable as I will be spending some time in the middle east in the future.

Best support
My wrists and thumbs need surgery as arthritis has destroyed them.  I use the long support for sleeping and the shot ones during the day.  If I go to bed without these, I wake up in a lot of pain.  This is not the case when I wear these braces.  I've tried a number of braces, but none support my thumb like these.  They are also more comfortable then every other one I have tried.

Worked well
This brace worked really well for badly sprained thumb .

Brace works for me.
overnight delivery. brace comfortable and seems to be doing the job.

It is fine
I like it

Does exactly what we needed it to do.
My husband has tenosynovitis in his thumb and was advised by his doctor to get a thumb brace. It fits well, gives full support and keeps his thumb in place while it recovers. He wears it in the heat of Texas and has not complained about comfort. It is adjustable.

Relief!
I got this just for de quervain's tenosynovitis and it works great. I used the size chart to determine that I am a small, and that was right for me. The sizes will generally fit hands of certain measurements, but some personal adjustment is required to make it just right for your hand. For me, I keep the velcro at semi-tight and pull my hand into the brace somewhat to avoid the plate inside the brace pressing into my palm. In that position, I enjoy hours of pain-free activity. The brace offers enough customization that I can get a good fit.

I needed a brace with thumb and wrist support.
My doctor thought it was perfect and the price was great.

Comfortable!
Extremely comfortable! Provides great thumb and wrist stabilization for my scaphoid fracture. Comfortable enough to wear all the time with no major pressure hot spots. Highly recommend! I got a small- I'm 5'3" 110 lbs. Fits perfectly.

Does the job
So far so good

Comfortable with good support!
Just what I needed for thumb pain.

Great support
Its comfort and sturdiness

Terrific brace
What a great brace.  Very comfortable and easy to put on and also you still can use your fingers to type, write etc.  This brace is the best one I have bought and I have bought many.  I would recommend that you buy a size up when ordering.  I usually take a medium, but ordered a large and the fit is perfect.  The brace is very breathable and I wear this brace when sleeping and it does help the pain in my wrist and thumb.  I would recommend this to anyone who has wrist or thumb problems.

Amazing
I am a therapist and this is the best hand splint I have used and highly recommend over other brands.My wrist pain is eliminated due to stability and support.

Good brace
Liked that it wasn't solid covering entire wrist and length of brace. I perspire a lot and braces get damp fast. This allows for some airflow. The first strap closest to hand could be a little longer to better facilitate fastening.

Good for de quervain's
I've used several braces for my tenosynovitis but this is the only one I can wear all day and it's never uncomfortable. It doesn't dig in anywhere, easy to adjust and take apart. Gets a little sweaty in hot weather but dries out quick if you take it off for a little while. Recommended if you need a brace to immobilize your thumb.

perfect fit
This brace is perfect for relief from De Quervain's tendinitis.

Great product
I'm very pleased with this product. The wrist brace is comfortable and it stabilized my thumb to reduce the pain. My doctor recommended this product and it helps.

Comfortable and extremely helpful for De Quervain's
Definitely did its job on keeping everything immobile that needed to be! I wore it for 6 weeks almost 24 hours a day to alleviate my De Quervain's, and it worked! Now I can go brace-free! Don't forget to hand-wash it every few days though - it gets nasty kinda fast, especially in the summer.

Great Brace
Works Great, Better then what is in stores

Good choice
Best one I found out of 3

This is a great brace
Using this for both arthritis and tendinitis. It is lightweight but sturdy and very comfortable. Would definitely recommend this.

As expected
Performs as expected.  Don't know how to write a review that is full of silly superlatives.  I got what I expected and ordered.

Great pain relief for De Quervain's
"I appear to have a mix of De Quervain's  tendondosynovitis and mild carpal tunnel syndrome (repetitive strain  injuries from heavy keyboard and mouse usage).  The first time I put this brace on, I was amazed at how much pain relief it provided compared to my other wrist braces (I have five of them!).I also have very small wrists (circumference 5 3/4"") and a small frame overall, and the small size of this brace adjusts to fit me pretty well.This brace seems to be well constructed, and I think it will hold up well to daily wear.  It's hand washable, too.This brace immobilizes the joint at the base of the thumb very well, which is what it's designed to do.  The downside of this is that you are limited in what you can do while wearing it.  The other four fingers still have excellent mobility, though.  So, if you need to get the thumb stabilized, this is a great brace.  If you don't need to have the thumb restricted, you might be happier with a brace with an open thumb area."

Excellent for DeGuervains Tenosynovitis!
Excellent for DeGuervains Tenosynovitis

Great purchase.
This fits great even on a large arm, is sturdy, looks just like the picture. Very pleased.

Works
It fits perfect and my hand and wrist haven't hurt for week. I do wear it nightly to help with my suspected carpal tunnel. And I know I need a left hand as well.

Brace
Carpal Tunnel.I got it for my daughter in law

Several ppl said it was hard to insert their thumb
NOT SO - It's was simple and no directions read - My previous Wrist brace pushed my thumb away from my my had & due to the thumb wrist small strap that made this possible . With this thumb Splint it pushes the thumb against the hand comfortably and relives the wrist / lower thumb tendon area . able to sleep with it on but after wearing it all day would not advise it . Recommend it .

good support
This product helped me sleep better with the arthritis in my thumb.

Nice brace
Nice brace. Works well. Could use more padding around wrist to protect and help with carpal tunnel.

Fits perfectly.
Fits very well. This is my second pair.

Great value for your money
Purchased this for my boyfriend, comfortable, good support easy to put on and off and even comfortable enough to sleep with it at night.

Inexpensive and good quality
Comfortable, soft, washable

Works as intended
For covering as much as it does, this is relatively comfortable. It's snowing so the extra warmth is a plus.

Mommy Thumb
Like many new mothers, I have a good old case of mommy thumb. It's horrible. It got to a point where I couldn't pick up my son. This brace fits perfectly, is comfortable (I can wear it pretty much all day), and most importantly I can take care of my son without fear of dropping him or further damaging my wrist.

Recommended well made, worth the money.
This is an excellant product, well made and comfortable.  You can take out the metal stip that goes from thumb to the end.  I have slept with it and works more comfortably for me than the hard one made by my ocupational therapist.  I have arthritis in the thumb, carpel tunnel in wrist and tennis elbow. they aggrivated all at once, due to the way I slept.  this brace has helped me so much I highly recommend it.  There is one thing that I would like to manufacture to change, inside the brace there is a sturdy stiched seam, that when closed goes right over my sore thumb and wrist this did aggrivate me.  I took a piece of felt with adhisive back and cut a stip to go over the stiching, worked great, now it fits perfectly.  Highly recommended worth the money

Stablizes my thumb and keeps me from re-injury
My doctor recommended this product and it is perfect. Very comfortable, yet strong enough to keep me from injury. I had gotten tendonitis from over-use of computer mouse and keyboard - got a little to excited about my online business! This wonderful brace did the trick - thank you!

extremely comfortable support
This is a great brace, the only brace I have found that doesn't put uncomfortable pressure somewhere on the wrist or hand when fastened. I can wear this all day and/or at night and barely be aware I have it on.

Definitely Recommend!!!
I love this brace. I have been searching and searching and finally stumbled upon this one. When I wear it I forget I even have it on. It helps me write which I miss doing. This thing is a little lifesaver.

Pain Free and can still use hand and wrist!
Easy to figure out and apply to dominant wrist by myself. Received this quickly, via UPS, and have been wearing several hours now in place of another, older splint. The Velpeau splint/brace is SO MUCH more comfortable and already helping with constant cracking, popping, swelling, pain, inflammation and stiffness of sudden onset, arthritis  symptoms caused by a severe allergic reaction to a quarterly injection of new medication I received recently.  No medications have helped, and to be honest, I'm rather leary of taking any further medications at this point.  I purchased this splint for my dominant hand, hoping for some relief so I could maybe start functioning again. I'm so happy with it after just a few hours of finally being pain free, I've already ordered a second one for my non-dominant hand! Thank you 😊

More comfortable than many other such splints
I have periodic tendon problems in my dominant hand/arm.  This splint is more comfortable and effective than many others that I have tried.

Medium fits my wrist perfectly
This wrist brace is for the right hand. I wear a size 8 glove, but the medium in this wrist brace fits my wrist and right hand perfectly. This is a great wrist and thumb brace for anyone with Carpal Tunnel Syndrome, or osteoarthritis. The wrist brace will stabilize the thumb and keep the pressure off the wrist and thumb. I can still type with this brace on, but not fast. It does relieve the pain and that is what I need.

This is a great brace
It is more user friendly than most and keeps your wrists from bending. I just had surgery on my left hand and can feel all the same symptoms happening in my right hand. ordered this brace before my right hand gets as bad as my left one did.

Definitely a good brace
Diagnosed with trigger thumb and de Quervain's tenosynovitis. Dr. recommended I sleep with a brace. Love that this one is sized, not universal. So far feels much and stabalizes my wrist perfectly.Wish it came with pink trim, not just blue.

STURDY SPLINT
VERY STRONG AND HUGS MY HAND PERFECTLY!  VERY EASY TO PUT ON AND ADJUSTS WELL BY BOTH STRAPS TO A PERFECT FIT!  THE THUMB STRAP WRAPS LESS TIGHTLY; BUT, I'M NOT SURE HOW IT COULD BE TIGHTER!  I LIKE THAT IT IS STRONG AGAINST MY MOVEMENTS!

Lightweight but sturdy!
I get tendonitis in my thumbs (carpel tunnel) but if I wear this brace while watching TV or sleeping, it relieves the pain so that I am able to work without it on. I have one for the other hand from the orthopedist for the other wrist but this one is actually more comfortable and great price!

Awesome.
This hand brace is awesome. I love it, and it has helped with the healing process of my hand.

Just like the Ortho's but Cheaper
This brace is exactly like the one my Ortho gave me and is a perfect replacement. The fit is spot on and with three different straps I can easily adjust the amount of pressure with one hand.I wear this at work mostly because I do a lot of typing and suffer from DeQuervans Tenosynovitis. Its also extremely hot because I work in a mechanics shop. I expected this brace to get hot, sweaty and smelly but none of those things have happened,  even in the extreme heat.All in all the perfect replacement for an Orthopedic issued brace at a much more reasonable cost.

amazing quality for sane price
Comfortable but sturdy. Did not interfere with my typing or work. Five stars!

Very happy with this, already see improvements with my tendonitis
My thumb has been really bothering me as of late. I didn't get it checked out, mostly no time but also with COVID I try to go to the doc unless it is super serious. Having dealt with a lot of injuries over the years so I had a good idea that this is probably a form of tendonitis. So after some online research I found out that I am probably on the right track and that it is most likely De Quervain's Tenosynovitis based on location of the pain and all the symptoms I looked up treatment and all they would do is tell me to take some ibuprofen, ice it and immobilize it as much as possible with a brace like this, I figured save myself the copay and just try all those on my own and see where I would get.So after some measuring I ordered the brace and am happy to report the sizing was 100% accurate. The brace is comfortable but I do need some breaks from it on occasion. I do try to wear it as often as possible especially when I don't do anything (sleep, watch tv, read,...) and I have to say after even just a few days of wearing it the pain is already getting significantly better. I will continue using this as often as possible to get fully rid of the pain which could be up to 4 to 8 weeks especially since I do not wear it 24/7. All in all I am very happy with this. It does have a metal splint in it in the front that you can remove. That one is more important if you have carpal tunnel which I don't have.

Effectively reduces pain at my thumb-wrist area; great support at the thumb.
This Thumb Wrist Brace (medium size) is lightweight and feels comfortable as I am wearing it.The three separate velcro straps allow me to adjust the fit of the brace to the right level of comfort, all the while giving support and stability to my wrist, and especially at the thumb area.There is a removable aluminum alloy splint that goes from the middle of my palm to my wrist area. For my situation, I remove this splint. I want my wrist/hand movements limited, but not immobilized.There is another splint on the thumb side; this splint is not removable.My hand/wrist does not feel excessively sweaty while wearing this.The brace is easy to put on, easy to remove.I sprinkle a bit of deodorant powder on the inside of the brace (which come into contact with my hand, wrist, forearm) every 2-3 days to keep it smelling fresh.note: When I first got this, there was no smell to the brace.Lastly, be sure to measure the circumference of your wrist so you get the size (S, M, L) of brace that best fits you. For me, I typically use small-size braces; but, this Medium size brace works for me.With braces such as this one by Velpeau, I do not experience as much tingling and numbness as I do when not wearing a wrist brace.



I wore mine 24/7.  So don't know about just at night.  After some therapy, and wearing the brace, I am pain free.

【From Black Rose】Yes it fits pretty comfortable. There's also room to adjust tightness and looseness. Does keep your wrist and hand very straight. I use this one for sleeping and a looser one for day time. Almost impossible for movement in these (which is good) just makes it hard to do things like drive. If you have a non busy day then you can wear them during daytime.

【From teresa bravo】Yes and very comfortable.

【From C. Pfortner】I have a great experience with this brand, I really shopped around and this is comfortable and durable. I like it better than the brace I received from my PT because the metal brace does not keep creeping out. It is also way more supportive than the little Mueller brace you can buy at Walgreens.  I really recommend it.
【From Anita Brannen】No, it does not seem to, to me. I find it quite comfortable to wear and I have a lot of trouble with my  hands, so I think I would be aware of that.

【From Black Rose】Very true to size. But the Velcro straps allow for altering. So you can get a small because the Velcro gives some play room.

【From Jeffrey B.】I would recommend the small as these are true to size.  Mine fit perfectly.

【From Tina】Not exactly sure I got a large . And it fits well.Its velcro straps. I was worried it wouldnt fit cause my hands are fat. But a large fit me.
| Country | Manual | Link |
| --- | --- | --- |
| English | VP0906 VELPEAU Wrist Brace Thumb Spica Splint Support | Preview Download |
| Francias | VP0906 VELPEAU Wrist Brace Thumb Spica Splint Support | Preview Download |
| Deutsch | VP0906 VELPEAU Wrist Brace Thumb Spica Splint Support | Preview Download |
| España | VP0906 VELPEAU Wrist Brace Thumb Spica Splint Support | Preview Download |
| Italia | VP0906 VELPEAU Wrist Brace Thumb Spica Splint Support | Preview Download |
| Português | VP0906 VELPEAU Wrist Brace Thumb Spica Splint Support | Preview Download |
| Россия | VP0906 VELPEAU Wrist Brace Thumb Spica Splint Support | Preview Download |
| 中文 | VP0906 VELPEAU Wrist Brace Thumb Spica Splint Support | Preview Download |
| 日本語 | VP0906 VELPEAU Wrist Brace Thumb Spica Splint Support | Preview Download |