More details
Product reviews
Q & A
Video
Manual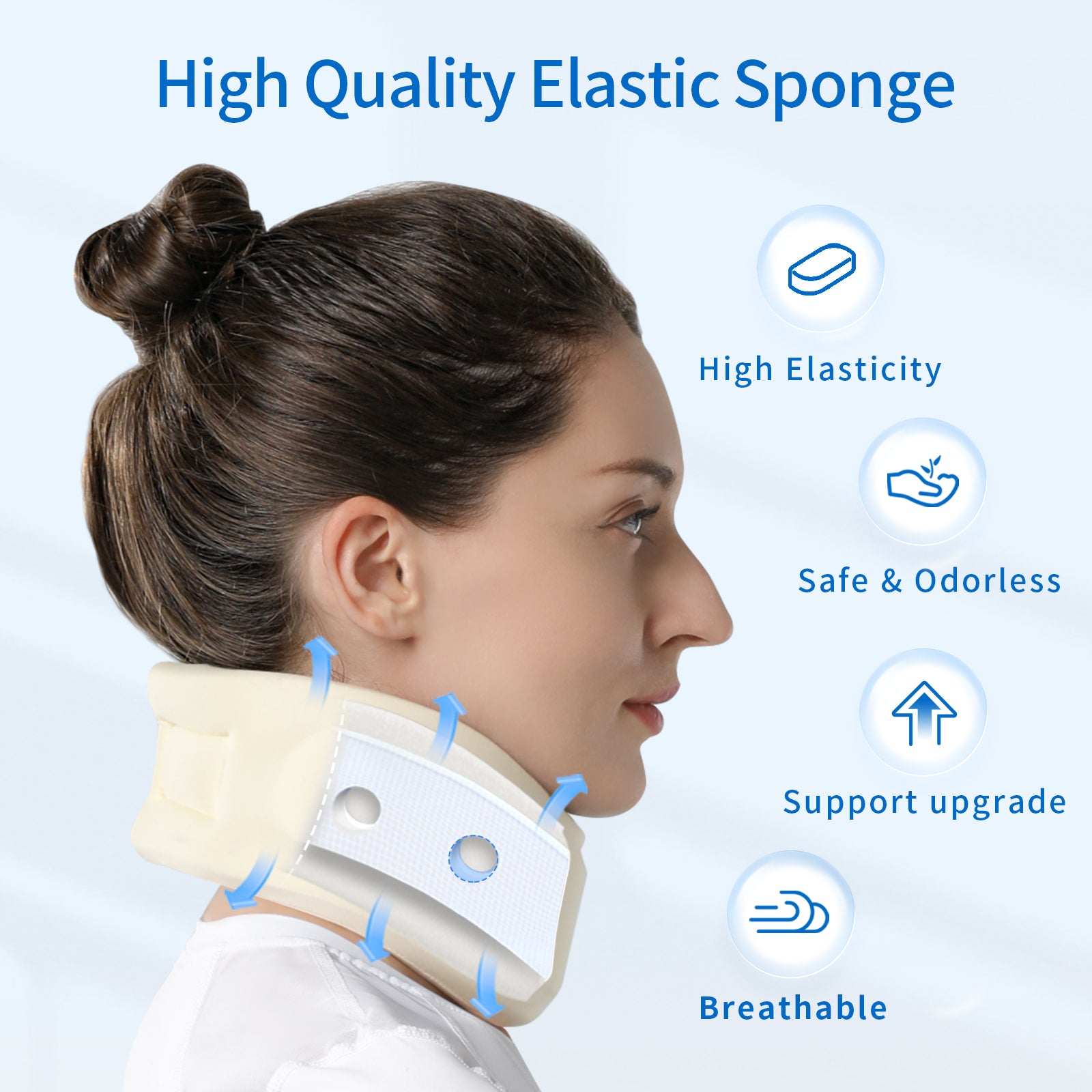 High Quality Elastic Sponge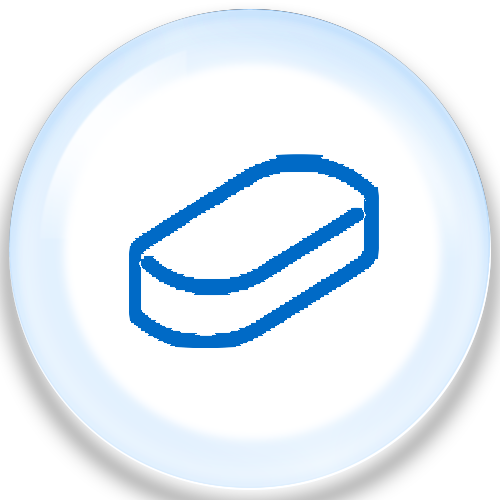 High Elasticity
The texture is very soft and resilient.It is not easily deformed with long-term wearing and it fits firmly.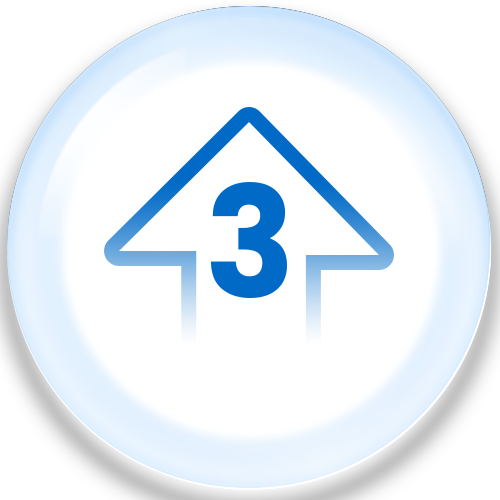 Support upgrade
Two-layer superposition with medium mixed density foam and soft high elasticity EVA foam, the cervical collar offers more support while being soft.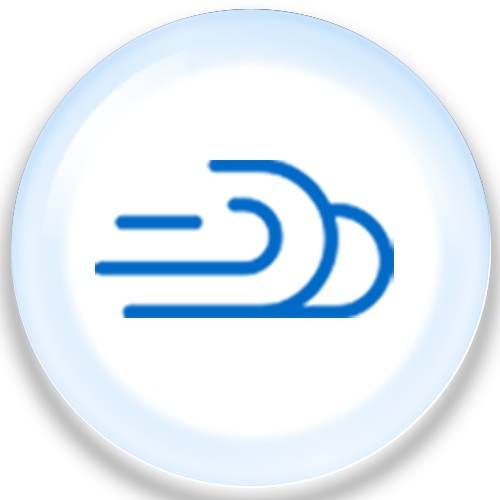 Breathable
Ventilated and breathable without stuffy sweat, the complimentary neck brace can keep the neck cool
Ergonomic V-Shaped Firm Support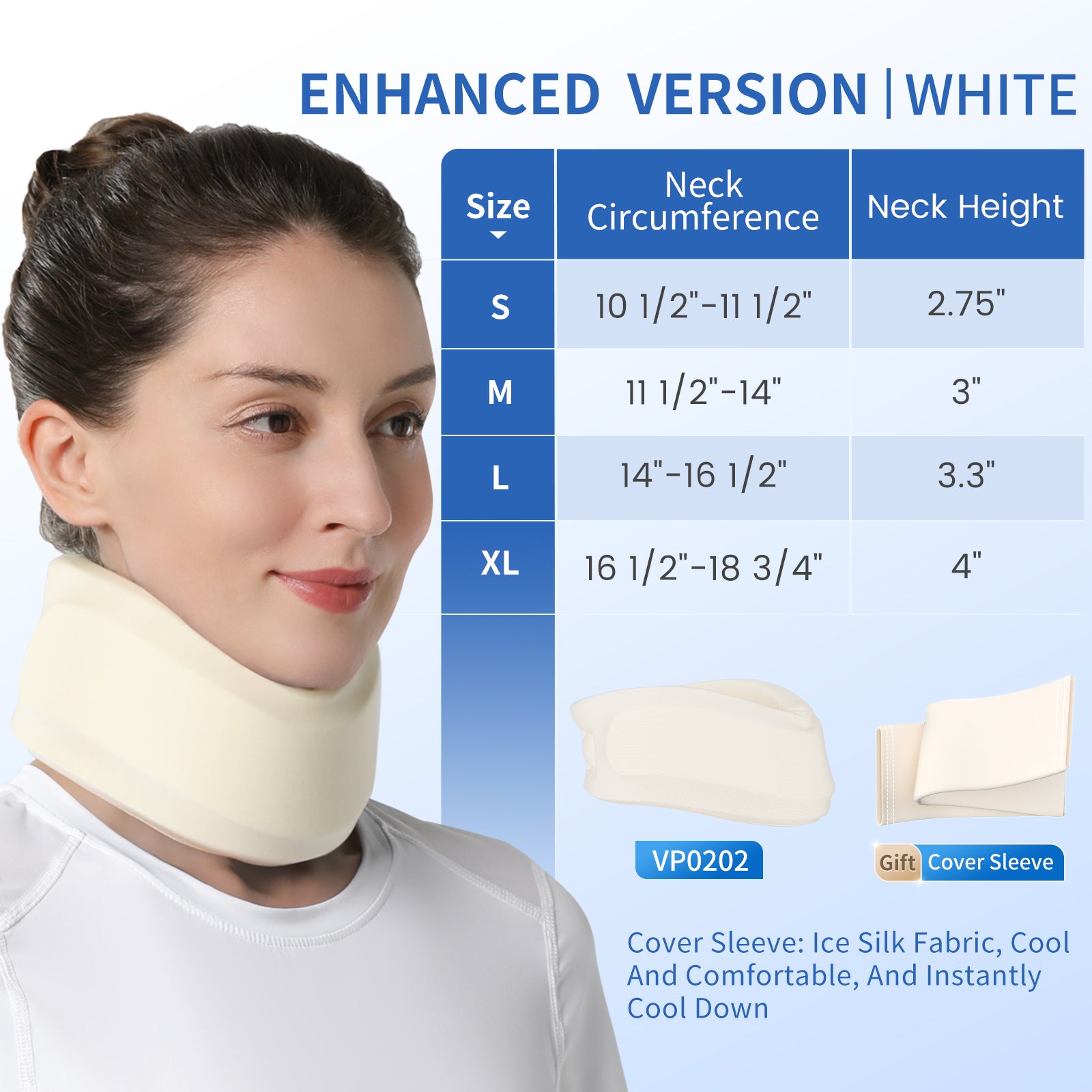 How To Choose The Right Size For You?
Please measure your neck circumference with a soft ruler. And the neck height is the distance from the collarbone to the mandible. Please choose the size according to the measurement results.
The Difference is Clear
General
Other
helps quite a bit if u have a crappy neck
I like to use it when my neck is starting to ache from using my phone too much. also it is quite helpful in reducing pain when i wake up with a stiff neck.

good product
Wife likes it.

It's amazing
I bought it for my boyfriend. He works in the lab and it helps with his neck a lot. He loves it!

Supportive neck brace
This brace is designed to be comfortable.  And it is.  I sleep with it on as well.  Did some research and it was highly reviewed. Imperative that you measure your collar bone to chin height as it instructs to ensure a proper fit.

Good product that I am not happy to have to use.
Very easy to use. Seems like a good brace with a cover, well made. Unfortunately, I would rather not have to use it. I sleep with it on, along with a rectangular neck pillow. Seems to help and causes no discomfort as I sleep on my side.

very comfortable
Great fit. very comfortable, excellent support. easy to size.  . Really helped

Well worth the cost
Excellent brace and fit is very good. I like the fact that it comes with the black slip on cover.

Supportive and washable sleeve
Great neck brace. Protects you from looking down. Soft and comes with a washable sleeve. Gives my neck a rest and love it.

EXELENTE
EXELENTE

100% pleased with my Velpeau neck brace
This neck brace does everything that I could want. I felt comfort and relief right away. I like that the cover provided is washable and removable. Quality fabric and adjusts easily. I am very happy with my purchase.

Great product!
This neck brace is soft and comfortable, while still very supportive. I've been sleeping in it and I wake up with much less neck pain than without. I highly recommend this to anyone with cervical neck issues!

Great seller
Excellent product!

Perfect
It is just what it states it is and adjust from too tight to loose and everything in between.

Better than any OTC pain relievers for stress headaches.
I use this when I feel a stress headache coming on and it stops it.  My only complaint is that after wearing it for awhile, it starts to itch, but I suppose they all do that.

Very supportive
Supports my neck while i sleep.

A temporary item for my wife.
She said that it was firm support, but comfortable-- no chafing.

Great Product
I have had a stiff neck for over a year now. This really worked. Thank You

Comfortable
Comfortable enough to sleep in without feeling like I'm being choked.

very pleased
arrived when expected ...just as described onsite

Love it
Feels good when wearingI don't feel choked

great support
very well made

Would recommend this product!
This is my first one of these.  Very satisfied with how it feels and functions.  I wish I would have got one of these sooner.

Good for the price
Good neck brace help a lot with the pain after rear ended  accident

Well Made and Comfortable!
Great, well made product. Highly comfortable to sleep in...which is the main reason I bought it.

No more pain
Just what I was looking for. Wear it to sleep which relieves the constant neck ache I was waking up with due to tucking my chin down low toward my chest.  Takes a couple of nights of getting used to, but I actually slept better with it on & don't wake up with the neck ache now.  Better than the hard version I had (which was for a previous vertebrae problem).

Five Stars
it works well.

Comfort and support are a plus.
The neck brace is both supportive and comfortable.  I think by wearing it, I am less tired and able to more freely do little chores inside and outside.

Comfortable and good fit!
"Comfortable and the right size.  The only sizes available in this town at the medical supply stores are 2 1/2"", 3"" and 4"" and none of them fit.  Was happy to find one about 3 1/2"" from this seller."

Great Support - Purchased A Second One In 2021!
Original Review:  Truly solid, comfortable support.  This is a very high quality collar.  I found it to run 1/2" shorter in length and a 1/2"wider in height than expected.  Purchase accordingly if you are between sizes.Update:  I purchased a second one to swap out for laundering after I aggravated the disc again.  Not surprising, the first collar is still in great shape and held up to 10 months of nearly constant wear and washings and then was packed away.  I expect this one will do the same.  Highly recommended!If it helps, I wash it alone.  My washing machine is agitator-less, doesn't use excessive amounts of water and I then air dried it overnight.  Came out perfectly every time.

Five Stars
Great seller. Will use them again. very happy with the product.

Perfect!, Great Support and
Perfect!,  Great Support and comfortable

Great Neck Support
Great Neck Support! Good I buy this one to give my Mon, She like this one, it works fine and give her neck more support, it's also easy to use.

Good collar!
Works very well. Fits easily.

She is very happy with it
Bought this for my mom. She is very happy with it.It's a perfect length to support the neck, and very comfortable with the adjustable size.She has a very big problem with her neck, she wear it no only when she sleeps but during the day time as well.Also this neck brace can keep the neck warm, a good bonus for my mom.

Neck Brace - Cervical Collar - Double Layer...
Good neck brace. Very firm, does not sag or fold when wearing it. provides good support.

I have to say this product has made my waking up hours 80 - 90% better. I highly recommend this for cervical issues
I had a triple cervical fusion in 2003 and now my other discs are going out - I bought this especially to wear at bed time because I always woke up with pain and a headache...I have to say this product has made my waking up hours 80 - 90% better.  I highly recommend this for cervical issues.

WOW, WHAT A NECK SUPPORT !!!!
An EXCELLENT  product for neck pain and support provided the choice for proper fit is made. Can't say enough about a product that merits its standard of  neck comfort  so very well !!! Would never be without it because it is all of a lifesaver for me!!!!

Versatile and comfortable..buy a few...
"Good support, when neck and nerves collide, it doesn't take much lateral, or front back  movement to let you know there is a problem. I wasn't sure if bracing would be effective at this stage,(2 years in), but it does provide support and comfort, and keeps me from making sudden moves by turning my head. No it won't take away the sharp pains, or the nerve issues down your arm, but it's a ""stop gap"" before surgical intervention, and you've run out of conservative measures, such as injections, p.t., etc. You can invert the brace forward or back, depending on the support you need, and it's not expensive, and meets with Drs. approval. I recommend......REVIEW UPDATE....Sept. 2018... cervical issues are now compounding, and pain never leaves neck....spasms continue, with little to no relief...am buying 3rd brace to alternate... Put one in freezer for 10 minutes for a refreshing comfort...3rd one just arrived...have had 2 days of constant neck and trapezius spasm..non stop...it makes sense to give the neck some support, and my PCP recommends"

Great thanks
What a really good product easy and convenient tonwear

It does work
I love this . it's great .ihave cervical arthritis  I would highly recommend this

Very supportive
Collar arrived promptly.  It is very comfortable,  providing great support and has really helped relieve some of my pain.

Excellent
Very comfortable


【From Velpeau】First,a silky sleeve helped to prolong the need to wash so often,All Velpeau neck brace will come with silky sleeves.
Can be washed by hand, air dried and is cooling to the touch and while on the neck brace keeps it feeling cool around your neck.
【From Mo of Solihull】I suffer from very painful neck pain thru cervical spondylosis.  This neck brace is definitely helping especially during sleep.And it doesn't itch as much as other products,His fabric is modal material, which gives me a sense of comfort.
| Country | Manual | Link |
| --- | --- | --- |
| English | VP0202 VELPEAU Neck Brace Enhanced Version White | Preview Download |
| Francias | VP0202 VELPEAU Neck Brace Enhanced Version White | Preview Download |
| Deutsch | VP0202 VELPEAU Neck Brace Enhanced Version White | Preview Download |
| España | VP0202 VELPEAU Neck Brace Enhanced Version White | Preview Download |
| Italia | VP0202 VELPEAU Neck Brace Enhanced Version White | Preview Download |
| Português | VP0202 VELPEAU Neck Brace Enhanced Version White | Preview Download |
| Россия | VP0202 VELPEAU Neck Brace Enhanced Version White | Preview Download |
| 中文 | VP0202 VELPEAU Neck Brace Enhanced Version White | Preview Download |
| 日本語 | VP0202 VELPEAU Neck Brace Enhanced Version White | Preview Download |