Product description
Product reviews
Video
Manual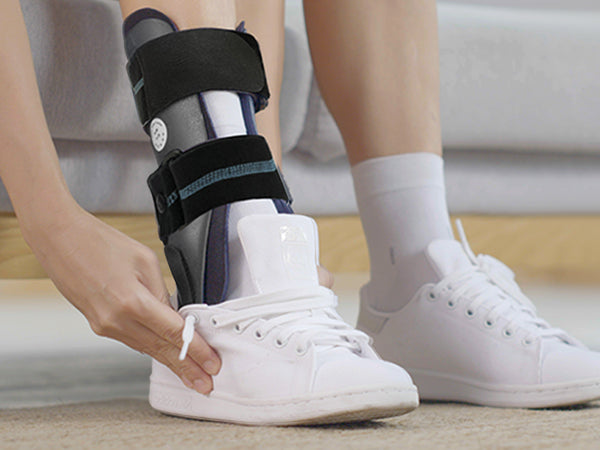 The Stirrup Ankle Brace can be worn with shoes after swelling relief, butplease be noted the shoes must be low-top, loose, and soft lace-up sneakers.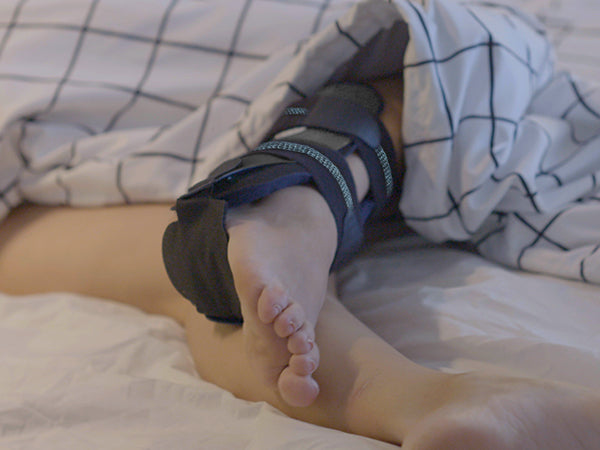 The splint is specially designed to match the natural curve of the ankle, featuring distinct structures for the right and left sides.
Gel Pads VS Foam Pads
Gel Pads
Product Components: Polypropylene, TPU, Gel (Carboxymethyl Cellulose), Nylon.

The gel pad provides enhanced adhesion, efficient thermal conductivity, and versatile temperature therapy options. It can be frozen for cold therapy or heated for hot therapy, allowing for customizable comfort and relief.
Foam Pads
Product Components: Polypropylene, Polyurethane, Polyester, Nylon.

The foam pad is anatomically shaped to fit the curve of the ankle, offering durability without sewn edges. It provides warmth and breathability for added comfort.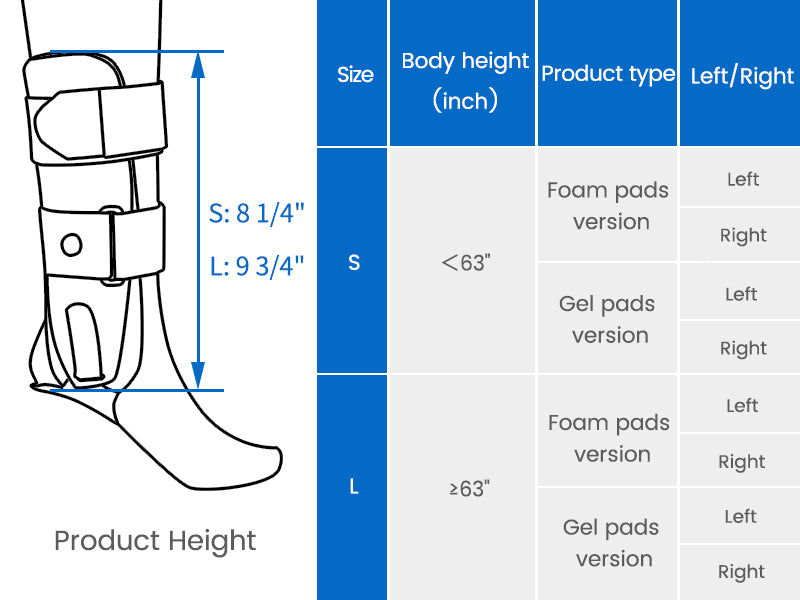 To choose the right size:
Body Height ≥ 5'3": L
Body Height < 5'3": S

Pay attention to selecting the appropriate side for your left or right foot .

Before ordering, measure your calf length and compare it with the product height to estimate the position of the calves after wearing.

It is recommended to hand wash the product.
Excellent
Good support when you need some relief from the gigantic boot the doctor provided

Great product
It was great being able to walk and not have to use crutches for support.

Excellent comfortable brace
Very comfortable

Great brace
Got this brace after I broke my leg two years ago. Ankle begins to give me trouble again so I ordered the same brace again I love it

Quality
This was an incredibly good quality product. It's nice to have option to buy something like this versus purchasing it from the orthopedic. The only thing I didn't like about it is the Velcro tends to want to stick to everything but other than that it is a fantastic brace

GREAT
EASY TO USE AND EFFICIENT

Great support for my ankle
I recently had a sprain ankle and this device has been great for support. I love how the gel feels around my leg and is easy to put on and walk.

Fantastic
I ordered this as a replacement for the air cast I was given in the ER for my fractured ankle.  What a difference!  Conforms to my ankle and calf better because of the gel liner and the straps to hold the two sides in place work great.  Very comfortable.  I am soooo happy I got this.  Highly recommend!!

Muy bueno
Me ayudó la recuperación  mi tobilloLo único malo es que el velcrome se despega de la parte del plástico después de una semana .No sé si es por la temperatura de la pierna o por el uso

It's good
Good

the fit
I wanted one with more support.  This has good support and it stays in place

The comfort and stability it has given me while I walk.
Right now I am using it because I have an  injured ankle due to a fall from the last step of the stairs. I am 80 yrs old! This ankle brace, obviously, will not heal but it has help a lot in my walk . It has help my stability and comfort. Besides, it is not expensive at all. I am glad I bought it.

Best brace for your bucks
Best brace out there.  Serious.  Not clunky, not painful.  Does the best job.  Better stability than Ace bandages and other wraps.  Better mobility than boots.  It's perfect

Much need support
I Love these

Great gelcast!
I love this brace.  It has kept my ankle from hurting,  couldn't have done without it!  Holds my ankle nice and snug.

Surprised me!
"I've been running through different models that supposedly did the same thing , they don't. Then I remembered , ""Keep it simple stupid."" And these don't look like much , but they're decently comfortable to wear for extended periods of time , They're WAY more sturdy than they look , with gel on the inside that takes up space where it could've rubbed."

Help with a sprained ankle
I sprained my ankle and this brace with the gel is very comfortable and gives the support I need. I can walk and function almost normally.

Great support for broken leg
After hospital cast removed, this provided just the right amount of support. Gel inside soothing to surgerysite. Easy on and off. I just needed to remove shoelaces on my sneaker to accomodate the extra space needed.

Quality from the item
I had tendonitis for years ago.

Great product!
Provides great stability - love the gel inserts!

Better quality than one from Orthopedic Surgeon
I really like this brace. It fits well, and it stabilizes my ankle nicely. I think it is of higher quality than the one my Orthopedic Surgeon provided.

be prepared
My first aid kit literally has 3 groups of materials. Basic, More than basic, trauma. Splints must be considered as a necessary part in my kit. So having this in my kit even gets more ready for about anything that I may have to do as a first responder to members of my family

Helped alot
I walked a around it kept my ankle stable

A+
Never thought I'd write a review for an ankle brace, but here we are! I love the gel inserts. They have velcro on them so that you can take them off and stick them in the fridge or freezer for a cool relief!

Exactly what I needed
My doctor told me which brace I needed for a double sprain.  I needed help the first few times putting it on but now I have it down to go myself.  It really helps the pain and stability of my ankle.  It's been hurting for a long time, the doctor said I keep reinjuring it by not having a brace!  It feels so much better wearing the brace now, if you need a stirrup brace this is a good one to get, the fit is good.  Make sure to get the proper one for right or left foot and pay attention to which side faces the inside of the ankle and which faces the outside. If you do it right it really helps.****note, the only reason I needed help putting the brace on in the beginning is because I've had back surgeries with titanium rods so bending in certain ways is difficult.  Plus I really really like that I can take out the gel packs and put them in the freezer, then put them back in the brace when they are cold, it really helps the pain.Now that I've had this for a bit I no longer wear it because the supports on the side are pretty long and cause excessive pain to the part of my ankle that is injured!  I'm not sure if it's just not the right size or I don't have it on correctly.  The gel packs are nice, the coolness of the gel packs do help the pain.  I'll bring it to multi next doctor appointment and get help with it.

I think it's should work for me
Unable to say nothing yet, still Waite until Doctor  will request  to wear this sopport. I still wearing boot. Thank you.

Saved the day.
After spraining my ankle, this really helped. (A lot more than what I got at the hospital). It's comfortable and feels secure when it's on. Highly reccomend.

Great product
Super great. Will avoid you to harm your ankle.

Liked
Put it on as soon as I got it yesterday. Liked

Definitely recommend for nighttime
Perfect brace to sleep in after fracturing my ankle. Once I got my cast off, my orthopedist allowed me to sleep in this brace instead of sleeping in my giant walking boot. I was a little concerned about how the hard sides would feel, but  It provide the perfect amount of stability for my ankle without being too heavy or bulky. I also love putting the cold gel pacs on in the evening after being up on my achy ankle most of the day now. Definitely pleased with this purchase.

Safety
Cool compression works great!

Great support
Great support and does a great job supporting my rolled ankle.Can be irritating wearing with even sneakers.  Fairly light, easy to put on.

Buy it!!
This brace was better than advertised. How many times does THAT happen. It is adjustable. It was delivered quickly, the gels feel cool and soothing. I am more than pleased. FANTASTIC!!  Thank You seller for easing my pain.

Veterans Administration Hospital Quit Helping
I had to find my own braces because the VA Hospital no longer helps with my permanent disability. I've been wearing this stirrup type brace of many paddings have changed through the YEARS. I'm fed up with the lack of help from the VA.

Instant relief! Great support! Wear a long sock if sensitive skin.
Great support and stabilization, just wear a sock if skin sensitive. Instant relief when I wore it the first day! but the end of that first day, I developed an itchy rash where pad comes in contact with skin, however, I have very sensitive skin. I cleaned it with mild soap and vinegar and I wear a long sock before putting the brace, I'm still wearing it daily because it gives me support, stability, and it's helping so much with my ankle sprain recovery  (it's been a week). Excellent product!

Best ankle brace EVER!
I highly recommend the ankle brace.  I love this brace.  I recently had a bad sprained ankle and this brace saved me.  It keeps it very stable so I can walk without reimbursing my ankle.  It is very well made.  You can take the gel pads out and chill if you want to.  I love the gel pads because it just the right amount of soft cushion and stability.  This brace has 2 Velcro straps which makes it very stable and also very adjustable to your sizing and comfort needs.  This brace which last decades, very well made.

Great for Sprained Ankles
I sprained my ankle and this worked wonderfully to keep it in place and help it heal.

A good buy!
I sprained my ankle at work and this thing has been a lifesaver! The gel cushions are so nice, especially if you're a bit too busy (like I am) to sit and ice your ankle for 20 minutes at a time. It is so nice to be able to leave the gel packs in the fridge (or freezer, although I found that to make things a bit too cold for me) overnight and then get up the next morning and ice my ankle on the go! It's easy to put on (other than the velcro sticking to itself, but that's because the velcro is really strong--a good thing!) and adjust to fit my tiny foot/large ankle.

Brace
My therapist likes it.

Very stable. Love that it can be frozen
This brace hit the spot for me. If you can get 2, do it. Let me explain. First, I had a tiny issue. The Velcro came off in two places. I thought I wanted to send it back. Out of desperation I kept it. We were doing theme parks in orlando. I needed a second brace. I broke my ankle (hairline fracture) 3 weeks ago. The do. Would have preferred the boot. Orlando heat made that impossible in my head. I only bought one but wished for 2 all week.  I froze it every chance I had. Every evening. I could ice my ankle while still keeping up with my very busy family. I alternated with the air cast stirrup brace but this one provides much more stability.

Good price
As expected

Stability plus!
I love having a brace that doubles as an ice pack. As the ice thaws this remains comfortable all day.

Stabilizing
I could still walk without fear of twisting the ankle

Great brace
This has helped to build my confidence in walking

Freezeable inserts.
I have a sprained ankle and it helped stabilize. I got the gel one and it is wonderful because the gel inserts are removable and freezeable to make icing the ankle easier. It seems to need adjustment consistently after walking, but very stabilizing.

Great Support
I wear it during the day and the support is great.

Great Support!
After researching and reviewing different braces, this seemed like a better buy and it was!  My daughter fractured her ankle and is currently in a boot she needed to sleep in it but it was very uncomfortable.  This brace allowed her ankle to breathe while mobilizing her ankle.  I highly recommend this product.

So comfortable!
It isn't easy to find a brace that's comfortable enough to wear all day. This one is so comfortable and it fits in my New Balance walking shoes perfectly!


| Country | Manual | Link |
| --- | --- | --- |
| English | VP1501B VELPEAU Ankle Brace Stirrup Ankle Splint Adjustable Rigid Stabilizer for Sprains | Preview Download |
| Francias | VP1501B VELPEAU Ankle Brace Stirrup Ankle Splint Adjustable Rigid Stabilizer for Sprains | Preview Download |
| Deutsch | VP1501B VELPEAU Ankle Brace Stirrup Ankle Splint Adjustable Rigid Stabilizer for Sprains | Preview Download |
| España | VP1501B VELPEAU Ankle Brace Stirrup Ankle Splint Adjustable Rigid Stabilizer for Sprains | Preview Download |
| Italia | VP1501B VELPEAU Ankle Brace Stirrup Ankle Splint Adjustable Rigid Stabilizer for Sprains | Preview Download |
| Português | VP1501B VELPEAU Ankle Brace Stirrup Ankle Splint Adjustable Rigid Stabilizer for Sprains | Preview Download |
| Россия | VP1501B VELPEAU Ankle Brace Stirrup Ankle Splint Adjustable Rigid Stabilizer for Sprains | Preview Download |
| 中文 | VP1501B VELPEAU Ankle Brace Stirrup Ankle Splint Adjustable Rigid Stabilizer for Sprains | Preview Download |
| 日本語 | VP1501B VELPEAU Ankle Brace Stirrup Ankle Splint Adjustable Rigid Stabilizer for Sprains | Preview Download |