Description
Product reviews
Q & A
Video
Manual
According to the ergonomic design, there is a nice "V" shape around the chin that is less rigid and still allows some neck movement while keeping the neck stable.

It can keep the neck stable while sleeping and prevent pain caused by excessive neck movement during the night. Wear it at work or on long trips to relieve fatigue.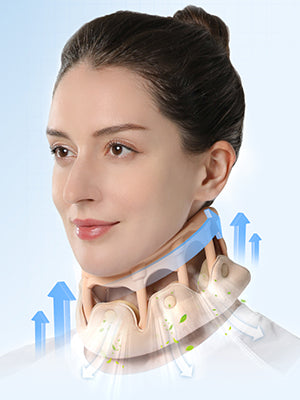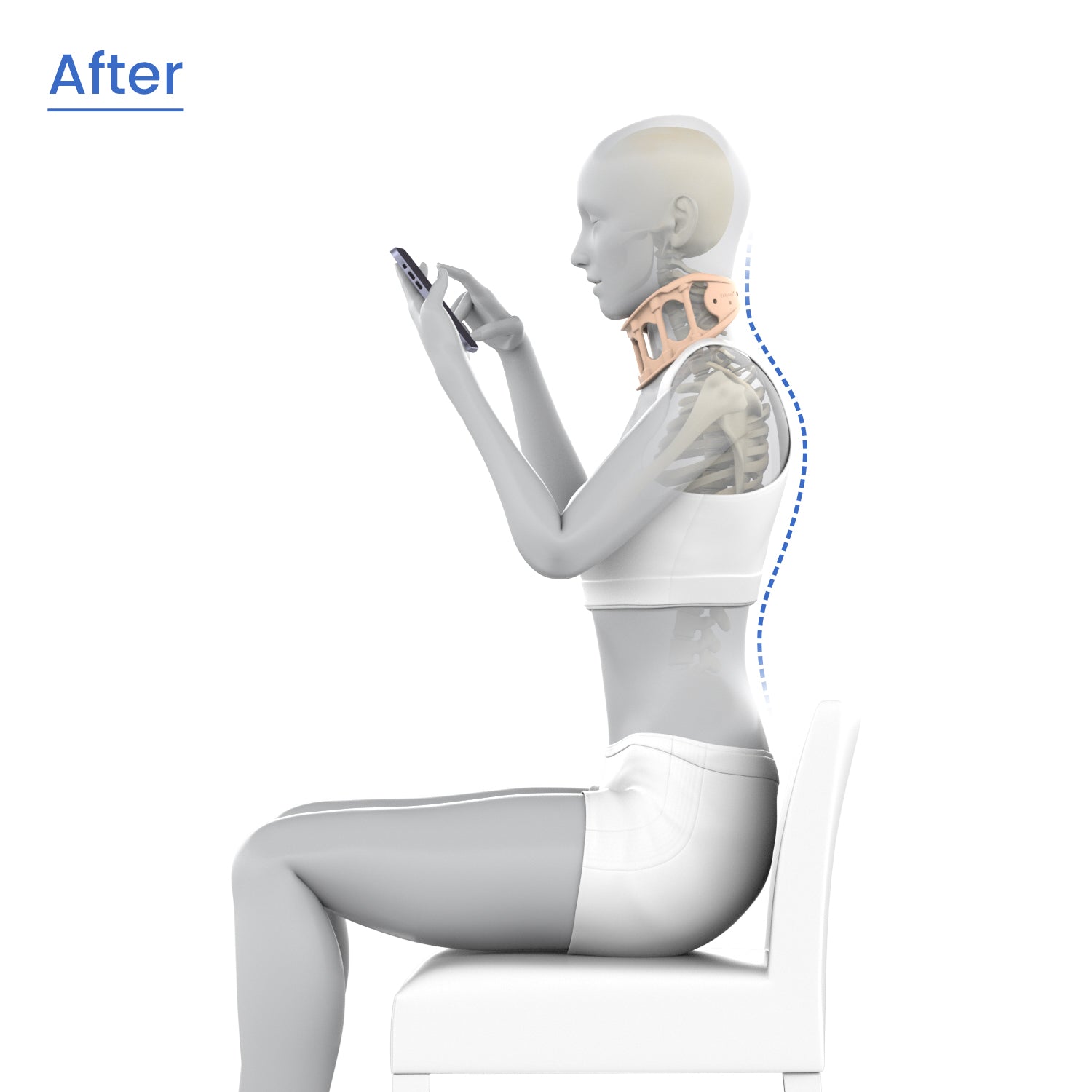 Neck Brace Silicone Version Brown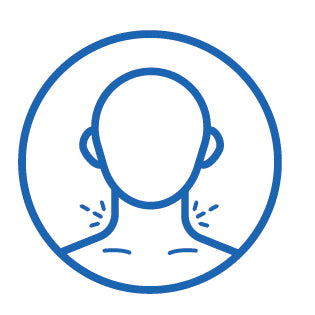 "V" Shape Design
The rising curves on both sides better support the neck.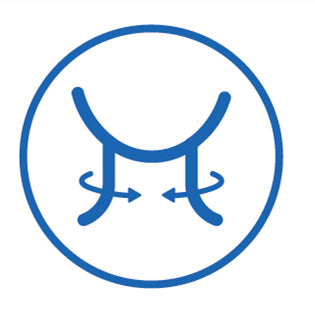 Efficient Adjustment
Effective In Adjusting Posture And Stabilizing The Vertebrae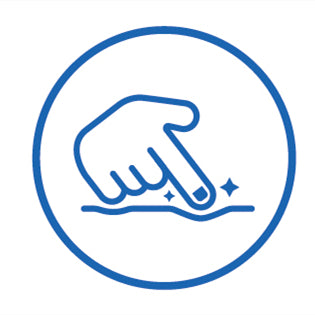 Soft And Elastic
Soft material feels good on your neck.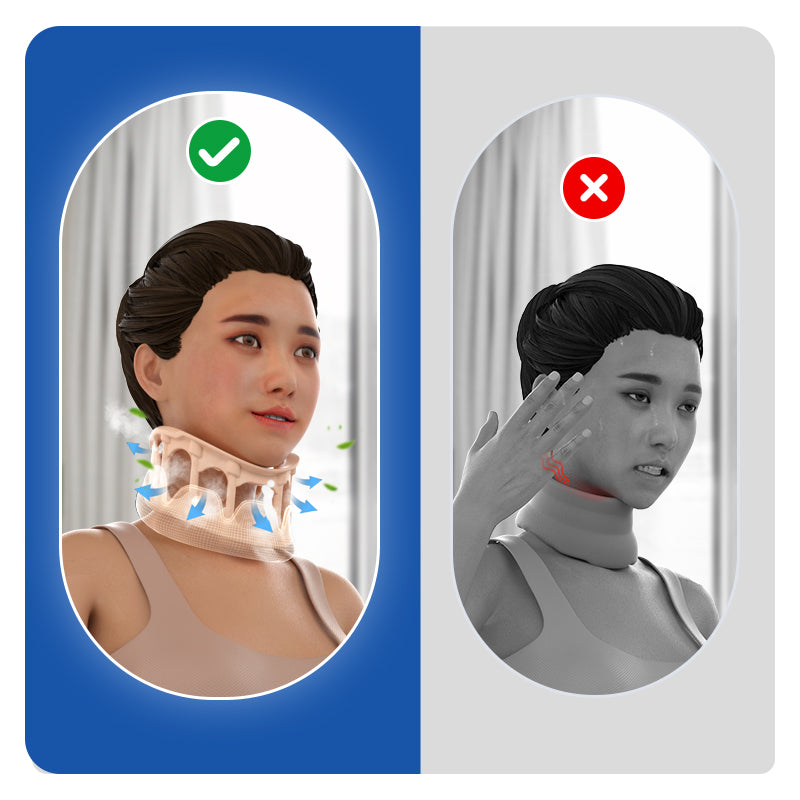 Breathable
Keep the neck cool and dry. You can breathe and cough freely. Perfect for hot summer.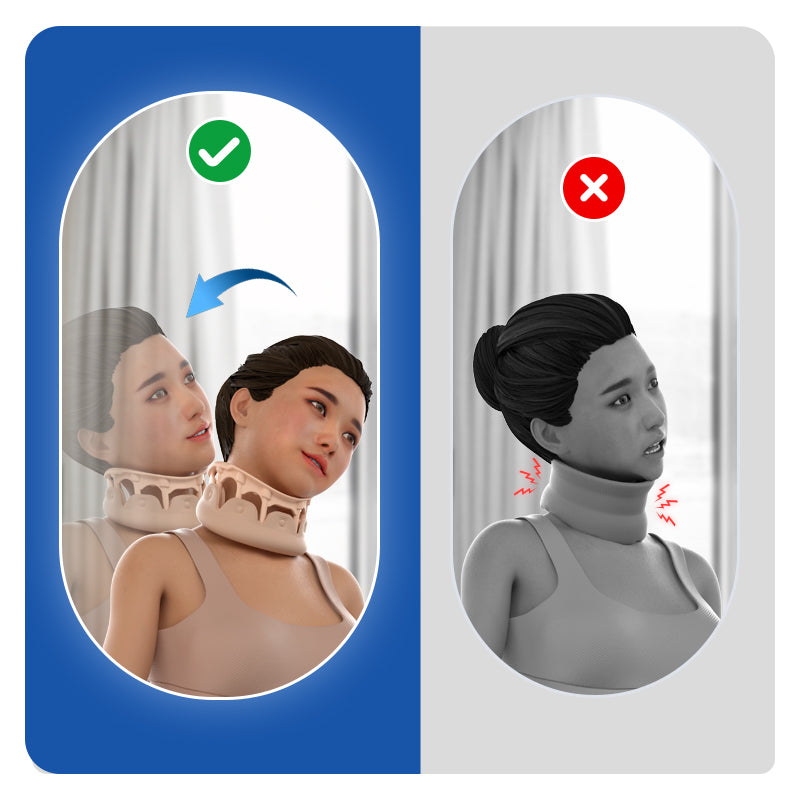 Comfortable
The rising curves on both sides better support the neck.Give you the maximum comfort.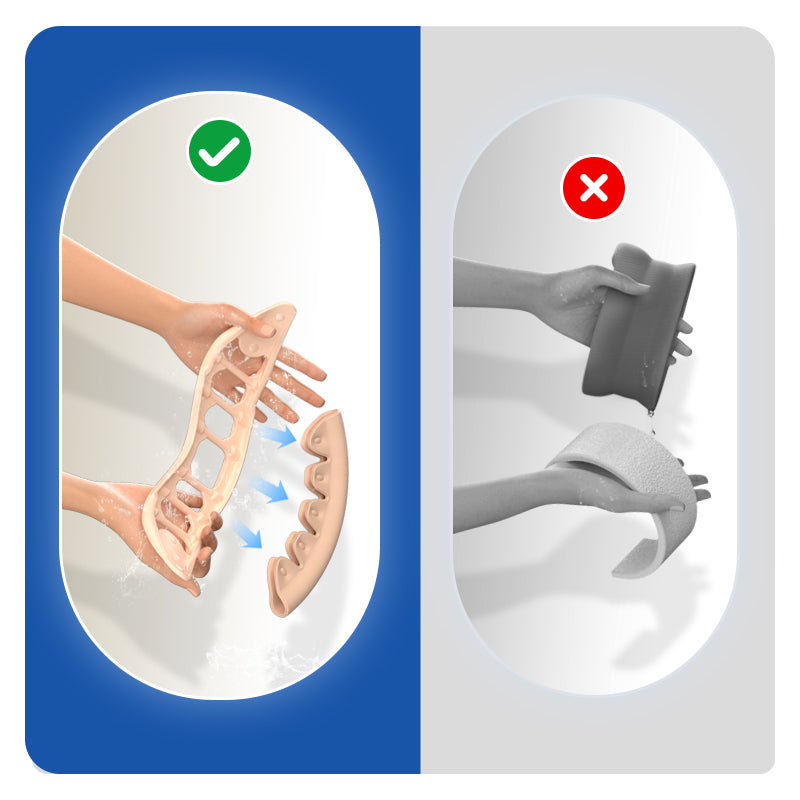 Washable
Easy to clean and can be washed directly with water, and it only takes a few seconds to dry and use after washing
Adapts to multiple scenarios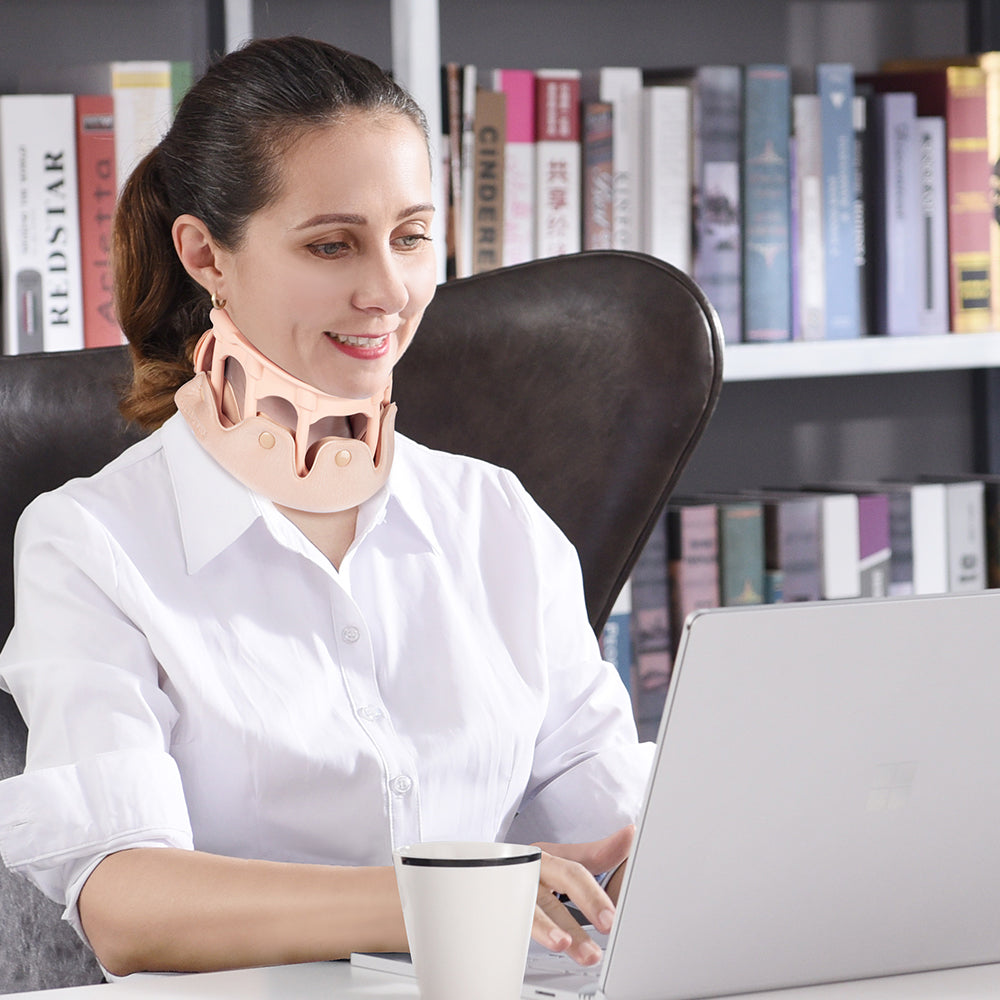 At Work
Prevents stiff neck and back pain when sitting for long hours.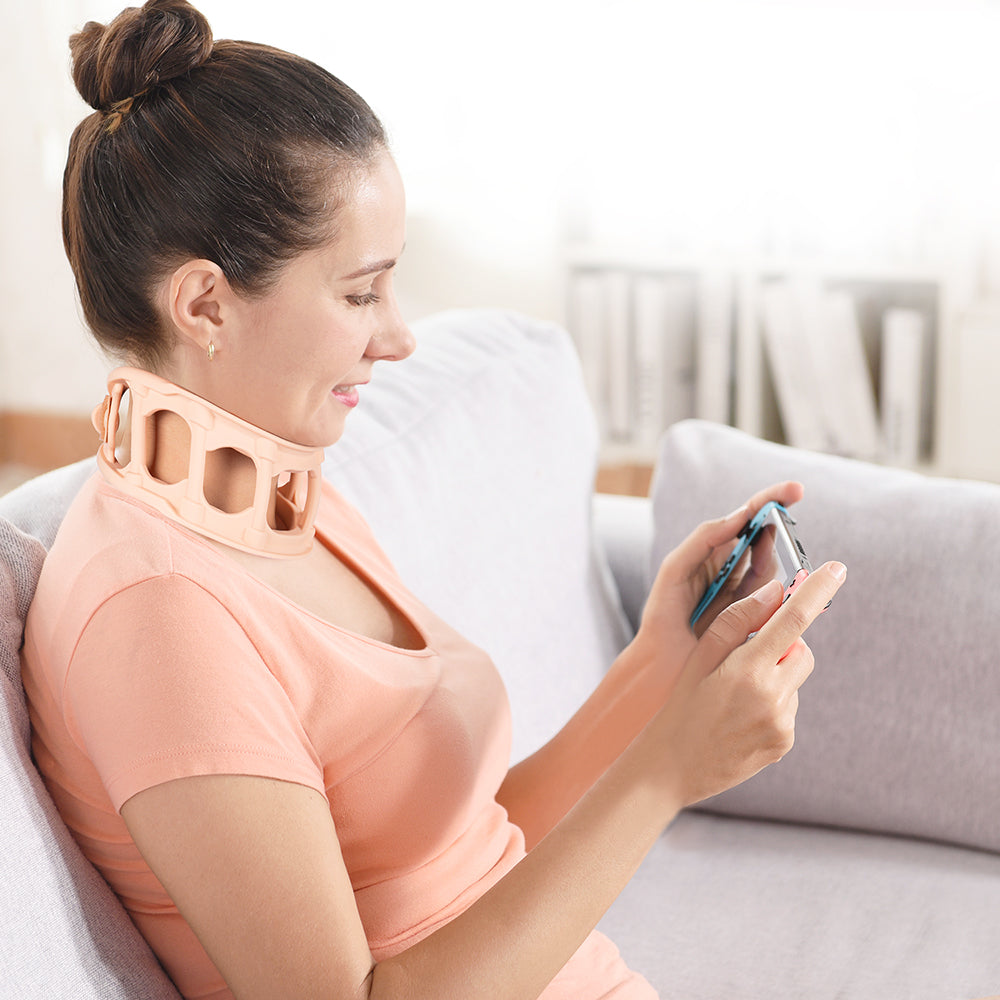 At Home
Maintains the ideal spinal allignment while Playing games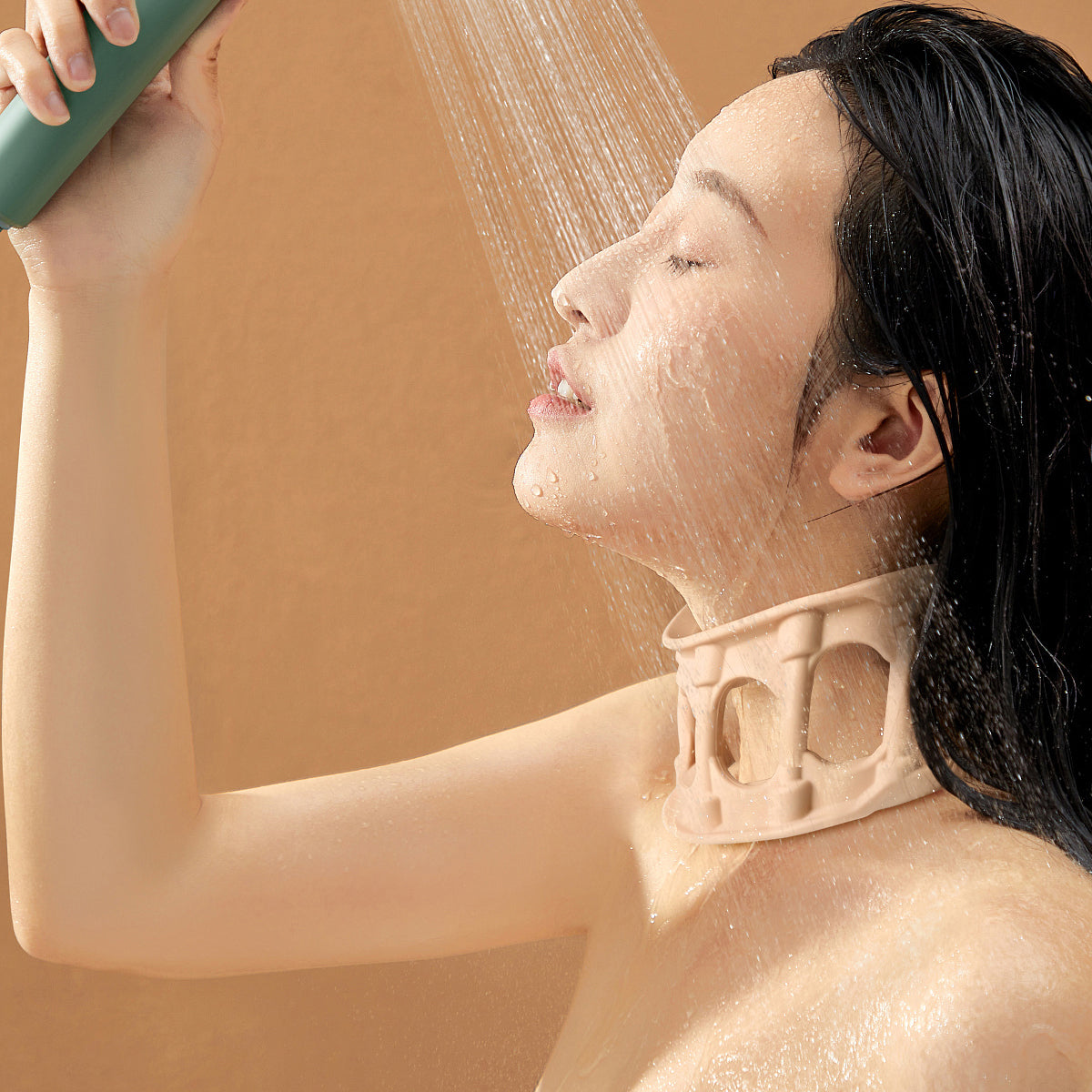 In the bathroom
You can wear it bath, shampoo, swim, etc.
【Get one free Cover Sleeve】A removable cover sleeve is equipped, it can be covered on the product, comfortable and hygienic.
【Get one free soft modal gasket】Comes with soft modal gasket to reduce the pressure on the clavicle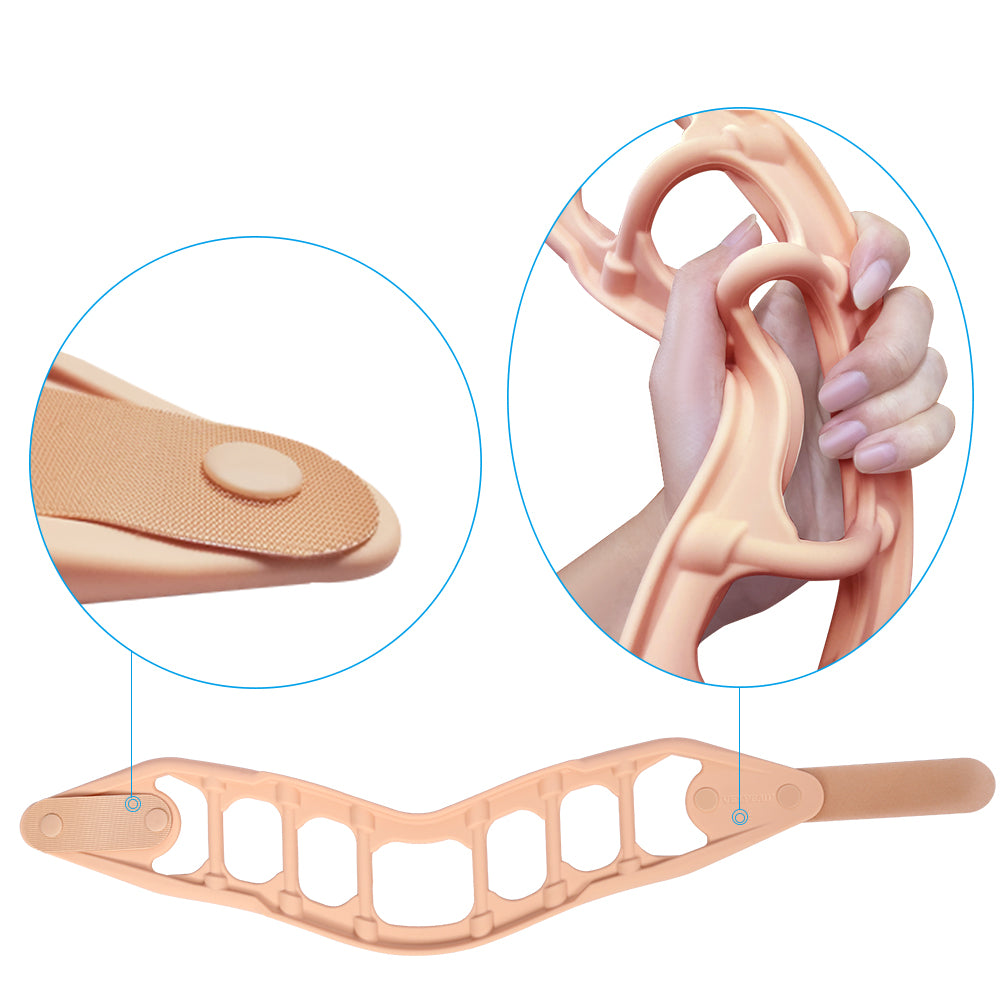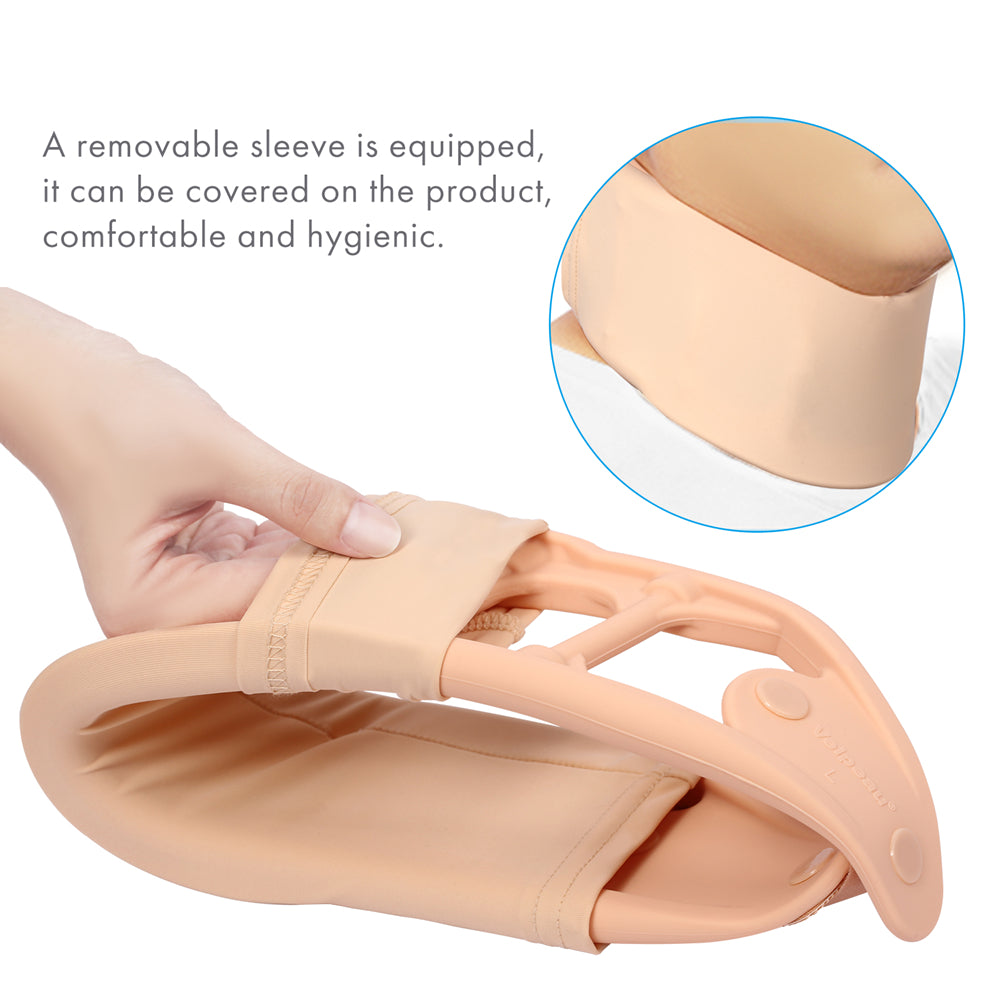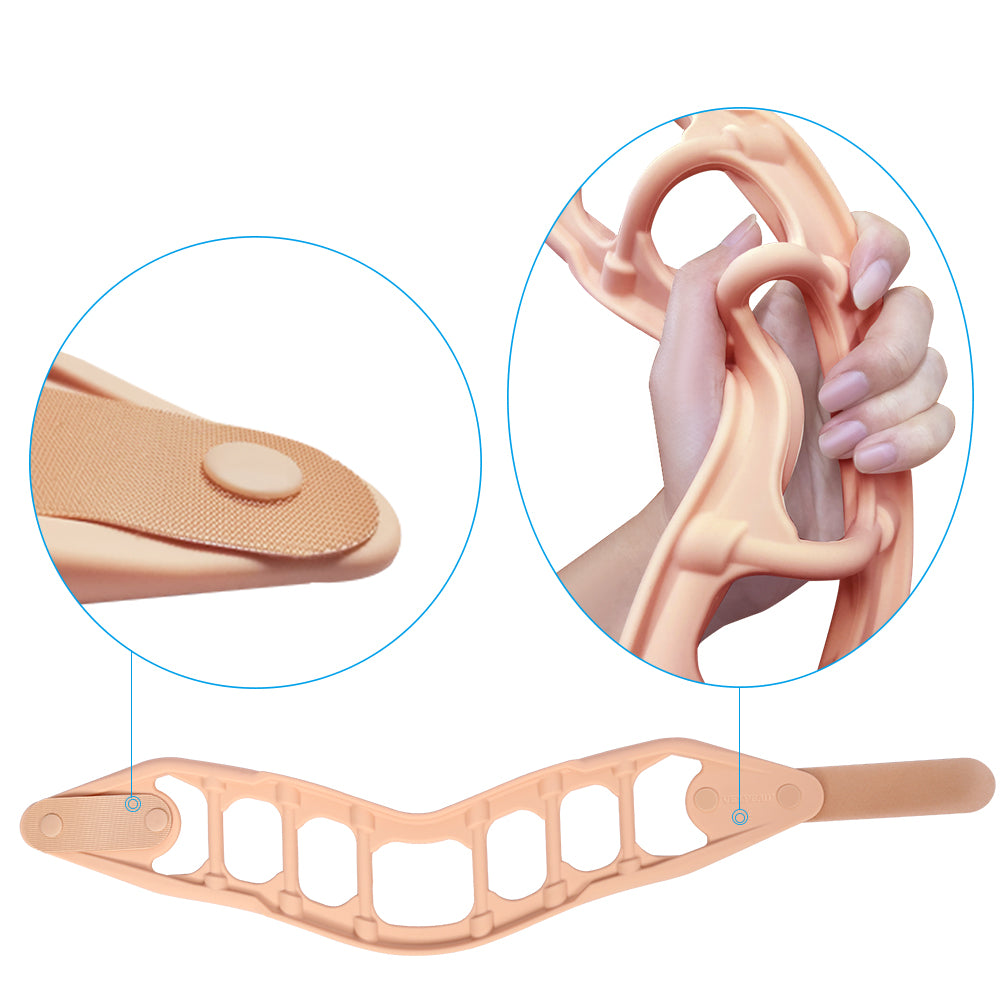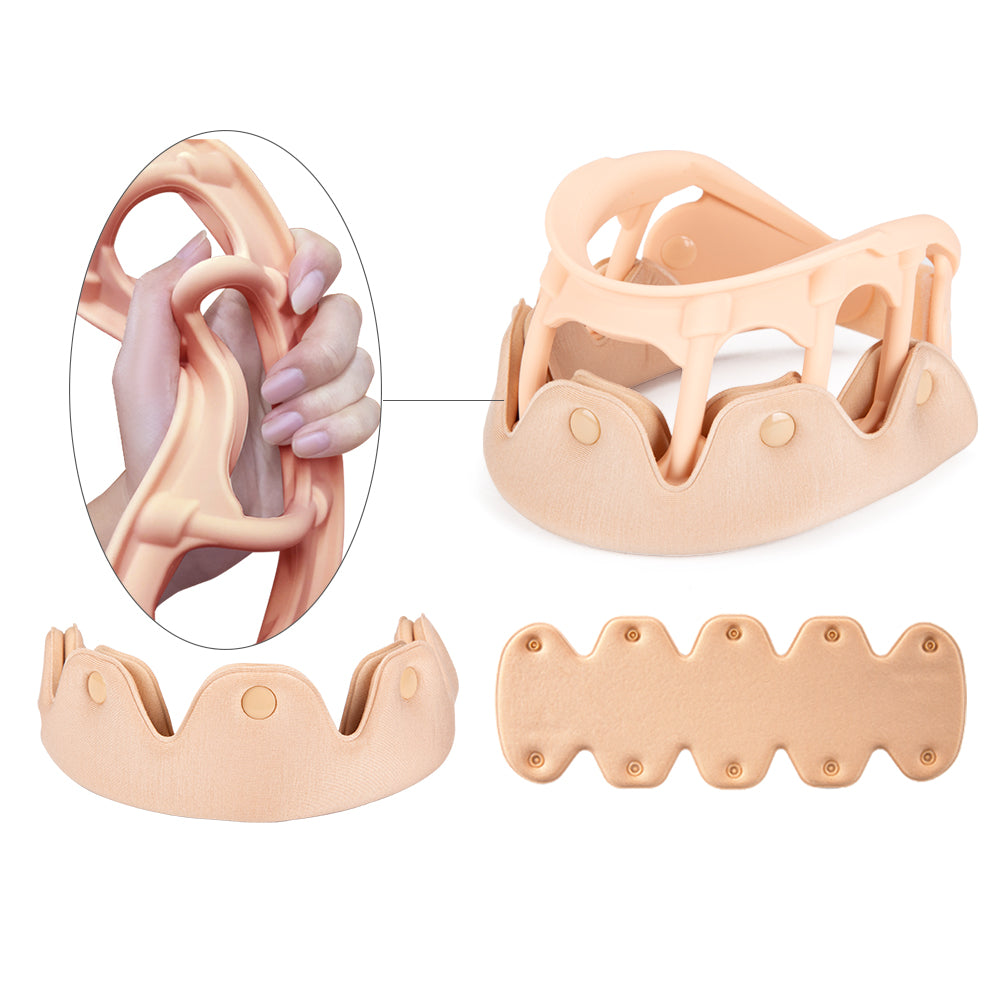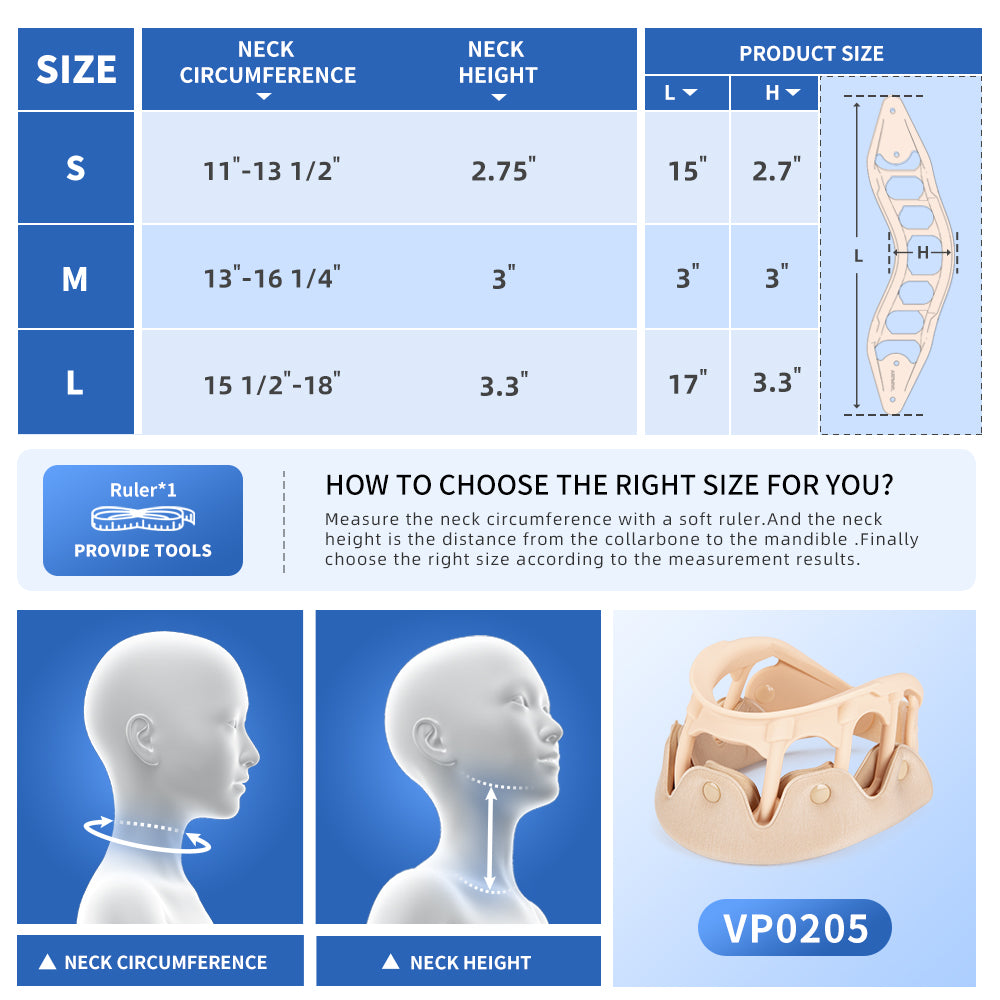 How To Choose The Right Size For You?
Please measure your neck circumference with a soft ruler. And the neck height is the distance from the collarbone to the mandible. Please choose the size according to the measurement results.
Note: Special Sizes are only available in the Comfort Version.
● . I'm so grateful that I found this!.
My grandma has been struggling with a drooping neck and hasn't wanted to use any neck pillow for support because it makes her too hot during this warm time of year. She was so excited when I bought this for her. It fits her comfortably and supports her neck very sturdily. After trying many different pillows, props, and braces, this has solved all our problems!!

● . Works.
I have a neck/ back problem and this product has been good for my pain

● . Comfortable and practical.
Bought this for my husband's after surgery recovery. It's been 6 weeks and he wears it day and night, event to sleep (on a recliner) it keeps his neck and head still. We remove the lower portion to shower, and I have washed the detachable portion several times and it has kept good shape. Happy to recommend

● . Great waterproof neck brace..
I bought this to wear in the shower while recovering from neck surgery. It is fully waterproof and comfortable. It lets your dressing air dry.

● . Great except I expected it yesterday!?.
IT IS WORKING, keeping my neck spasm, intense pain and being in so much pain for a week that I should have ordered sooner. I am wearing it now... Never has relief been so sweet. I will update my review after a week or doctors appointment.

● . Cool Not Confining.
Well, if you are having neck issues, this is definitely the neck brace you need. I like that I do not sweat as I do with the foam collar. This one comes with a base cushion, but I know it will make me hot and anxious, so I was able to remove it via the snaps. My neck does not hurt me now like it did this morning. I strained some neck muscles and wearing this saves me not only from the cost of a doctor visit but from that horrible foam neck collar. I am just glad I can actually wear it without anxiety. Thank you for making this product available. I recommend this neck collar only because it is more comfortable than the traditional foam collar.This product cam with a carry bag, booklet, a removable fabric base, and a full sleeve cover. Great product and very affordable.

● . Life saver in hot and humid FL weather.
I can wear it for extended periods of time without suffocating in hot and  humid FL weather, can't even imagine wearing regular foam collar, silicone one feels actually cool on the skin - life saver!

● . Most comfortable and flexible, by far..
I've tried so many foam collars, and even a plastic collar, to get the support and comfort I need.  This collar has both.  It provides support that flexes when needed and no chafing from material.  I love it and use it every time we drive out on our bumpy back roads.  It's especially good as we live in a warm state and the open areas provide all the needed fresh air circulation.

● . No more pain.
I bought this hoping to stabilize my neck while I sleep. It was a wee bit stiffer than I expected, but I love it! It doesn't retain heat and it is so easy to care for. I have long hair and it doesn't get caught up in the Velcro. It took me a few nights to get used to it, but now I wake up without pain. I have never in my entire life awoke without pain. I have a genetic anomaly caused by cervical ribs. Ribs that grew from my 7th cervical (neck) vertebrae and occluded my brachial plexus (the never and blood supply to my arms.) The ribs have been excised but the scar tissue still causes pain. In my sleep trying to wiggle away from pain I would wake up with my head crooked and even hanging off the bed. I bought a very good pillow that cradles my head and this neck brace together the two have been nearly a miracle for me. No migraines or tension headaches. Words simply cannot convey the relief and excitement I have for this brace. Make sure to measure correctly. I did but bought the mid-sized so I would have a little comfort room. That was a mistake. I returned it and received the smaller one in just a few days. No problems whatsoever.

● . Very good.
Very good support. Works great, even on hot summer days.

● . Great product highly recommend.
This neck brace is very breathable and kept my neck straight. It's perfect for the summer days. I wouldn't recommend sleeping in it so I wore the white foam brace to sleep inI bought the medium and I have no complaints

● . Worth every penny. Helped me through a horrible time in my life..
I have a neck injury and had to wear a cervical collar 24/7 for 3 months. If I didn't wear it I would have horrible pain and muscle spasms. I was told not to wear one while I showered because there were no options that wouldn't get wet so my husband found this and it really helped! Eventually I had to have a 4 level cervical spinal fusion my spinal surgeon said not to wear a hard collar to shower so I asked him about this. He had never heard about it before and was pretty impressed and said it sounded perfect. He wants me to bring it to my next appointment so he can see it. This thing really has been a life saver.

● . This neck brace is great!.
I literally can't believe how good this neck brace is. I find foam neck braces to be like wearing a heating pad around your neck - especially in summer. I wore this one all afternoon on a very hot day and it was totally fine. Not any warmer than wearing nothing. I didn't even need the fabric cover. The silicone had zero smell and felt very comfortable against my skin. Leaving the fabric off also meant there was nothing to trap heat. And not sure if they recently fixed the complaints about velcro from other reviewers, but mine is fine. The velcro is wide, well attached, and holds great. My only issue is being silicone, it is heavier than a foam collar. But the coolness difference is well worth it. Overall it's a great fit. The shape of it is perfect. Fits much better than any neck brace I've ever owned.

● . Great.
Soft material feels good on your neck.

● . Great price for a great product!.
The neck brace is a great product!  It is softer and y'all can move y'all's head while wearing it. My hubby has been in pain for a long time, and has tried everything. This is the only thing that has helped him. The only complaint we have is the Velcro does not stay stuck. We had to get better Velcro on it (sorry to say that). But it really does help with keeping his head up. The delivery was fast, packaging was great. We are very satisfied with this product and we thank y'all for everything. God Bless!!

● . Helps pain.
Great product

● . Instant relief for sore neck.
Excellent..instant relief..the velcro is strong..I can breathe & cough freely.
The material is silicone, you can wear it to go swim or take a bath, and it is more supportive than a foam collar and it is breathable in hot summer.
| Country | Manual | Link |
| --- | --- | --- |
| English | VP0205 VELPEAU Neck Brace Silicone Version Brown | Preview Download |
| Francias | VP0205 VELPEAU Neck Brace Silicone Version Brown | Preview Download |
| Deutsch | VP0205 VELPEAU Neck Brace Silicone Version Brown | Preview Download |
| España | VP0205 VELPEAU Neck Brace Silicone Version Brown | Preview Download |
| Italia | VP0205 VELPEAU Neck Brace Silicone Version Brown | Preview Download |
| Português | VP0205 VELPEAU Neck Brace Silicone Version Brown | Preview Download |
| Россия | VP0205 VELPEAU Neck Brace Silicone Version Brown | Preview Download |
| 中文 | VP0205 VELPEAU Neck Brace Silicone Version Brown | Preview Download |
| 日本語 | VP0205 VELPEAU Neck Brace Silicone Version Brown | Preview Download |