Product description
Product reviews
Video
Manual
1- Inguinal Hernia (Inner Groin)
2-Incisional Hernia (Resulting From, an Incision Around the Groin)
3- Femoral Hernia (Outer Groin)
4- Use After and Before Hernia Surgery
Rest and recover easier with a Hernia Inguinal Support Brace you can rely on to help ease the pain of hernia surgery and leading to a faster recovery.
Hernia Belt Truss for Single / Double Inguinal or Sports Hernia Expertly designed and sewn, our Groin Hernia Truss is easy to use and can be worn under clothes, and you can wear it over underwear or directly in contact with the skin.
Revolutionary Design: Ergonomic fit, more comfortable, easily goes on and off, more flexible. Use any buckles may cause discomfort, our product is fully adjustable with Velcro.
High elasticity and slim straps, comfortable and will not tight the crotch, and inconspicuous under clothes. The removable pads can be placed in any position so the support can be adjusted to your unique needs.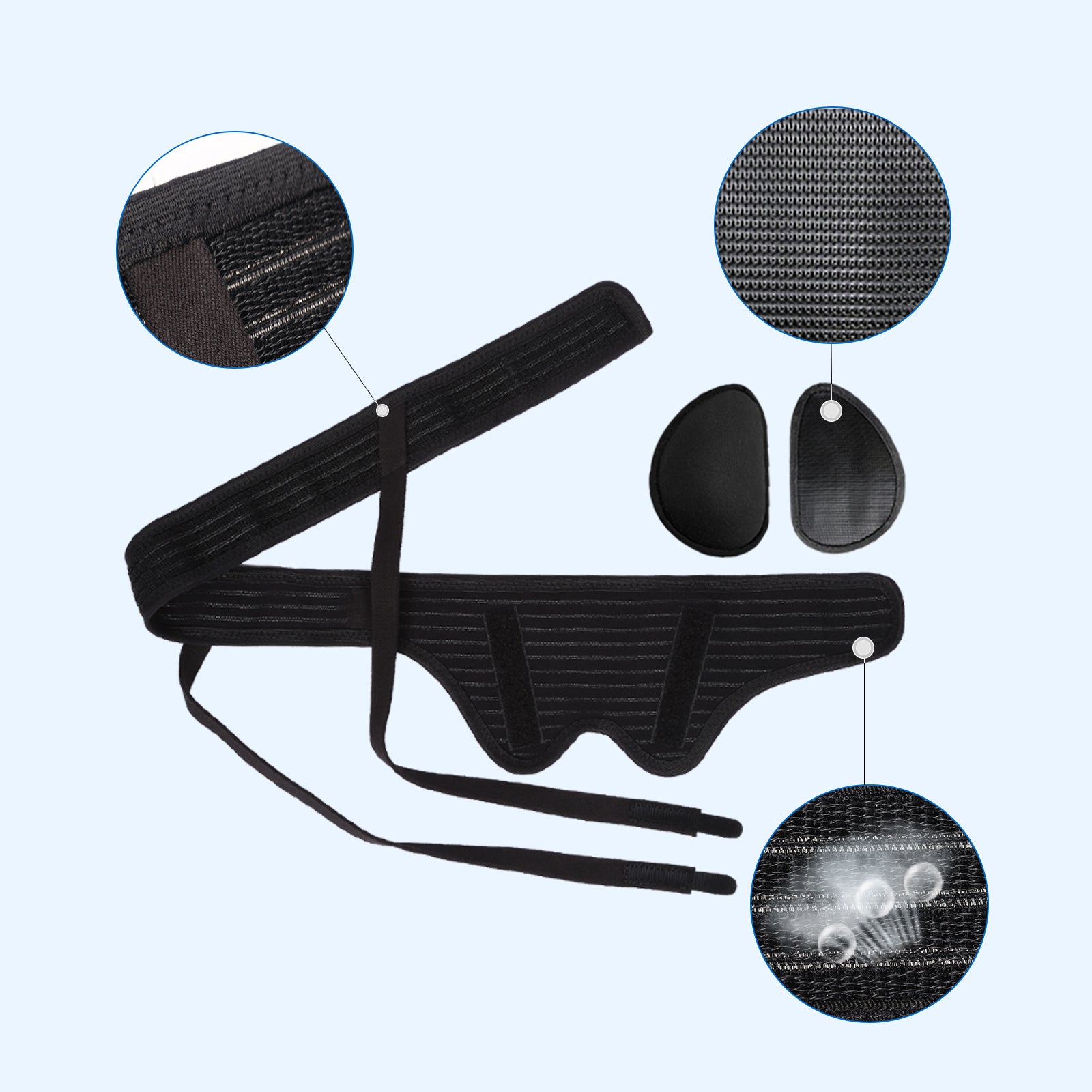 Fixed firmly, it is not easy to loose and shift when worn for a long time. High quality Velcro, no damage to clothes, strong adhesion, service life up to over 300 times.
Without any hard fittings, without any plastic buckles, more fitting comfortable. Better worn under clothes and during exercise and sleep.
Suitable for alleviating pain due to a single or a double hernia, the hernia belt includes two shaped compression pads to provide additional support for weakened muscles.
Velcro compatible fabric allows closing belt at any position not limiting you to specific range. Suitable for men and women, teenagers, middle aged and older people.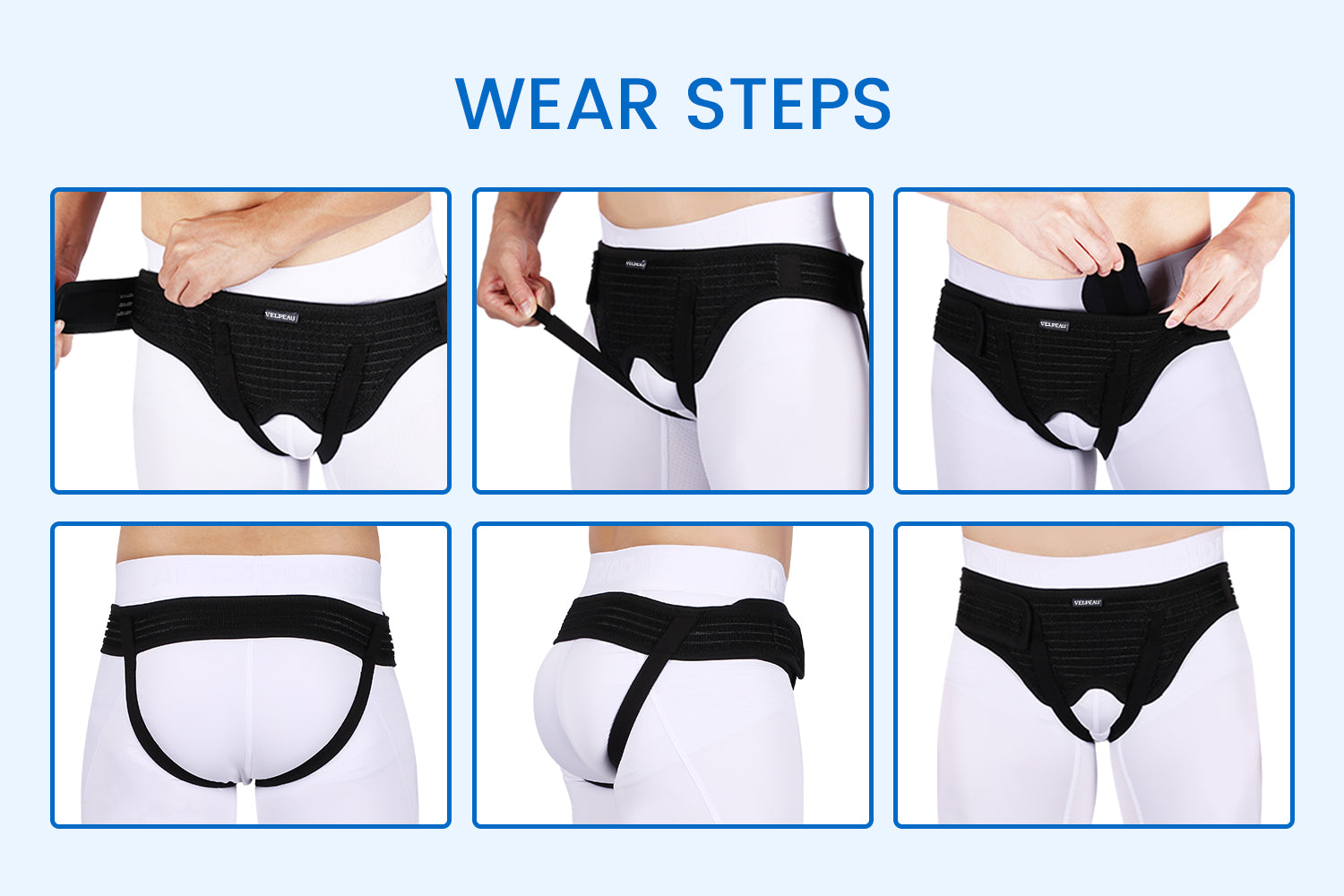 Wear Steps
Wearing Steps: Make sure the large area of the foam pads are downwards and the straight edge are outside.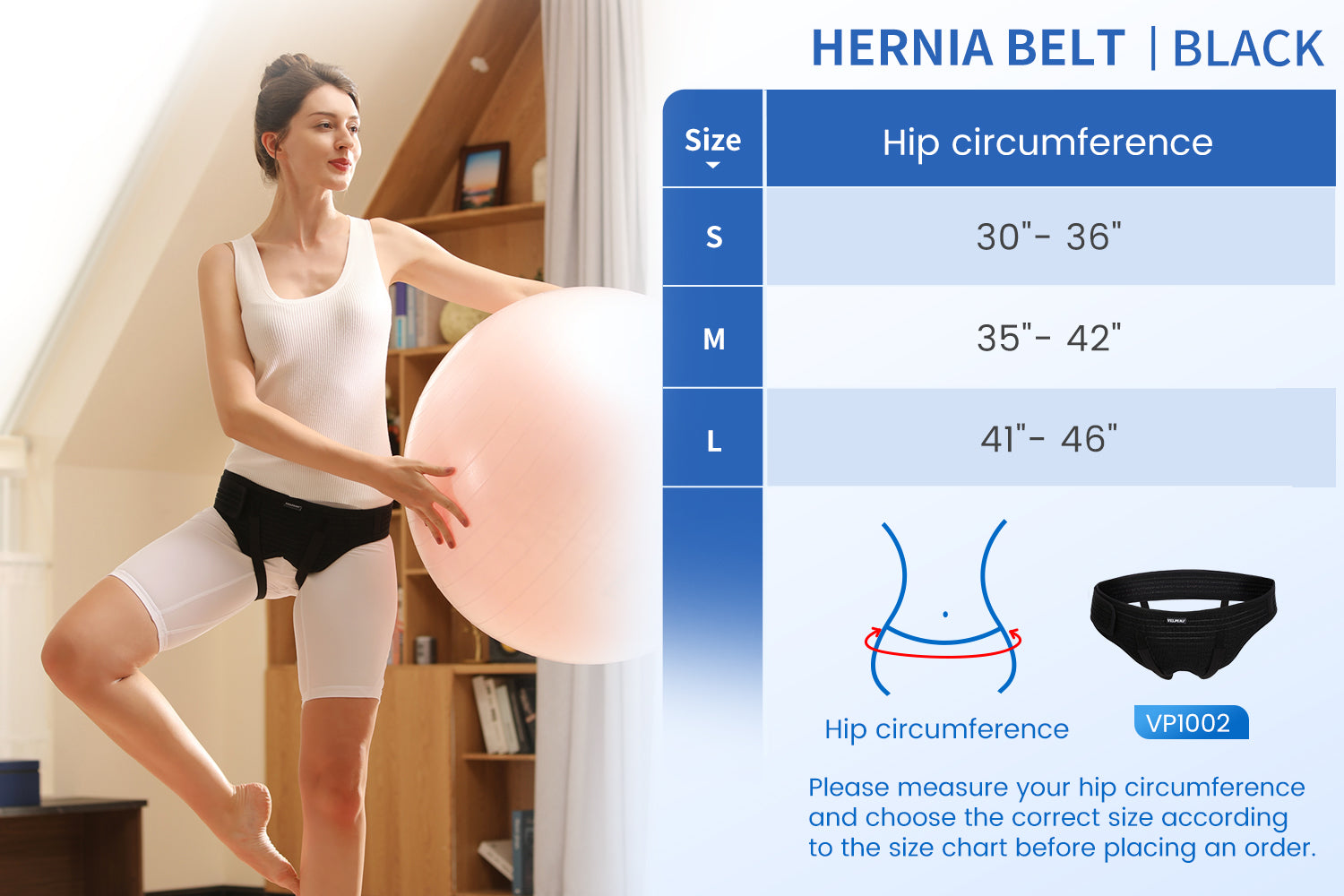 How To Choose The Right Size
Please measure your hip circumference with a soft ruler and choose the size according to the measurement.(Please note that it is NOT measuring waist or abdomen circumference) Please choose the larger size if you're in between sizes.
Thstnit works
have a double Hernia and the support is great

Works well
This product uses Velcro straps so it is very adjustable. That said, I did have to return the first one and buy the next larger size. I'd suggest buying a little larger. I like the removable pads. I wear them when I want more support but it works well without them.

Comfort
This is very useful.

Works Superbly
I have an inguinal hernia on my right side, and this compression belt is excellent.Pros:— *Very* comfortable to wear and really eliminates any pain from the hernia.— Easy to put on and the velcro straps work perfectly.— Very low profile and does not show under your clothes at all.— Excellent price.Cons: None that I've found.

It Arrived
It fit.

Works
They work very well very comfortable to wear

Good support while cycling.
I tried a couple of different hernia belts and liked the fit of this one the best. I have an indirect inguinal that I will have operated on in about a month, but this belt allows me to continue my cycling routine without interruption. (Of course I'm not pushing as hard as I normally would, but the belt provides the support and compression to keep things in place while I get some mileage runs in-no problem whatsoever.) Good belt-recommended.

great for people with problems
great product

Just perfect!
I love this hernia belt. I can go about my daily chores without worrying about my hernia popping out of place. Highly recommended!

Adjustable, true to size chart.
My husband isn't able to schedule surgery for his inguinal hernia for few months. This has allowed him to get back to being active. He still watches how much he lifts but is able to move freely. This belt has a very low profile. He wears scrubs for work and you can't tell he's wearing it. Highly recommend!

Excellent Fit and Comfortable
I tried several solutions while I wait for surgery for my Inguinal Hernia. This one is the best and the only one I would rate. It's a simple solution and easy to put on and adjust to your body.

Easy
It's easier to put on but I do not like how it can show from under the clothes

works great
should have ordered 2 so one could be cleaned and drying,Am able to do full duty work while wearing.

Fantastic
Fantastic product works great customer service very fast many thanks

Works!
This helped reduce the pain prior to corrective surgery.

Great design, good support and sturdy fabric
The belt works very well for me.  Well-designed and sturdy fabric.  Very durable construction and firm support is provided.  Also very easy to position and adjust.  I am unable to have surgery right away due to other medical issues, so having this belt is letting me stay active with daily routines and getting around.  Recommend.


| Country | Manual | Link |
| --- | --- | --- |
| English | VP1002 VELPEAU Hernia Belt Truss for Men and Women | Preview Download |
| Francias | VP1002 VELPEAU Hernia Belt Truss for Men and Women | Preview Download |
| Deutsch | VP1002 VELPEAU Hernia Belt Truss for Men and Women | Preview Download |
| España | VP1002 VELPEAU Hernia Belt Truss for Men and Women | Preview Download |
| Italia | VP1002 VELPEAU Hernia Belt Truss for Men and Women | Preview Download |
| Português | VP1002 VELPEAU Hernia Belt Truss for Men and Women | Preview Download |
| Россия | VP1002 VELPEAU Hernia Belt Truss for Men and Women | Preview Download |
| 中文 | VP1002 VELPEAU Hernia Belt Truss for Men and Women | Preview Download |
| 日本語 | VP1002 VELPEAU Hernia Belt Truss for Men and Women | Preview Download |