More details
Product reviews
Video
Manual
Perfectly fix your arms and shoulders, provide stable support for the injured parts, speed up the recovery process.
Easy to put on and adjust
Adjustable shoulder strap and waist fixed belt
Aided design of thumb hook
Weight only 0.21 lb (Size M)
Sponge strap without strangling neck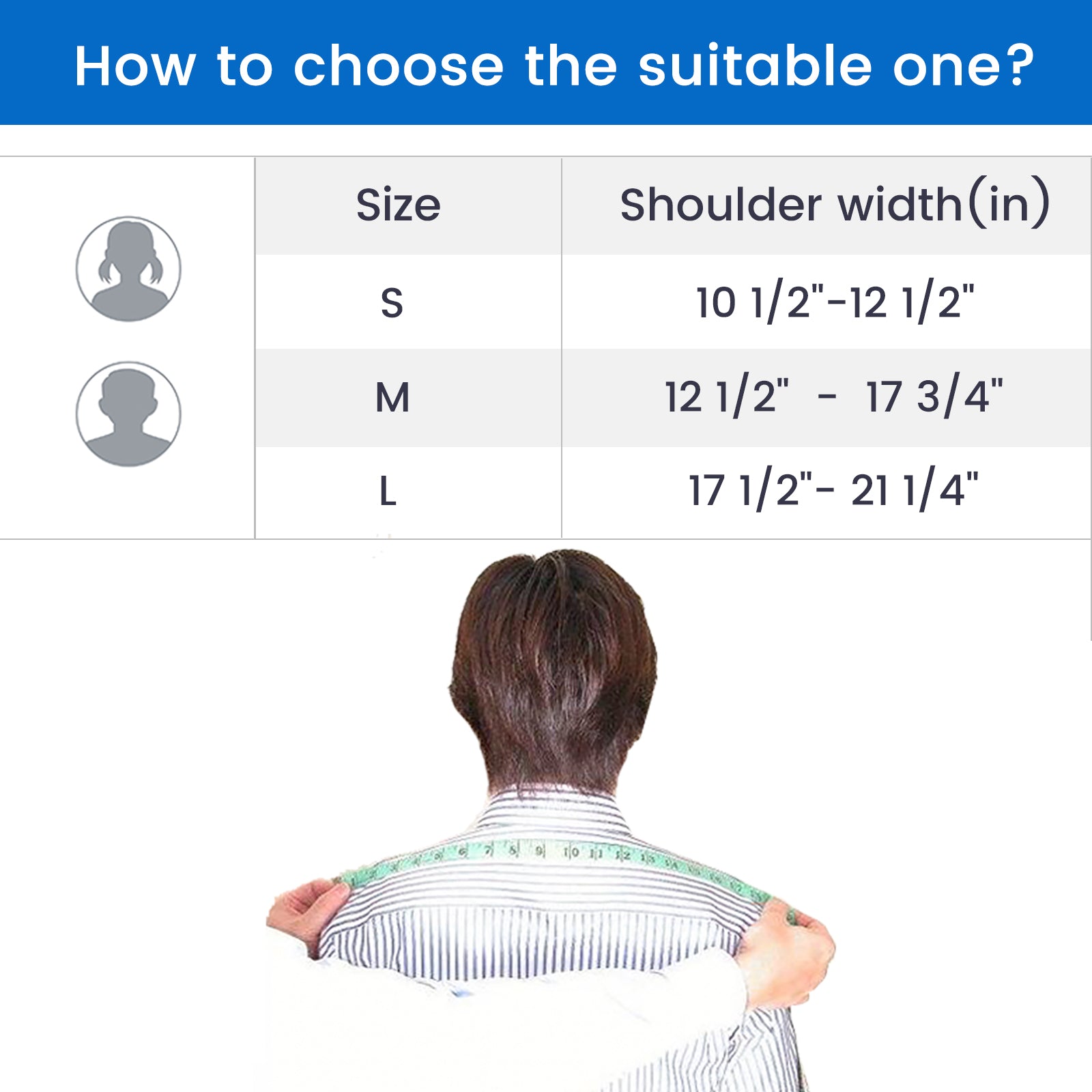 How to choose the suitable one?
Measure the shoulder width, and buy the right size.
Most Comfortable among the ones I have
"I have 4 slings for my broken arm and this one is the 'go to' for me, because it's the most comfortable and supportive.  I got the Small but I'm 5'3"" and 137 lbs, the strap might be too short for someone bigger.  I also use only the shoulder strap and not the waste strap.  I'm glad I bought this one."

Light weight
This sling was very light weight and the pocket was a huge plus as well. I wish it has been a little more padded on the inside but maybe it's not supposed to be. I had shoulder surgery and the one they sent me home in definitely wasn't so I was looking for something that was a little more comfortable. I  thought this might be and it was, it just was not padded.  It's a great sling though. I'm just extremely sore so I don't think anything would've worked for me right now lol. I would recommend this sling to anyone looking for one.

Great Light Weight Sling
Bought the sling to deal with a broken clavicle.  It has held up well and is light weight.

If you broke or fractured your shoulder BUY THIS NOW!
I fractured my shoulder by slipping on a wet marble floor... Saw both feet up & heard a crunch... Left shoukder... This halter saved me!  It provides stability that the one issued by the hospital did not offer. It may be a bit cumbersome to put on ~ but I promise it is THE ONLY SHOULDER HALTEE to have. I'm healing much more rapidly as it keeps my entire arm in place. And it dies have a handy pocket for my phone &/or other little items. Seriously awesome as you are in the horrible place of a fractured shoulder...

Lightweight & easy to use
Lightweight & easy to use  Delivered quickly.

Support
This works great actually able to sleep and its comfortable giving the circumstances

Secure
Perfect

good fit
nicely made

Comfortable-just order correct size!
Make sure you order the right size for you. Error on going larger then you think. Super comfortable and easy to use! Grateful, because the one I got from the doctor was so bulky and rubbed my neck.

Lightweight and durable
Very good value. Very lightweight but durable.

Comfortable, secure sling
This was very comfortable and the waist strap kept my arm close to my body. I had broken the upper humerus and separated my shoulder. This sling was better than the one I got in the ER.  Definitely recommend!

Same as above
Fix just right

Comfortable and easy to put on
Comfortable and easy to put on- Did it's job

Your best friend
If you need a sling able to keep your arm in position. This is it. The waist strap provided does its job although it could be a bit longer for those of us that are not slim and trim. Don't recall if they have a size larger than what I bought or not. Comfortable and roomy yet supportive

More than happy with it.
Product was delivered on time and as described.

Perfect post surgery
I had a nerve block done during a shoulder surgery and for 96 hours it was like my arm was totally asleep. I needed a sling that was long enough to fit my arm including my wrist fully in the sling, otherwise my hand would hand at a bad angle and I wouldn't know without looking at it. This was also nice light weight and the strap was padded. My only complaint was that for strap length I needed,  the Velcro attached right at my neck area and the edge was scratchy and irritated my neck skin.

Excellent sling for post shoulder replacement surgery!
Chose this sling to replace my post shoulder surgery sling "1 size fits" all hospital issue. Based on the reviews and other slings offered, I chose VELPEAU brand and the price is not too low or too high.  Medium size is perfect for my arm length. This sling is very well made, lightweight, comfortable and even has a pocket! I washed the sling inside  a laundry delicate bag and into the washer, hung to dry and in a few hours it dried!  I like the feel of the cotton blend material and it's durability.  For the great price I'm ordering another!

One of the best products I've bought
Love this sling. Bought it after my doctor gave me a standard regular size sling, which was way too large for me. This sling comes in multiple sizes, and there's a lot of room for adjustment within each size. I wore this sling for months and it was significantly more comfortable than any other sling I've tried. Once I healed, I literally cleaned the sling and put it straight back in the box in case I ever need a sling again. Would recommend to anyone who is petite, or has non-standard dimensions, or just wants a super comfy sling.

PERFECT!!!  I LOVE IT.
This is my 3rd sling....it will also be my last!  It is perfect in every way.  It is fully adjustable...it was the only one that had a size scale allowing you to order small med or large.  That's why it fits.  Finally, I got the right one.

Just buy this sling
I had shoulder surgery and being the full 5ft tall adult I am the sling they gave me was too large at the surgery center.  It also had a plastic pad and thin cheap straps.  I needed a replacement and after pouring over my children sling choices this was it.  I lived in this sling for 6 weeks. I wore it during every chore, event and ordeal life throws at you.  I can assure you that this sling is simple and all you need to recuperate. Light weight, easily washable, attached sling loop, straps that lay flat and don't twist, breathable and matches black or blue! What more could you want!?

Great product!
Love it!. Very supportive and easy to use! Far better than the one the bone doctor provided.

Comfortable
The straps could have been longer.

Fantastic comfort.
Able to swear put it on with ease. Bakamnces arm weight so less stress on neck and back 100% better than doctor issued one

Live my Velpeau arm sling!  It's comfortable & supportive! Thank yuh!
Very comfortable & lightweight at a reasonable cost. Thank you!

good bargain
I ordered this for family member who broke shoulder and needed to restrain the arm. This sling was light weight so it was comfortable. It was easy to put on and take off. The placement of the strap didn't rub in the shoulder - neck area and my family member was able to wear this sling while sleeping.

Secure sling
This is a great sling - better than the one we got in the hospital for a fractured arm. It's really comfortable and secure - the thumb hook is an added bonus and makes it easier to wear.

Comfort and great value.
Very comfortable for a fractured humerus. Lightweight and the pocket on the sling is very handy. The waist band is just a little too big to catch the Velcro properly.

Great product
Great product and value and easy to put on by yourself!

Works
Great

Pt told us to get one
I liked the way the product looks and is easy to use. Would Buy again.

Excellent Product!
Very comfortable! I highly recommend for anyone needing an arm sling.

Great for stroke patients with arm paralysis.
I got this product for my dad,  who had a massive stroke and was unable to move the right side of his body. I tried a regular sling first, but it was unsuccessful, as it would stay on his arm,  and pulled on his neck to much.  This sling worked perfect and my dad loves it. He keeps in on all the time, he lays down with it on and it holds his arm in place perfectly.  Thank u for a great product.

Comfortable, adjustable
The sling is very comfortable and can be adjusted for your own comfort. The waist attachment is detachable for those of you who do not like being so encumbered.  Shoulder pads add to personal comfort.

As shown
As shown

Very Comfortable
Love this sling. It is super lightweight, comfortable and very easy to adjust.

Great
Just what the Doctor ordered at a fraction of his cost.

Makes sleeping more comfortable.
My daughter dislocated her elbow and this became her "sleeping" sling.  It kept her arm nice and secure so she could sleep.

Good product
My arm sling is exactly as described. Good quality and fast shipping.

Very comfortable and easy to use
Bought this after doing a brachial plexus reconstruction surgery.Very easy to use and put on even with one hand.Great product.

Perfect for broken upper arm.
Worked great for my son's broken upper arm. Kept it stabilized and helped with the weight of the cast.

Very comfortable
This sling was ideal for my mother's broken shoulder. I believe it helped her to heal quicker.  Only thing is she is about 100 lbs and a small would have fit her better. Otherwise very pleased.

Comfortable Supportive Arm Sling
My husband loves this arm sling. He uses it during sleep because he should not lift his arm above his shoulder and this sling works beautifully. Another sling that was given to him in the hospital is mediocre compared to this sling, he would wake up with his arm out of the sling and the straps tangled. This Velpeau Arm Sling It is easy to use with velcro fasteners over the shoulder and around the waist.  We would definitely recommend this arm sling !

worked well
This worked well at stablizing Mom's arm.  Saved her a lot of pain when her shoulder muscles became too weak to hold the joint. Quick ship

Five Stars
This sling was just what we needed. Reversible, very adjustable and flexible, and most importantly arrive extremely quickly.

Works great!!
The sling was exactly as described. Works great, holds up well in the wash.  Adjustable.

Great post surgery.
Great post surgery. Light weight and easy to use myself

Great price fast shipping
Great item for a great price

Great item!
Helps when you've torn a ligament in your shoulder! Great price, and they offer different sizes!

this works very well the strap lays flat on your ...
this works very well  the strap lays flat on your shoulder, adjustable  lightweight, Im a large person and this fit great

Shoulder Pain
Perfect for my husband's shoulder.

Five Stars
No Complaints. Problem came in timely manner and as described. Would buy from again.

Fit me fine and is adjustable
Fit me fine and is adjustable. I bought this product on the Internet one month ago, because I got my arm broken when playing skateboard. I can't wait to replace the one I got from hospital. So much better when I put it on. Breathable, washable and lightweight.

Very good buy!
Sure beats the sling I was given at hospital after shoulder surgery!  Price was great & good quality product!

It is very comfortable to wear
The biggest feature of this product is that the sling is very lightweight, which is filled with a soft sponge. It is very comfortable to wear. Whenever you are sitting, lying down or sleeping, you won't feel uncomfortable because of the slings' bondage. Highly recommend!

Soft material with good back support
My uncle broke his arm while going on the stairs. I got this for him. It ship very quickly, just in time for him when he get off from the hospital. The material is very soft, he loves the back support, it made a lot easier for him.

Five Stars
a OK

Be prepared with comfortable and great fit sling.
I needed this sling when I was harnessed with a sling after shoulder surgery. Tried two different slings from doctor. One week after surgery, finally a quality sling, a common comfortable!!!!!! Sling.  Buy, everything you can do to help with pain, you want before surgery.

Five Stars
Comfortable, adjusts well and keeps shoulder immobilized.

She said it is very comfortable with great support
Bought it for a friend who's just gone through a shoulder surgery. She said it is very comfortable with great support. Better than the one given by the hospital.


| Country | Manual | Link |
| --- | --- | --- |
| English | VP0302 VELPEAU Arm Sling with Waist Strap Comfort Version | Preview Download |
| Francias | VP0302 VELPEAU Arm Sling with Waist Strap Comfort Version | Preview Download |
| Deutsch | VP0302 VELPEAU Arm Sling with Waist Strap Comfort Version | Preview Download |
| España | VP0302 VELPEAU Arm Sling with Waist Strap Comfort Version | Preview Download |
| Italia | VP0302 VELPEAU Arm Sling with Waist Strap Comfort Version | Preview Download |
| Português | VP0302 VELPEAU Arm Sling with Waist Strap Comfort Version | Preview Download |
| Россия | VP0302 VELPEAU Arm Sling with Waist Strap Comfort Version | Preview Download |
| 中文 | VP0302 VELPEAU Arm Sling with Waist Strap Comfort Version | Preview Download |
| 日本語 | VP0302 VELPEAU Arm Sling with Waist Strap Comfort Version | Preview Download |