Product description
Product reviews
Video
Manual
The Arm Shoulder Brace provides superior shoulder immobilization. Its specific positioning system allows perfect immobilization of the shoulder and arm in the elbow-to-body position. Good for Acromioclavicular sprain, Clavicle dislocation and fracture (humeral head, glenoid, tuberosity), Postoperative, Neurology (Paralysis, Hemiplegia), Fracture of the upper extremity of the humerus, Rheumatology(Scapulohumeral Periarthritis).
The unique panel structure envelops the affected limb and facilitates placement: only the elbow support is removable.
-Strong yet comfortable, we went the extra mile to support your arm by doubling the protection and stability.
Holds securely in place, and provides great aftercare and treatment for your injury.
Generously padded to comfortably contour to the body, lightweight and soft.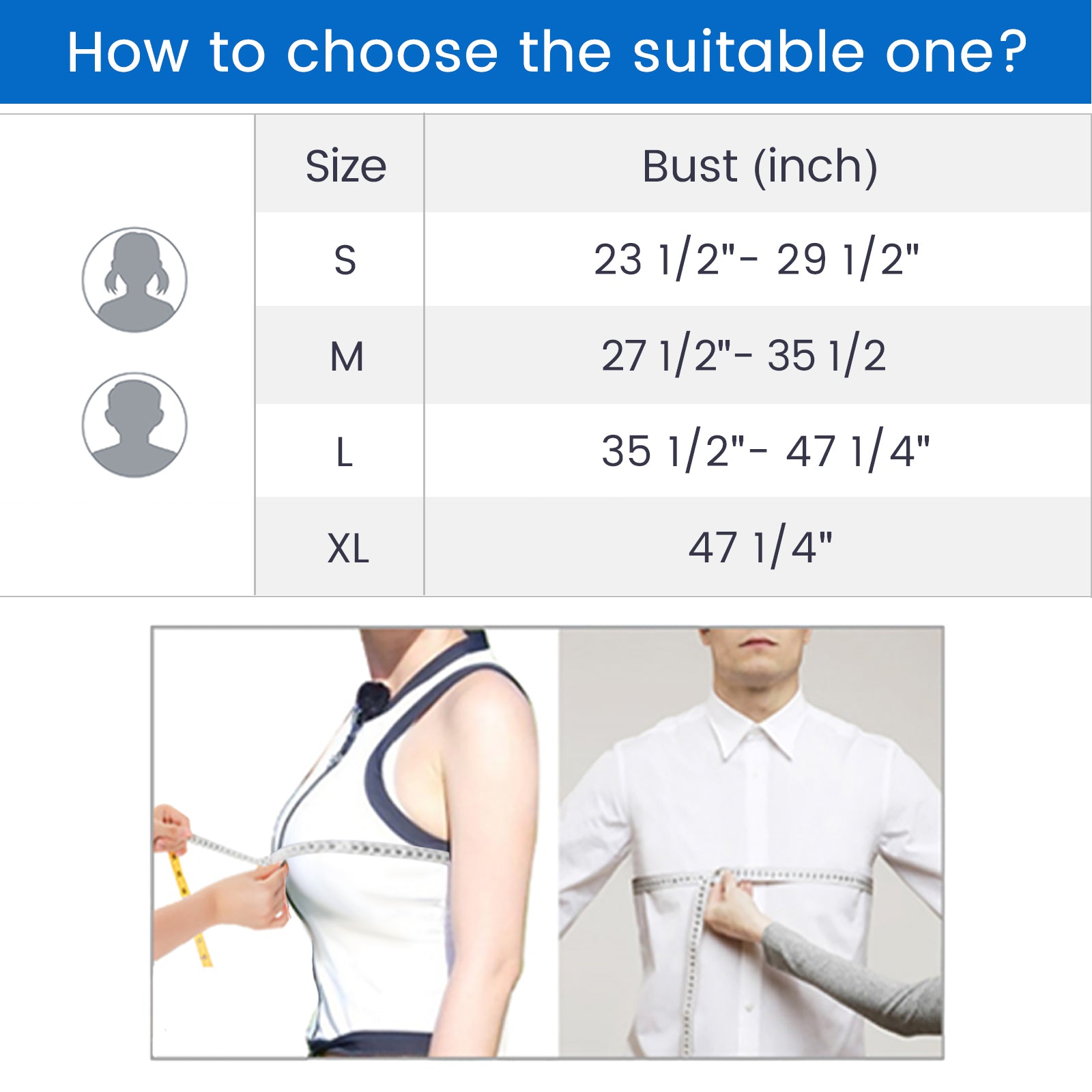 How to choose the suitable one?
Please measure you bust size before ordering. Because the Velcro is sticky, it is not easy to wear with one hand and requires assistance. Fiber Content: Polyester, Cotton, Nylon, Polyurethane. Hand Wash Only.
Wearing Steps
Step 1
Put it on your injured shoulder, and please make sure the storage pocket is in front of you.
Step 2
Pull the smaller strap from the back to your underbust and stick it on.
Step 3
Put your injured hand in front of your chest, and then stick the pad with the storage bag on the chest.
Step 4
Put the elbow strap match to the elbow.
Awesome!  Wish it came in kids sizes
"We are using this sling for my child. We got the size small and she is 51"" tall and 100lbs and has an upper humerus fracture. It is a bit big but it still works great due to the fully adjustable design. It is very comfortable and doesnt rub her neck like a traditional sling. She can wear it all day and not have to reposition it. She says it does get a little hot.It was confusing to put on at first but now that we got the hang of it, it's simple!I like the fact that it covers her shoulder area and injury location to give others, especially kids at school, a visual reminder of her injury location and a thin layer of padding over it.  It is fully reversible for the left or right arm and she is using it on her left. It has a small pocket, about phone sized, on the forearm section."

Absolutely wonderful product...Even Dr was amazed!
Unfortunately, I broke my shoulder. Within hours of wearing the brace given to me at the hospital, I was searching for something to relieve the neck strain. It was a little bit confusing at first to put on but that was probably because of pain meds (lol). The beauty is I can navigate it completely independently. I have support and relief. I use the velcro to stage how to support is needed and can do it alone one handed if needed.When I went to my first ortho appointment they were all impressed and even brought the brace specialist into the room to see it and how i could navigate it independently. I slide the ice pack easily into shoulder area , into the arm section and don't need any additional fastening. I have ordered a second one so one can be washed while wearing the other.

Better than the painful medical equipment sling I was given was given post-op
"Once you figure out the wrap and leave it assembled it is relatively easy to use.  It is certainly more comfortable than those with rings, grommets and straps that press against incisions and your scapula and cause neck strain.  I had to loosen the shoulder seam at the top of my bicep since it was a bit tight there.I am female 5' tall 130 lbs, generally wear a medium and occasionally a large top.  I had to order the large size as the medium was too small.I am back...Five + days later...still like the comfort level of the sling, but I must report that the ""velcro"" sewn onto sling is not real Velcro but a shallow plastic gripper strips that held up for a few days but now they do not hold parts together.  I will take item to alterations shop and have the plastic strip replaced by real Velcro."

Relief is a wrap away. Q
It really hold well and offers stability and relief while healing. It  requires someone to assist you in placement. Worth the Purchase

Bueno
OJO!!! Para los zurdos LA CINTA  QUE VA DESDE EL BRAZO AL CODO QUE ES LA QUE SUJETA EL BRAZO, VIENE ABROCHADA EN EL VELPAU. Está preparado para diestros!! Solo tienen que desabrochar la tira y listo!

Cool design works  well once just complicated
Quality is good and it is holding up well  .Just difficult to put on every time . If you enjoy puzzles this is for you  .

Very comfortable but confusing to get on
Ended up being the most comfortable sling I've tried very confusing to get on

This is so difficult to put on
between my husband and myself, I don't think we ever got it on properly. Things were twisted and things didn't want to stick. We finally got it on and it worked well. Kept my arm from hurting as much

help with shoulder pain
will definitely help your shoulder pain


| Country | Manual | Link |
| --- | --- | --- |
| English | VP0304 VELPEAU Arm Sling Shoulder Brace for Men & Women | Preview Download |
| Francias | VP0304 VELPEAU Arm Sling Shoulder Brace for Men & Women | Preview Download |
| Deutsch | VP0304 VELPEAU Arm Sling Shoulder Brace for Men & Women | Preview Download |
| España | VP0304 VELPEAU Arm Sling Shoulder Brace for Men & Women | Preview Download |
| Italia | VP0304 VELPEAU Arm Sling Shoulder Brace for Men & Women | Preview Download |
| Português | VP0304 VELPEAU Arm Sling Shoulder Brace for Men & Women | Preview Download |
| Россия | VP0304 VELPEAU Arm Sling Shoulder Brace for Men & Women | Preview Download |
| 中文 | VP0304 VELPEAU Arm Sling Shoulder Brace for Men & Women | Preview Download |
| 日本語 | VP0304 VELPEAU Arm Sling Shoulder Brace for Men & Women | Preview Download |