Product description
Product reviews
QA
Video
Manual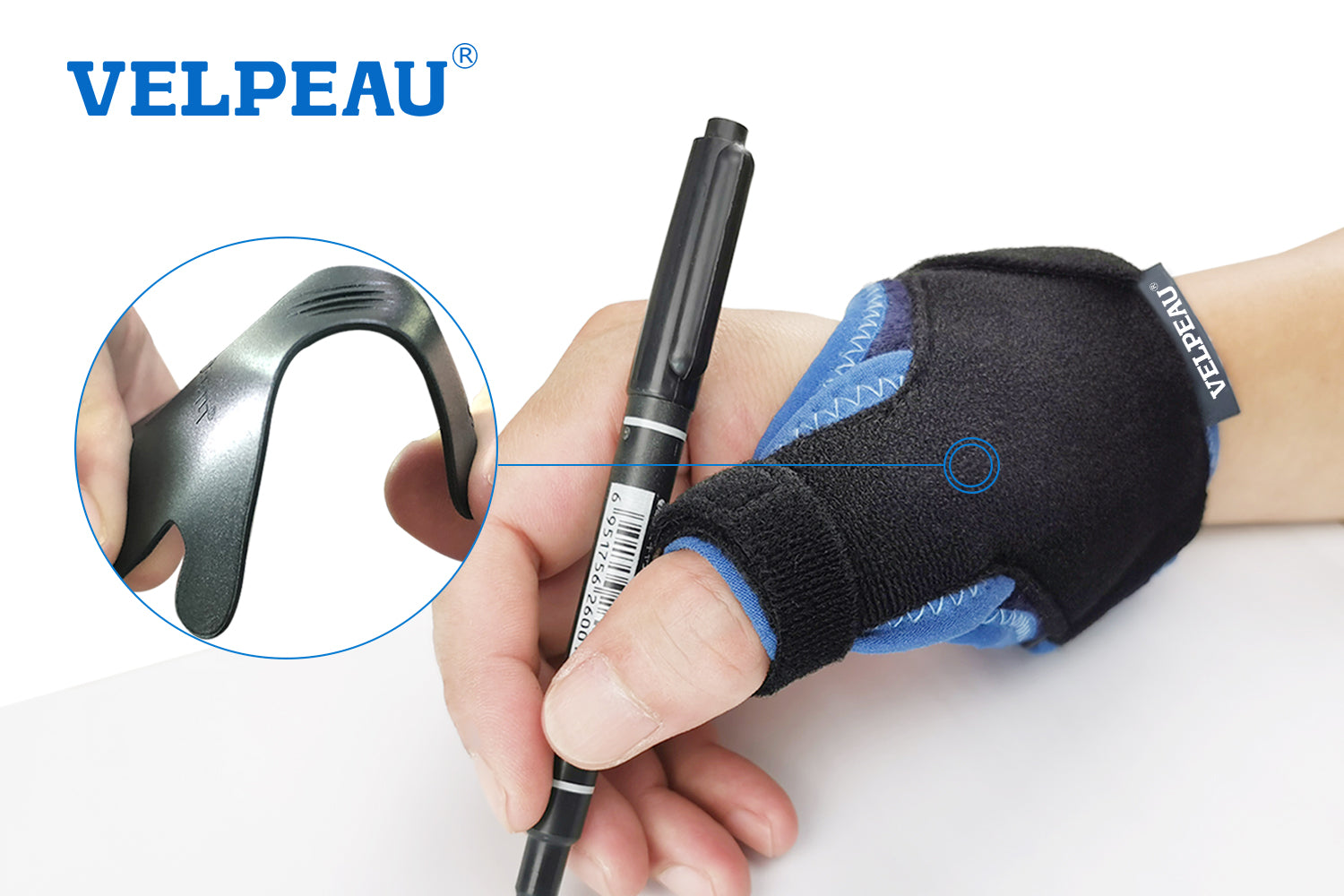 Reversible Design
Fits Both Right And Left Hands.It has excellent elasticity, super light and thin, and is not easy to be deformed and broken
Bendable Octopus Shaped Support Splint
①Longitudinal Fit to the Wrist ②Fit Fingers Horizontally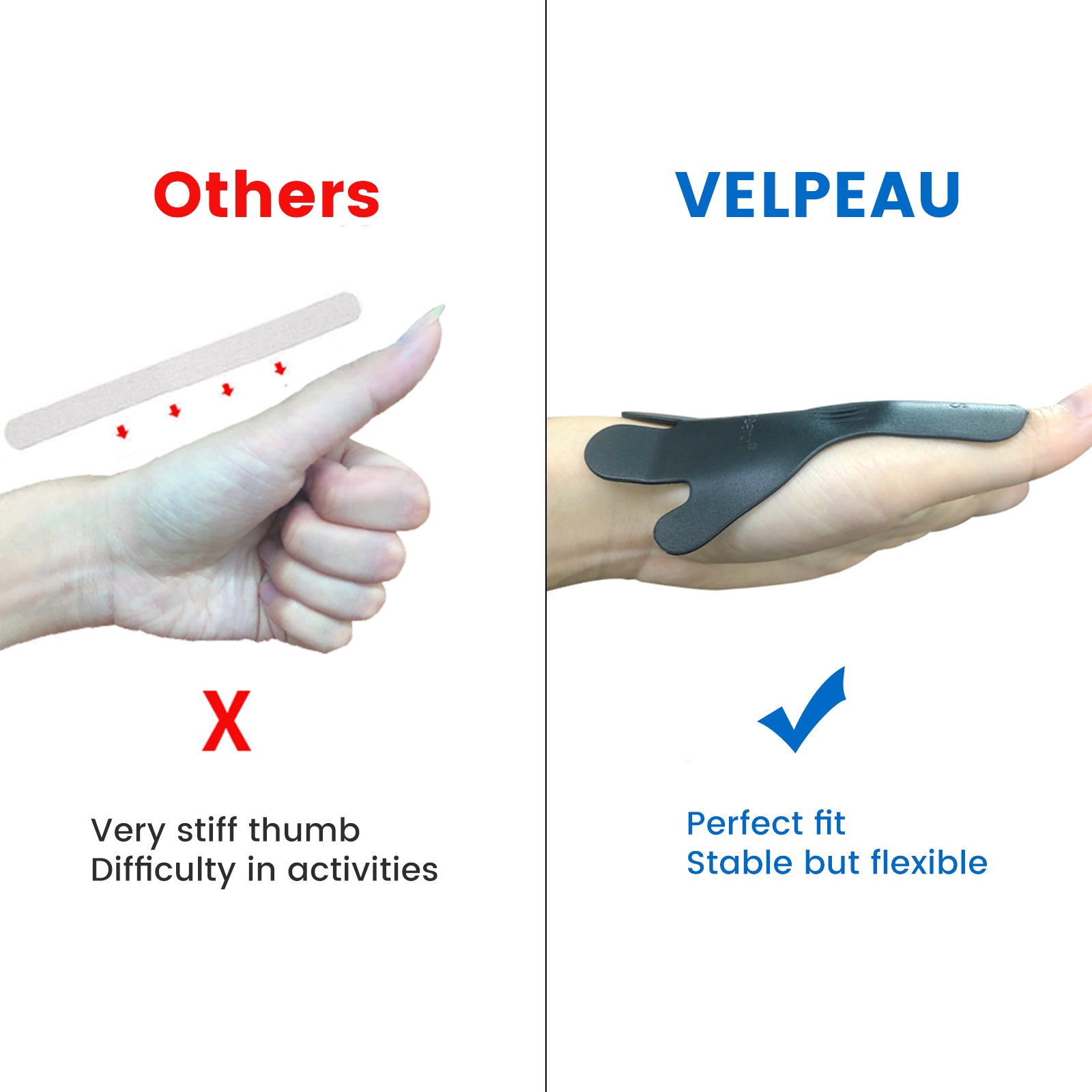 Bendable Octopus Shaped Support Splint
The Thumb Brace has an Octopus shaped splint that perfectly fits the thumb's natural curve. It is lightweight, and thin, to providing stability and flexibility by securely wrapping around the first CMC joints and the base of the thumb. Ideal for supporting weak, aching, or sore thumbs during daily activities.
Adapts to multiple scenarios
Housework
Wear it to relieve fatigue at work.Besides, also suitable for all kinds of sports to protect thumb & wrist including golf, tennis , badminton, volleyball, basketball, baseball, ice hockey, skating, fishing, cricket, cycling, and martial art.
Working
This Thumb Brace provides comfortable protection and moderate support for weak, aching or sore thumbs.Support for keyboard typing, work-from-home essentials, writer
Daily Life
De Quervain's Tenosynovitis is commonly called "Mommy's thumb" , and activities such as lifting gardening pots, groceries, and small children into car seats can inflict symptoms.
Driving
The splint usually leaves the fingers and thumb free to allow you to carry out work activities and everyday tasks such as driving.
Sleeping
This Thumb Support Brace is filled with sponge without hard metal, neoprene free, odorless, latex free, hypo-allergenic, which makes your sleep safer and comfortable.
Playing
It is fixed with high sticky and skin-friendly Velcro, easy to put on and take off, and you can adjust the tightness freely. It is comfortable and light without affecting your activities. You'll even forget it exists while wearing it.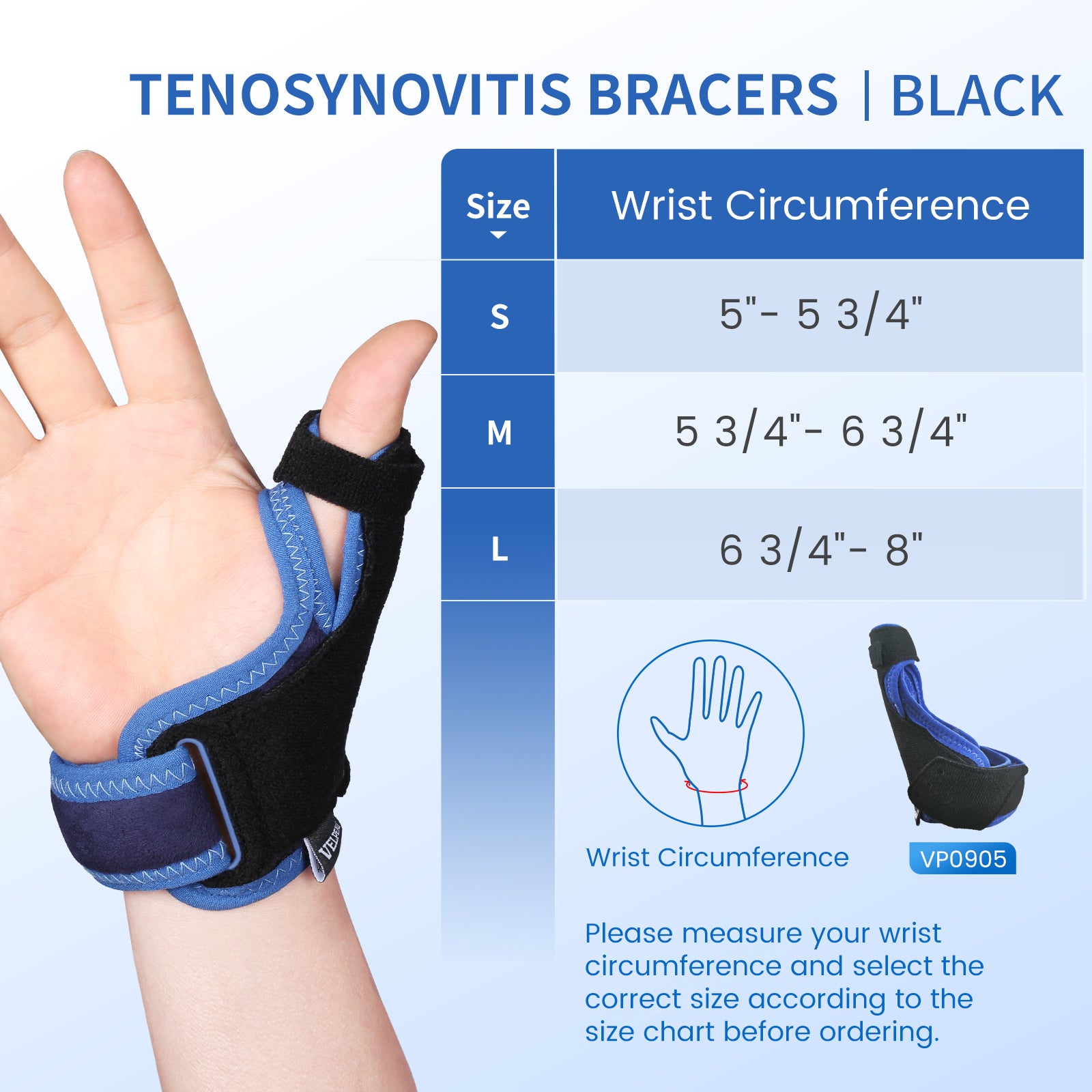 How to Choose the Right Size?
Please measure your wrist circumference before purchasing and choose the right size to ensure proper fit and performance.
Love this
This is amazing

Excellent product
I am a nurse who has worn out her thumb from all the miscellaneous tasks nurses perform (popping meds, clamping, gripping, etc,,,,); this brace makes the difference!!! It stabilizes my thumb yet allows me to keep going…. I'm buying 2 of them😊

The purpose is to limit range of motion
Limits movement and comfortable

FANBLOOMINGTASTIC
perfect going to get another one. comfortable makes my hand work at anything without disgusting pain.  Not dropping things anymore.  Thanks much, also delivery was terrific.  Thanks again!!

Trigger thumb?
Trigger thumb right hand. I purchased and wore this for maybe 4 weeks, all better. I had my reservations but it worked for me.

Best thumb brace that I've ever owned!
Best thumb brace I have ever owned! Low profile but thick and supportive. I've only owned the futuro brand before which work great for stabilizing my thumb but I'm constantly readjusting the Velcro because it's flimsy and doesn't last and hold well. I can tell from the first time wearing this one that it will last. Velcro holds are very strong and stay put! Perfect fit and stays put!

Better than devicesgiven in therapy
My wife is a retired nurse and says that this device is better than the braces she has received in therapy.  It is unintrusive and has relieved her pain.  She uses her right hand constantly in her crafting and likes the range of motion.  It is great for the intricate crafting work she does.

Exelente
Es comfortable...exelente

Good.
Real good.

Keeps the Thumb Stable
CMC or basal joint is my problem and nothing but surgery can fix it.  Since I don't want surgery at this time, I ordered this product.  I am pleased with the effectiveness of the brace.  Four fingers can move freely while the thumb is held stable by a plastic form within the brace.  Velcro (2) adjusts the brace to fit snuggly on your hand.  I do not wear it every day but, if I expect a busy day, I can wear it all day and there is less pain and swelling to the joint. If I wear this one out, I will order another one.

Helps!
Provides good support while I'm working and typing all day!

Great support alleviates pain
I love how this brace is not bulky. It provides support at thumb base without completely restricting mobility.  Repeat purchase.

Happy wirh my order.
The brace fits good, and I feel it will help me.

Thumb pain
My thumb was aching from tendinitis.  The brace fit perfectly and still allowed me to utilize the mouse and computer.

Most comfortable thumb brace
The brace is very comfortable, zero irritation or chafing. The material is plush and soft and the hard brace inside ergonomic keeping my thumb it the right place yet allowing mobility.

Helps with swollen painful thumb joint
My husband was experiencing pain and swelling in his thumb joint from repetitive motion through the years.  He has tried analgesic creams but this brace works very well without having pain and swelling.  He can play his bass guitar and play piano with it on and does not interfere performing.

Easy to Use and Works on Either Hand
I've found this brace easy to use, and one reason I recommend it is that the layers are stitched together, not just bonded, so it's going to last longer. I just washed it in the washing machine, using a lingerie bag, and it washed well.

I've tried them all
Great brace for active people who need their thumb joint supported!

Good fix for arthritis in thumb
Good support and easy on easy off

Stable but flexible
The stability was great but yet flexible enough to write with, etc with no problem.

Great support!
Used this for thumb arthritis, it fits great and it has excellent support !

Great product
Pretty comfortable to wear, depending on location of velcro on thumb.  Decent range of motion and definitely keeps the thumb stable where needs to be.

Perfect amount of mobility and protection for torn ligament.
Great product. Fits well and adjustable. Protects range of motion. Purchased 2 other options and tried all 3. This was the clear winner. Even my OT agreed.

Comfo
Used for a thumb sprain. Doing a good job.

Light weight comfort and secure when worn.
Using the Velpeau thumb support brace for thumb. Can be worn on either right or left wrist. I tried it onmy left wrist just to feel the fit, comfort and stability, it was just as comfortable and supporting on myleft wrist as my right. Adjustable. Size small or large. You can decide. I always remove it when washing hands so it doesn't get wet. Sleep with mine on. Couldn't be happier with this product. Thank you Velpeau and Amazon!!

Worked for me
Took care of my problem

Works great.
Great product

Velpeau Thumb Support Brace
The brace is sturdy and gives me support for my arthritic thumb.

Protection, suppprt but still able to use my hand
Arthritis in thumb and this splint helps keep thumb from contracting especially at night or when working out

Good support!
Easy to apply. Keeps thumb joint stabile and reduces pain. Allows for movement at end of thumb.

Made a difference!
I have thumb athritis.  Im waiting to get surgery until I cant take the pain anymore.  Ive had wrap braces for it.  I saw this one and thought I'd give it a go.  OMG what a difference.  My thumb is secured and I have free movement of my hand.  Thanks to this brace I can wait longer to get surgery!

Offers protection while offering full range of movement. Able to use keyboard and mouse.
Offers full range of motion.

Helped!
I ordered this after a couple of weeks of having thumb pain. After of course googling my symptoms it said either tendinitis or arthritis. Either way this has helped and I have felt decreasing pain after a week of wearing at night. I ordered the small/medium size. Easy to figure out.

Help rest my thumb due to  arthritic pain base of left thumb
For pain in left thumb-arthritis

Just what I needed
Arthritis and chronic subluxation of my CMC joint. This is small enough to wear with a watch and use my hand while giving me the stability I need. I've tried numerous other braces and this has been a good combination for me. Thinking of buying another one for the other hand.

Love it. Doesn't irritate my skin and is very sturdy.
I got one from Walmart that irritated the skin between my thumb and finger. This one doesn't. The material is comfortable and I can use all of my fingers except for my thumb. It is very well supported. I thought the colors would be too loud but they are not. Worth the money.

all the above, they have helped a lot!
Im a mail carrier, and at the end of the day i put them on to helpf with my pain of repetive motion.  They are great, i sleep with them sometimes too!

Comfortable does what intended
Had a few others.  This one fit good and was comfortable with full range of motion for the rest of the hand.

Works for Dequervain's tenosynovitis!
Bought this for my daughter in college. Using it properly, her thumb pain has nearly resolved! This is a well made splint. You may have to adjust its location and exactly how it fits, just listen to your body and pay attention to how the brace feels.

Held my thumb from moving.
The brace really worked great and I wore it for a couple weeks all day and night. My thumb healed a considerable amount when I took it off. I still have a ways to go but that may take a surgery to totally resolve.

Support yet comfortable
Fits well on either hand. Offers good support and still comfortable

Works great
I suffer from De quervain's tenosynovitis and have gone through several different braces.  This one by far has been the best.  While it supports the wrist and thumb it allows free movement of the rest of my fingers, so my hand isn't so restricted when trying to perform certain task.  It gives support in the correct places!

Arthritis relief
Fits well and relieves pain!

good product
does help hand.  very reasonable price

Happy with this brace
This brace fits fine on my small hand and gives me enough support. I find it comfortable enough to sleep with it and it has helped with the pain in my thumb. Very satisfied and would recommend it. Not bulky.

Very helpful!
I purchased this for Mommy's thumb. I developed pain in wrist and thumb movements after my baby. This brace helped me in providing a good stability and enabled me to lift my baby with lesser pain.

Excellent support
I have an autoimmune disease called scleroderma which has affected the ligaments in my thumb, to the point where I have zero strength. This brace provides excellent support, breathability, and range of motion.  I just purchased my second one as a back up.

Super comfortable and protective
Very protective of my injured thumb, and comfortable and since it is not bulky I am using it to do my typing and writing.

Perfect for de quervains tendinopathy
I don't usually leave reviews, but just wow! it's a perfect fit and just the support I was looking for. I can accomplish the everyday tasks without hurting my thumb. Definitely recommend!

Nicely Made
Well constructed, quite comfortable to leave on for long periods and easy to put on and take off. Very happy with this purchase!

Finally! The best after 4 others
My primary issue is CMC pain (not clear if tendons, ligaments, arthritic too young, or what). However, I do get some wrist and palm pain occasionally. Years ago a therapist made me hard plastic splints that cover my thumbs and wrists and completely disable them. The pains disappeared and only just returned. I'm hoping to avoid the hard braces by using these. I purchased 4 other pair so far and these are the best. I've been using the Velpeau for about a week for typing and gaming (it mostly started hurting from gaming). Instantly, these were more supportive, very comfortable, and relieved pressure/pain. The larger butterfly stay instead of two bars on each side of my thumbs provides more comfortable, firmer support. I can move my thumb CMC joint a little, but in a much more restricted and supportive way. Love them.Others I tried: The Ace Thumb Stabilizer did absolutely nothing to support my CMC, pulled my thumb in so that my hand was clenched and got cramped, and rubbed on the base of my thumbnails, creating sore spots with literal scrapes. Then I tried the Braceability thumb/spica splint that goes all the way up over your wrists. It's GREAT but is too bulky to type in due to large palm stays, and goes way too far up my forearms to wear my fitness tracker. It will be a good option for non-work hours if my palms or wrists decide to flare up. I just also received the Vive Thumb Splint, which has a little more wrist and palm support than these but is shorter and less bulky than the Braceability. I haven't worn those yet and will reserve trying them unless I have palm or wrist issues again. In short: if your issue is at the CMC joint and you might need a little wrist support too, these from Valpeau are an excellent option.

Thumb brace
I like everything about this brace! It is so much better than the one I got from the dr. It's sturdy yet light weight. Awesome product. Telling everyone about it!

works great so far
Used for skiers thumb (fractured metacarpal and chip on the trapezium) gets the job done keeps the joint straight and makes it so it wont bend will update with any issues in the next week, medium/small fit my guy hand, I usually wear small to medium gloves and this fits perfect I went to the ortho with this one on, the doc said this support should do the trick cause I have small hands and happened to fit perfect so the thumb wont bend (this is after a three week hard cast unfortunately). This brace also fits under my ski mitts so I can keep snowboarding instead of ski so i dont use poles and further damage my hand. typed review with brace on and I cant use my thumb which is a little annoying but its broken after all so good to keep it from being used on keyboard/spacebar.

Excellent lightweight support
This helped immobilise my thumb joint till it recovered from the intense pain of either tendinitis or arthritis (don't know for sure but irrelevant).  Quick delivery was a lifesaver.

excellent brace
this brace is worlds better than the $80 brace i got at the orthopedic office

Love it
Works good and fits good.I have a small hand.

Very good brace
I have osteoarthritis in my thumb that is very painful. I had a mueller brace and while that supported my thumb, my palm and the tip of my thumb was covered up. This brace supports my thumb but the tip of my thumb and palm are useable. Giving me better range of motion for the rest of my hand. It's also very soft and comfortable. I'll definitely get one for my other hand when the time comes.

Muy buena, me está ayudando muchísimo
Muy cómoda, fácil de poner y si funciona para exelente

Great for collateral ligament
If you have strained the ligament or muscles around this area • this is a perfect support bracelet and allows you to continue using the rest of your hand comfortable

almost perfect
this splint works very well and has great hook and loop attachments. it helps keep my thumb from moving too much, but the overall range of motion is great. my only suggestion is to add a bit more padding where the thumb bones hit the splint material-after wearing it for a while(like 20 hours a day), the stiff plastic can be felt through the existing padding.

Great fitting brace
Love this product for my "blackberry" thumb. This provides the relief I need

Worked as good as the full splint I was wearing without the bulkiness.
This thumb support brace kept me from extending my thumb and also supported my wrist.  The splint I was wearing went up to about 2 inches below my elbow. It was heavier and made it difficult to put on long-sleeve clothing.  I am extremely happy with this brace and would recommend it for people suffering from CMC arthritis and issues with DeQuervain's tenosynovitis. It will not treat your symptoms, but it does reduce the extreme pain you feel because it does restrict your range of motion (which is needed for healing).  I continued with physical therapy and with medical treatment, and I have made great strides in my healing because of that.  I will keep this splint in my possession forever because of the support and thumb restriction it gives me when I have to do things that aggravate the thumb/wrist area.

Helpful
Helps with my sore thumb

Day 1: great fit and love it.
Update; 12/23/2021 below.  Day Day one: I like it! The fit is great. Mobility is great! So far it has served this purpose of presenting my thumb being pushed back. It stablizes my wrist. It allows mobility but restricts exaggerated movements. I absolutely love the minimal amount of terrain of my hand this takes. Highly recommend.  I order S/M even though my wrist measured 7.5 inches. Perfect fit. The measurement from bottom palm to middle finger is 8 inches.  4 5 inches width from outer thumb. Hopefully, this helps determine your size needed.Update 6 days usage. I ABSOLUTELY LOVE THIS BRACE. The comfort and support are excellent.  Once I put it on, I didn't realize how much I needed it. Every time I take it off to wash hands or bath I feel unsupported.  I keep this on 24/7. It's gotten dirty so I'm tempted to purchase another so that I can wash it. All the support and mobility that I could have wished for.  Highly recommend 👌

good, easy to use thumb brace
I have a fairly small hand, and ordered the S/M size. There is a bit of space between my thumb and the brace, but I find it still provides good support and I like that most of my hand is free while my thumb is supported. Well made, sturdy brace.

Created just for me. It's perfect.
Lets me do everything except wash my hands.

This product is amazing!
I was a little skeptical but this thumb brace really works!  I hardly have any pain when I am wearing the brace and the numbness/tingling feeling isn't there when I'm wearing it!  I bought a second one so I can wash out. I would highly recommend this thumb brace!

Love
Immediate relief. Life changing

Very comfortable wore it all day and it didn't hinder my performance.
Great range of motion, able to adjust the straps if needed.

Better than the doctor's splint
My orthopedic doctor prescribed a very expensive brace that turned out to be uncomfortable and did not protect my inflamed thumb joint. This splint is both very comfortable and adjustable. While wearing it I can write, sew, and paint…it even fits under my gardening gloves! It has saved me from having to have further steroid injections in the joint, and I highly recommend it.

Comfortable and functional
Had a bad case of tendinitis in my thumb that I use to scan ultrasounds.  Initially bought the THX4COPPER brace. Got pretty uncomfortable after a few days using it so I ordered Velpeau brace instead.  A little more expensive but well worth it. Much more comfortable and I can still use my thumb/hand as needed.  Would def recommend.

Very comfortable and fast relief
"Only had this on for about 2 days now and my pain in my thumb joint is significantly better.  I wear it to bed and I can type, use my mouse with it.  My wrist is small, a little over 5.5"" so sometimes it does move and needs to be repositioned.  I am a physical therapist and I would recommend this splint to others."

I very good product
I like the fact my palm is open so I can feel the defects on the job. I purchase this before I saw my dr and she approved me using it

Works for me
I have basal joint arthritis, worse in left hand. This type of product was recommended by my Dr. I chose this one based on previous reviews. It works for me, limits the motion of my wrist and gives support so I cannot put additional strain on the joint. I'm still able to use my hand for most things I want to do while wearing it. I use it on my left hand. I honestly did not think it would be of much help, but it is. The velcro band allows me to adjust how tight I want it and I do sleep with it on most nights.

Lifesaver - Has kept me playing my guitar and working around the house.
I like that it can be worn on either hand, and that it's easy to put on and take off.  It washes well, but will take a while to dry out completely.  I ordered two, as I have pretty bad arthritis at the base of each thumb.  Thank goodness, they don't usually both hurt terribly at the same time!

INSTANT. MAGIC. RELIEF.
I am in the middle of chopping veggies and stopped for a review because I CAN STILL USE A KNIFE WITH THIS!!I got some crazy dumb braces before this one. Which I'm texting with right now btw. Run.

Gives Relief
If you have arthritis in your CMC joint (base of your thumb) this brace will give you relief. it's easy to put on and adjust to your hand size. It limits the range of motion of the CMC joint. I have worn it to bed and it doesn't interfere with my sleep.

Works
Saw individual with one said it worked for her, works for me.

Helps my thumbs
Light and fit well and help arthritis in my thumbs

Good for workout
Durable the cost is worth it and I'm definitely getting one for my right hand

Best CMC brace!!!
I have tried a lot of braces to stabilize my CMC joint. This brace is the most comfortable. It allows me to have full use of my hand while still stabilizing my thumb.

Adjustable, comfortable, great fit, great support.
Just what I needed for the pain/weakness at the base of my thumb.

Comfortable and Supportive
This brace is lightweight, supportive and has streamlined fit which makes it comfortable to wear.I have a small wrist and this brace fits perfectly

Ideal for my pain.
I am certainly not a doctor, but I can do my research.  I noticed I was starting to have pain in what appears to be the CMC joint.  I am very conscious of when my body sends me signals.  I don't like to take pain medicine to shield me from it.  The cause seems to be connected to use of a computer mouse.  I reduced usage of it and began to use this device at night and when I am using the mouse.  I don't think it is good to use it all the time.  Our body doesn't do well with crutches for a long period of time.  I also began to take Cod Liver Oil pills, as reputable sources say helps.  With these two things, my pain has gone away.

Excellent Support of the Thumb
I am suffering from De Quervain's tendinosis which occurs when the tendons around the base of the thumb are irritated or constricted.  My doctor suggested a thumb brace to prevent overuse of the thumb.  I find the Velpeau Thumb Brace to be ideal.  It's lightweight, comfortable and appears to be very well made.  It can be removed quickly and is easy to put back on.I find it does exactly what I need in terms of preventing my thumb from moving at the base while at the same time allowing the top part of the thumb to move so that I have surprisingly good dexterity while all the time protecting my tendinosis.  So I'm very pleased and highly recommend this thumb brace.

Works!
Small and minimal, would recommend....

The best one I have tried
Helps when the pain gets to me

Quality product
Works as advertised

Good splint
I have many splints not being worn. I like this one because I can drive with it on. My thumb is deformed from RA, malet and mcp, it's floppy. I have to manually press the mallet part flat to get it in. I just want to appear normal and support/prevent more damage. I find it's comfy but can get hot inside..More color options would be nice but it is the best one yet.

Did A Great Job Alleviating the Inflamation in My Thumb
I was in a lot of pain in my thumb from doing strenuous yard work. Wearing this brace has allowed my thumb to heal. The pain has dissipated and I am feeling a lot better. I am continuing to use the brace on a daily basis, as I don't want to be anymore pain and I believe the brace will keep me from developing more pain.

I can wear this all day!
I use this to support my arthritic thumb and it works well for me.  The splint is firm and gives ample support compared to another brace I tried.  I recommend this brace.

Great product!  Velpeau Thumb Support Brace


Ease of wearing; Ease of adjusting
I am wearing this CMC joint thumb spica splint for tendonitis in both hands. I wear it at night to give those tendons a rest and I wear it during the day (on and off) as a reminder not to use my thumbs in certain ways that create excruciating pain! I find this product easy to wear and adjust the velcro (around the wrist and thumb) as needed. I have small hands and appreciate that it fits snugly or a bit looser as my needs arise. It's my first time needing this kind of support. I am grateful to have found this product. All the best and health and healing to you all!

Very comfortable and provides CMC support
This is the most comfortable brace I've used this far for CMC joint arthritis.  It provides overall support without limitations of use for my hand.

Worth the money
I had tendinitis in my thumb and it has really helped the healing process. I have tried other braces but this one has worked the best.

Comfortable
This brace is comfortable and supportive. I like the smooth fastener hook and loop stuff. I doesn't snag on clothing and other things like normal velcro. The only annoying thing is the tag since it is just long enough to annoy my wrist but it's easy to cut off.

Comfortable!
This brace is very comfortable, while providing thumb support. I am still able to write with a pen, use a keyboard, and a mouse.

Made a huge difference with pain in thumb
Great value and made a huge difference in pain level

Immediately ordered another one!
I used this for one day and immediately purchased another one for my other hand. Super comfortable and the pain in my thumb was just gone. Amazing product.

Perfect support and Comfortable, too!
So very comfortable and just the needed support. It is hot or cumbersome but definitely positions the hand/thumb correctly for healing of the soft tissue. Fabulous!! Thank you for this inexpensive support device.

Great support
My lower thumb joint has been hurting like crazy and the doctor said to try a brace. This one fit perfectly and was comfortable. I am not sure if it manages to reduce the movement or if it's just the extra support but works.

This was recommended by my OT colleagues.
This is a game changer. I was dealing with awful pain in my left thumb (dominant hand) and my OT buds had me buy this one. Said they liked the quality and functionality. So I did. It stabilizes my aching thumb so I can rest it and work towards resolving the carpal tunnel issue. I can still type, write,  and do pretty much everything else with it on although hitting the space bar is a bit clumsy. Definitely not a deal breaker considering the value of relief. Trick is to be consistent with use. Should have gotten this a month ago! Am buying a second one. Definitely recommend!

Immobilizes joint for pain relief.
Less bulky than most, freeing up the palm & back of your hand. Hard plastic down the thumbimmobilizing the cmc joint. Has quilt like padding, cushioning the wrist. My hand felt really good just putting it on. I got to get another for the other hand. Universal, can be used for either hand.

Great pain relief!!!
This brace is great if you have CMC and experience bone on bone friction. It's great to go pain free for days and weeks. This brace is much better than the plastic PUSH brace that my hand specialist recommends. I ordered the larger one to wear at night. It's a great product and I'll lookout for more Velpeau products.

Doctor approved!  But seriously, great brace.
This is my second try at a thumb brace, the first really hindered my ability to type, which I need to do for my job.  However, this one works great, doesn't get too sweaty unless I'm working out, and I'm able to wear it even while sleeping without any discomfort.  When I went to the doctor, he said this was a good brace and has a good stabilizer for the thumb.  So, doctor approved!  Haha.

Better than the one the dr sold me for $90
This is better than the one that my dr sold me for $90. Does the same job but is less bulky and not as hot to wear

Works For Me
I have thumb tendonitis and trigger thumb.  This product fits my hand perfectly and has provided a great deal of relief.  I really like how it attaches around my wrist compared to a similar product which was awkward to attach.  Another reason I like this particular brace ... it does not interfere with the use of my hand.

Great thumb support and stability
I have really bad arthritis in my thumbs which the doctor prescribed me a brace similar to this one. While I like the one the doctor prescribed this one is far superior at providing support and thumb stability. It has a rigged metal rod that keeps the thumb from bending and that is a major issue when I am working out. I am probably going to need to order several more as I get it very sweaty at the gym but the price is so reasonable it would be a non issue for me. I probably could hand wash it but I think it would only get it cleaner not really deep clean.  It is very easy to put on by myself and I can get it tight enough so it stays stationary during the workout. I highly recommend this brace if you suffer from thumb arthritis!

Comfortable
Keeps thumb stable without restricting your whole hand.

Great brace!
So I fell a sprained my thumb and needed something to protect it while at work.  Was looking for something cheaper, but at $20 this brace is great!  I washed it after a week of use and it came out great( air dry).  Offers great support and restricts the movement so it doesn't hurt.

Very nice interior comfort. Works great!
Very nice interior comfort. Works great!

Comfortable and relief
I think I have trigger thumb or somethings going on with my thumb where it clicks. It gets stuck straight or bent and was getting worse. I've worn this brace for 2 days especially throughout the night and I can feel the difference. This was $19.99 got it in 2 days, it's very comfortable and very easy to use. The packaging came with a bookmark, & a paper measuring tape. It's a little padded inside the brace so that's a plus. It does have a splint built in the thumb if you're looking for a brace that keeps your thumb stable but still has room to breathe then this brace will do just fine

I put this on because my pain was just getting worst. It has helped me with the pain overall.
I love that's comfortable to wear and it doesn't get hotTrue to size and well made. See.

Love brace easy to adjust. Good support
Great value for the price. Comfortable and good support.

Velpeau thumb brace is a good buy.
it fits well and is easy to put on

Great especially washing hands
Much better than the one doc gave me

Helps with cancer patients
Being a cancer patient and on Anastrozole, causes severe bone/joint pain. This brace helped so much. Washable, comfortable. Great for the price.

Best thumb spica brace at great price!
I had thumb fusion surgeries on both of my thumbs a little over two years ago, six months apart. Within the last two months, both of my thumbs have become painful. I attribute it to the fact of having to have my central air running constantly over the last two months due to triple digit heat living in the Pacific Northwest. I own a variety of thumb spica splints, so I know what I need. I needed something that would only provide stable support over my thumb joints. I also needed to have the ability to use my hands normally while working on my art. These splints absolutely fit my needs! Super comfortable, easy to adjust and the price can't be beat. I was looking at $60 splints which I would have had to have. PT office order. If you need support over your thumbs, comfortable support and be able to use your hands freely, I highly recommend these splints!

Thumb support
Very helpful and ambidextrous, too.

Provides comfortable support
I have arthritis in my carpometacarpal (CMC) joints and have worn thumb supports for a long time.  This may be the best one I've used because it provides the support yet leaves your hand fairly mobile.  For instance, I can wear this splint without compromising my ability to play ping pong.  Unlike the custom supports you receive from an occupational therapist, this one does not make your hand perspire yet provide similar support at a fraction of the cost.

support with minimal coverage
It frees up the rest of your hand when only your thumb needs the support.  I have arthritis in my thumb joints and this gives me support where it is needed.

Suit the purpose. Will buy again
Very comfortable, relieves the pain. Good deal, will buy again

I would definitely give this brace a try!!
I've only had this for a couple of days, but I'm ridiculously impressed so far. Not only have I gotten instant relief from a very severe and painful issue, but it's the ONLY brace I've never pulled off during the night while I'm sleeping. It's pretty comfortable, as far as braces go, and it doesn't restrict your movements too much. This is the first brace that EVER helped me, and that didn't hurt me while wearing it. I would definitely give this one a try!!

Works for CMC Arthritis!
Works great for CMC arthritis.  Washed nicely in cool water and air dried.  Great value for the money!

Amazing
As soon as I put it on, my thumb felt instantly better. I wish I would have bought this sooner!

Quality
Quality product

Extremely comfortable
I've tried several different supports with mixed results. All gave some relief, but some created sore spots of their own. This was instantly comfortable. I slept well in it and woke with zero pain in my thumb joints.

It works!
Had to rewrite my review. I initially left a review saying product didn't work. I was so wrong. I wrote the first review before I gave it a chance. I have osteoarthritis in the thumb area. Very sore. This product has been a lifesaver for me. When wearing this product, my hand does not ache. When other remedies failed, this worked!

Able to do most of my daily activites.
I love this brace.  I can do so much of my daily acactivities. I wish I can use it to wash dishes. Lol.  I am going to buy another brace so I can alternate while cleaning the other.  It is well worth the price.

I got the wrong size
I got the wrong size but it seems like it would work great if I ordered the larger size.

Excellent: We will buy this again when current one wears out.
Just right for medical application day or night. But at during sleep a user can prefer more comprehensive splint than the one we purchased, as a sleeping person can move hand & wrist unbeknownst with bad consequences. My wife therefore uses a different product while asleep.

Good product
Works! Comfortable

De quervain tenosynovitis
I have a 2 month old and developed "mommy's thumb" a month ago. It's been extremely painful in both hands. I purchased a couple thumb/wrist braces prior to this and they all were either too hot, or very uncomfortable from the supportive rod poking my sore wrist. This one is great because it supports my thumb and leaves the rest of my hand as free as possible so it's not hot. I even sleep in it. I bought one first to make sure I like it before wasting money for two. I just purchased a second one for my other hand.

Velpeau Thumb Support
I have been having bad thumb area pain for over a year and recently found out it was arthritis.I've been trying brace after brace recently but all of them have the same problem: the wrist is too big and the velcro has nothing to hang on to, so it doesn't stay fastened at all.So after a bunch,  I tried this one by Velpeau.It's actually very comfortable!A little warm here in the Vegas summer, but it keeps my thumb mostly straight without pain after I take it off.I take it off when I really need to use my hand,  but I'm really glad I found this one and tried it.The fact the wrist part actually fits and the velcro area is small enough, it makes it quieter so I can sneak off to the bathroom in the middle of the night and not wake up my hubby or the dogs by taking it off (my other night brace is LOUD)!It's a win win and I might buy another so I can use 1 while I wash and dry the other! Thank youuuu!

Helpful!
Suffering from possibly pregnancy induced Quervian tendinitis. Seems to be helping reduce swelling.

Comfortable
Worked great

Satisfied
It does it's job. I'm impressed. Virtually pain free.

Well made
Made well. Keeps thumb immobilized.

Great for mommy wrist
This is helping to relieve the tendinitis caused by holding a newborn. Also seems preventative for further inflammation. It's smaller than others but still I have to be careful not to poke the baby with it.

Buy these for your old folks
These are fool proof. Even with weak stiff hands from rheumatoid arthritis. Don't have to match up velcro one handed.

Met my need
This brace gave me the support I needed, so my thumb area does not hurt.  I can use my hands with this brace and not be in pain or irritate them.

Everything &More / NEW type more mobile restraint inside!
BAD Thumb joints arthritis. I have tried many. Many are good, but I cannot get through the night without ripping them off. Velcro ripping off WILL wake up any sleeping partner. Mine has endured 58 years. Somehow get through 30-35 years and great happiness can & does return! I can do so much more with these on. The Velcro is much higher quality in all ways as are the blue bindings which prevent the fraying and pilling that makes so many others look unsanitary and unsightly. I have not washed these yet, but I have forgotten to remove them, both hands are bad, when washing my hands. I placed them onto the air conditioning vent. I thought they would still be wet, so I was pleased they were dry. How much more comfortable but helpful there's are than the MEDICAL heat fitted types. I was TOTALLY without the use of anything I needed to do with those on. I have had three types over the last 30 years. Not being able to take a vitamin is an example. Many thanks to the researchers who developed these. Many thanks to the marketers who set a reasonable price. And thanks again to all others who gave the reviews on Amazon. Thanks also to the Amazon network for their quick delivery. I am mostly pain free!

Great small profile thumb support
This brace is so easy to wear and forget that it is even there.  It does not include the wrist like most do which is one of its best features. I was searching for thumb support without all of the bulk that most braces have. It is easy to sleep in and wear most of the time.  It is also washable.

It really helps.
It gives me the thumb support that I need.

Great thumb brace
The brace is easy to use. I  like the fact that my fingers are free and I could use it during the day to do work.

Instant relief
I jammed my thumb and it was beyond painful.  I went to the Orthopedist and was told it was tendon damage.  They wanted  to give me a brace for $400.00!!!!  I went home and went on Amazon and found the Velpeau brace for around $20.00 and it was almost identical to the one for $400.00.  It's been 2 weeks and I am already feeling better.  The Orthopedist told me I should keep it on for 6 weeks.

Works for my thumb sprain
Does good job supporting thumb while providing flexibility.  Maybe not the best if you need total immobilzation.  Like that it leaves most of the hand open whereas other brands encompasses the palm.

Very comfortable!
"Very comfortable and works great.  Almost forget you have it on.  No more ""clicking"" joint!"

Comfortable and effective!
I have used many different types of braces over the last 7 years and this is one of my favorites as far as being comfortable and yet very supportive.

Comfortable
I really like this brace!  It's comfortable, easy to put on and it helps the pain I have in my hand and thumb from arthritis.  I'm so glad I found this!

Very comfortable.
Just below my thumb, on the fleshy portion, I have ongoing, consistent pain & discomfort.  This brace is very affective in securing the area at night & I believe, helping it heal.

Serious pain relief
Recommended by a physical therapist to help my thumb pain. Really help. I can do range of motion for my pts without intense pain with this splint. Lifesaver.

Fast delivery and the wife loved it
Worked great

Thumb Pain from using Mouse! Comfortable, Lightweight, Gets the Job Done
Been getting a lot of thumb pain where the joint meets the wrist, looked around a lot for the right brace and it was worth it.Comfort:Does not dig into you thumb or hand like some others may. Wraps around nicely to stop mobility in your thumb and has helped my thumb pain subside.Ergonomics:Velcro Wrap - Perfect material choice so it does not lose its strength.Not a lot of material, just enough to get the job done to reduce any uncomfortable sweating or hottness.5 Stars because it does exactly what is suppose to do with comfort and a solid long lasting design.

Comfort
Very comfortable.... not too bulky and awkward

Very helpful
This brace really supports my thumb and surrounding tissue. Much pain relief.

Two are better than one
I bought this to go with the first one I bought so it could be washed.  They work great to immobilize my arthritic thumbs.  Nice to have two to interchange.

Just the splint I need!
As a physical therapist, I knew I needed to rest my inflamed CMC joint, but I rarely see hand patients and did not know what prefabricated devices are available. The Velpeau Thumb support brace looked like it would be customizable and simple to use. The price was reasonable.It has not disappointed me! It gives my first CMC joint rest while giving my other digits freedom to function.

Great fit
I had this for over 2 months now and the velcro is worn out..but I'm sure it's from constantly removing for frequent hand washing. Otherwise I love it.

Great brace.
This was great and convenient for my sprained thumb. Not too bulky.

Brace
As described

best thumb brace I've tried!
I have CMC arthritis in both thumbs from over 30 years of being a dental hygienist. I've tried many braces and found this to be the best one. It supports my thumb, yet is not cumbersome. It gives me some wrist support too, but all my other fingers are completely free. And the inside material is not itchy or irritating so I can wear it all day or while I sleep. It's way more comfortable than the brace the hand PT gave me!

Instant relief
My female wrist is 6" around. I bought the s/m. This brace fit perfectly. Very comfortable on my right hand. Good materials.  Well made. Instructions say to wash it by hand before wearing it and be sure to put something between the brace and any wound. Obvious that the manufacturer in China had a lot of trouble translating the instructions to English but they included excellent pictures of how to wear it, which is simple. The brace has a plastic  "bone"  along the thumb that cannot be altered (as far as I can see), which I liked since it is unlikely to deform with use. Plenty of information in the package if you want to contact the service department or show up at their doorstep. The package contains a paper measuring tape so it seems they want you to include your wrist size if you contact their customer service with a complaint. Looks like they are trying to provide excellent customer service.

Good to stable.
Settled my thumb pain within few weeks of wearing.

good support
The brace brace the basr of the thumb providing more balanced support. Cushioning inside provides comfort.  Good support and protection to basal thumb joint.

Very good design
This seems to be a very good product. Very good design. Easy to adjust. Comfortable to wear.

It's perfect
It's not thick and bulky It's comfortable and fits so wonderful I love it.

Well made
I have tried a couple different braces as I have arthritis in my right  CMC joint. This brace is doing the job. It's comfortable and well made. I would highly suggest.

Quality
One of the most comfortable  braces I have worn!

Minimalist and great
Easy to put on. Very comfortable and yet good stabilizer. Didn't need all the wrapping of other areas. This stabilized thumb very well and still can use other fingers.Very reasonably priced.Ordered and tried three different kind but only kept this one.The packaging was great also.  Fast shipping.Very happy so far.

Awesome
Great product, provides the support that I needed.

Great splint, love the Palmar side design for how it fits the curvature of the hand
Great support for your sore CMC and MCP joints! Eases my thumb tendinitis and R.A. pain. Love the design of this splint - don't immobilize what doesn't need to be immobilized. If you're looking for wrist support, this probably isn't the splint for you - look for one that goes beyond the wrist bones. The material is soft on my skin and breathable. No issues with the velcro - just like every other CMC/MCP splint, you have to just attach the thumb velcro a bit lower than the top of the thumb material for best fit. I did have to bend the support a tiny bit (I have small hands) and being able to kind of custom-bend the support really added to the comfort.

MOST excellent product!
Better than I expected!  My poor little sore thumb is much better...stabilized.

Great product
Love this brace its comfortable and lightweight. The Velcro on the thumb could ya littke sturdier to provide more stabilization though

Fits well and gets the job done
This is a perfect fit for me. I was having some pain and stiffness, my dr check my thimb and wrist with no pain on touch. He suggested to try this before we went to the hand dr. And it has been the best solution. Highly recommend

Awesome product!
I have a desk job and working on my keyboard so much makes my carpal tunnel flare up every so often. But when it does, this has been a life saver!

Using for tendonitis
Provides good thumb support, would like for the wrist support part  to have been an inch or two longer

Great relief from trigger thumb symptoms
Easy to put on. Secures my thumb in a position that helps the trigger thumb symptoms subside. Good compression and support when I sleep.


【BENDABLE OCTOPUS SHAPED SUPPORT SPLINT】This Thumb Brace has an Octopus shaped nylon splint made according to the physiological curve of the thumb. It has excellent elasticity, super light and thin, and is not easy to be deformed and broken. It can perfectly wrap and fix the first carpometacarpal(CMC) joints and the base of the thumb, providing good stabilisation as well as greater flexibility of the joint. The product is small and hidden.
【BETTER PAIN RELIEF AND INJURY SUPPORT】This Thumb Brace provides comfortable protection and moderate support for weak, aching or sore thumbs. For soft tissue injury, ligament strains, Tendonitis, Skiers' Thumb/Gamekeeper's Thumb, Osteoarthritis and degenerative joint disease. It is also ideal for those experiencing arthritic symptoms, or pain associated with repetitive stress such as playing mobile phones or games.
【MORE SUITABLE FOR SLEEP】This Thumb Support Brace is filled with sponge without hard metal or latex material, and does not have any peculiar smell. The inner layer is made of high quality microfiber glasses cloth, which is skin-friendly and non-irritating, it can absorbent quickly and keep the wrist dry, which will keep comfortable in continuous use. This Thumb Support is washable and reusable, very suitable for sleeping, doing housework, holding children, playing games, and office use.
【EASY TO WEAR】This Thumb Splint is fixed with high-stick and durable hook and loop tape, which is easy to realize safe and fast binding, and can adjust the tightness at will. The cutting is delicate, small and stylish. It is delicately packed and can be given as a gift to your lover, parents and relatives. Available in different sizes for both men and women. Reversible design, fits both right and left hands.
【100% REFUND GUARANTEE】Buy the item with confidence! Either you love the Thumb Spica Brace or get a full refund! Just let us know what the problem is and we will take care of the rest. We highly appreciate all customers' opinions to improve the quality and service, also if there is anything you are unsatisfied, pls contact us for the probable best solution. Thanks!
【From harvey】It is pretty solid looking, but the velcro will end up grabbing cloth fibers and possibly lessening it's effectiveness.  They officially say hand wash, don't tumble dry with their laundry symbols.
【From Cindy H】I have washed mine by hand using Dawn dishwashing detergent. I let it air dry overnight and it has worked beautifully.
【From Sharon】Yes, I'm a golfer and I used this why playing.

【From Mary G.】This is a very simple support.  I have never been able to sleep with any kind of brace on anything.  This one, however, you can sleep with pretty comfortably.  Everybody's so different about things like this that I would hesitate to state "for sure".  Overall, I would think you could.

【From Michael Morasco】This Thumb Support Brace is filled with sponge without hard metal, neoprene free, odourless, latex free, hypo-allergenic, which makes your sleep more safe and comfortable.