Soft neck brace with contour curve cushions jaw and neck for a comfortable, supportive fit, without affecting your daily activities. And comes with a storage bag, easy to travel with. Suitable for Benign neck injury, neck brachial neuralgia, and neck pain. To support and correct neck posture.
Soft foam neck brace for gentle support & strength.
Adjustable Soft Foam Neck Brace Cervical Collar - Relief Neck Pain & Support
Premium Components: Made of high-quality, latex-free materials to ensure it won't irritate your skin.
Ergonomic Design: The contoured shape of the brace comfortably conforms to the chin and jaw, offering optimal support.
Easy to Use: The adjustable hook & loop fastener enables easy and precise customization of the fit.
Hair and Skin-Friendly Hook & Loop Fastener: The high-quality hook & loop fastener is designed to prevent hair from getting tangled or caught, while also being gentle on the skin.
Comfortable Support: The neck brace provides medium support, making it ideal for wearing during sleep to help reduce apnea and snoring.
Versatile Use: In addition to neck support, this brace can also double as a travel pillow, offering comfort and preventing neck strain during car rides or flights.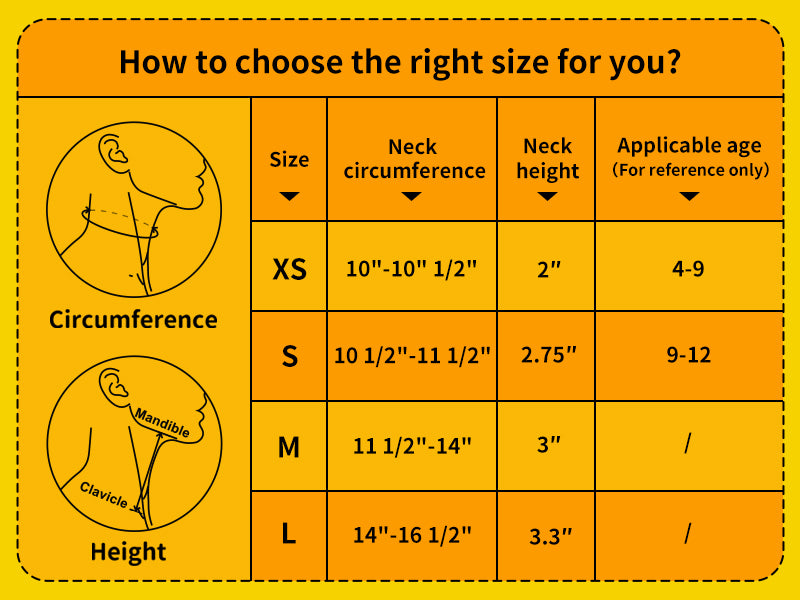 How to measure size and apply the cervical collar?
Keep your head in a neutral position.
Please measure your neck circumference with a soft ruler.
And the neck height is the distance from the collarbone to the mandible.
Please choose the size according to the measurement results.